Back by popular demand Dr Andrew McLean & Friends explore the mental states of our equestrian athletes plus much much more
About this event
In an Olympic year, Dr Andrew McLean & Friends conference is centred around the FEI term "The Happy Athlete".
The conference objective is for you to delve into the different mental states of horses, sharing the latest research and welfare in equestrian sports.
From the latest research in to why different horses attach to different humans to how to help your horse build resilience. From the latest welfare updates from Tokyo to unpacking the aids for even 'happier' horses. Rumbling with different reinforcements to finding out what happens when we let horses decide to go bitted, bitless and bridleless. This promises to be the most idea sharing equine conference you have experienced, inspiring you to be the change our horses need.
The conference is ALL horse lovers, competitors, coaches, judges and students.
Meet the speakers here
https://www.equitationscience.co.uk/speaker
View the programme here https://www.equitationscience.co.uk/programme
If you have any questions email lisa@equicoach.life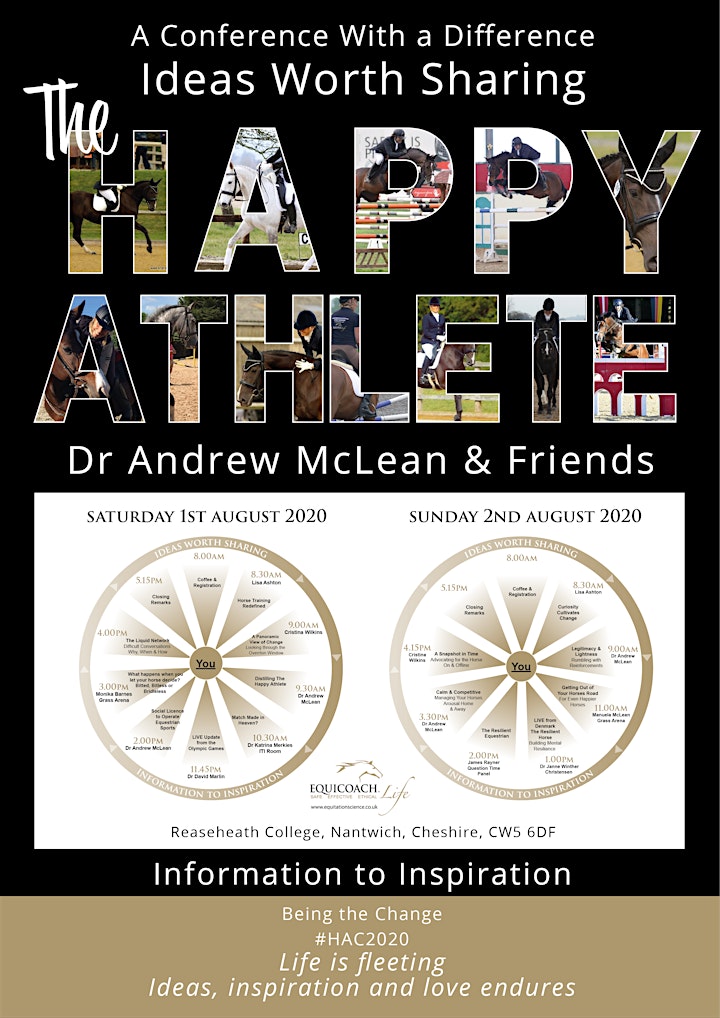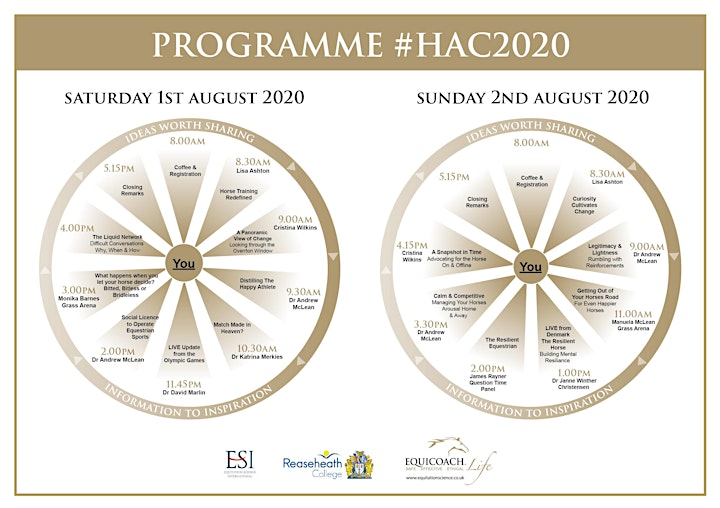 Organiser of The Happy Athlete Conference
Lisa Ashton 
MBA, PGCE, BA (Hons), ESI Dip
Lisa Ashton is the leading authority in the UK on the application of Equitation Science. With over a decade of experience she consults on evidence based knowledge for equestrian federations, leading equine charities, colleges, stud's, veterinarians, professional riders and owners. Lisa is the author of the chapter 'Behaviour & Handling of the Horse' in Aspinall's Complete Textbook of Veterinary Nursing, former International Society for Equitation Science Education Officer, Expert Witness to high profile equitation cases, equine masters and degree External Examiner, Equitation Science masters dissertation supervisor at Edinburgh University, Eco-Coach trained, and the UK home of Equitation Science International. 
Dedicated to helping more horses by helping owners understand how, what and why horses learn, Lisa translates the latest in the emerging field of Equitation Science, practically. In 2011 Lisa founded EquiSci to help more horses via clinics, workshops, and lectures throughout the UK and Italy. In 2016 Lisa founded Equicoach.life to help horse lovers globally to be the change our horses need. Lisa presented at the 2017 BHS Welfare Conference: Are We Getting the Fundementals Right? and provides Rider Mindset Camps, Seminars and Clinics to help horse lovers be their best versions for their horse. 
Lisa uses simple explanations, demonstrations, feedback and the practice of an Equitation Science 'toolkit' to provide you and your horse with safe, effective and ethical horse training. 
Lisa is a BHS Stage 4 Senior Coach, holds the Pony Club A'Test, evented to BE Novice and is a British Dressage Trainer and competitor.
Facebook Group: Coffee With Horse Lovers