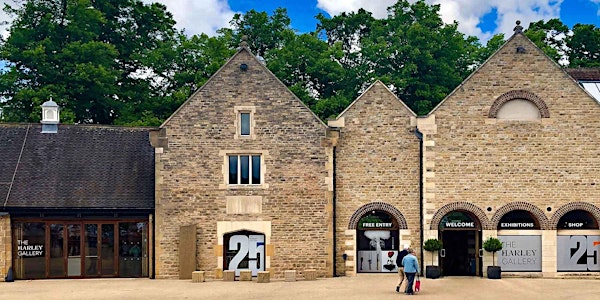 The Harley Gallery Visit and Workshop
ArtSpeak Visits - The Harley Gallery
About this event
We're excited to announce that our ArtSpeak visits are back.
Join us for a visit to the Harley Gallery and a guided walkthrough of their current exhibition Outsider Art//Kindred Spirits. An additional aspect to the visit is that there'll also be a Pottery Painting workshop after the tour of the exhibition.
The current exhibition Outsider Art//Kindred Spirits showcases pieces from two collections, The Jerwood Collection and Outside In.
The Jerwood Collection is a nationally recognised leader in the art world comprising of Modern and Contemporary British Art, including works from well known 20th Century Artists including Paula Rego. Their purpose is to give public access to a privately owned collection to enhance the understanding and enjoyment of this period of British Art.
The Outside In collection is made up of exciting new artworks from emerging Outsider artists with disabilities. Founded in 2006, Outside In is now an established national charity that aims to provide a platform for artists who face significant barriers to the art world due to health, disability, social circumstance or isolation.
'Kindred Spirits' sees the two collections collide, provoking thoughts on what it means to be an artist, and how creativity can be used to explore life experiences.
Schedule for the day:
Transport will be provided and the pick up point will be the Forest Recreation Ground Park and Ride.
08:30, Pick up
10:00 - 10:45, Gallery Tour at the Harley Gallery
The tour will be delivered by Dr Fiona Clapperton, Education and Engagement manager at The Harley. Fiona holds a PhD in 20th Century Social History, and is particularly excited about the contrast between the two collections.
11:00 - 13:00, Pottery Painting Workshop
After the tour of the exhibition, a practical workshop will follow in the Pottery Studio. You will have the opportunity to create your own design for a 6 inch plate. Harley Gallery potter manager, ceramicist Lynne Staniland, will deliver a two hour workshop between 11:00 and 13:00 which will see you paint your design. The plates will then be fired in the kiln for you to take home.
13:00 - 14:00, Free time to look at the shop, revisit the exhibition and get some lunch
14:00, Transport pick up from the gallery
14:45/15:00, Arrive back at the Forest Recreation Ground (The exact timing will depend on the traffic)
The ticket price includes transport, gallery tour and pottery painting workshop.
Earlybird offer of £16 if booked by Sunday 5 December, £20 after this date. (Please note. We will not be able to run this visit if we don't have enough participants. If you book and the visit has to be postponed then you will receive a full refund.)
All activities in the ArtSpeak programme are for people aged 60+ and we encourage you to become a member. An ArtSpeak membership is free but you must be aged 60 and above, living in the Nottinghamshire area to be eligible to join. If you are not yet a member and would like to become one. Sign up here today!
Organiser of The Harley Gallery Visit and Workshop