About this Event
We warmly invite you to join us for an evening of Christmas carols raising funds for The Head & Neck Cancer Foundation.
We are devoted to driving awareness for, and the adoption of, ground-breaking head and neck cancer treatment.
Our work aims to minimise the magnitude of surgery and limit the resulting aesthetical impacts, on head and neck cancer patients.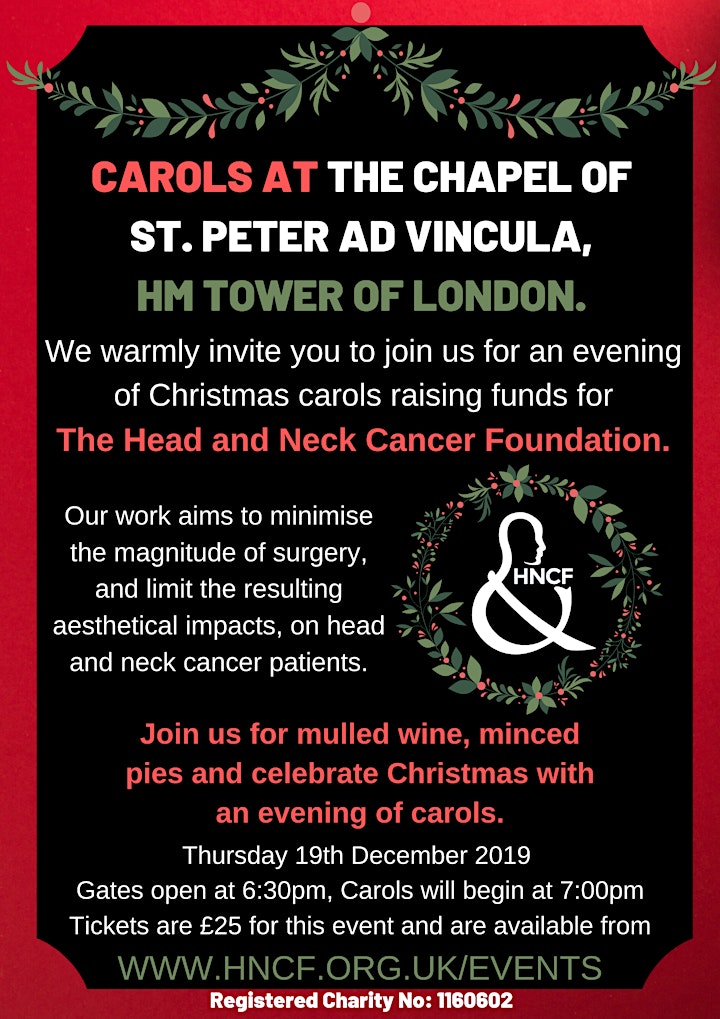 A message from our CEO, Michelle Vickers:
I look forward to welcoming you to the Head and Neck Cancer Foundation's inaugural Christmas Carol Service in the Chapel Royal of St Peter ad Vincula, and thank you for your kind support.
The actual service commences at 7pm, however we recommend that you enter through the Middle Drawbridge from 6.30pm, in order to make your way to the Chapel in time.
There is a map of the Tower of London here, and we will also have volunteers along the route to direct you.
Following the concert we welcome you to join us for mulled wine and minced pies, and to have a walk around the Chapel should you wish. There will be a Yeoman of the Guard present should you wish to ask any questions.
I look forward to welcoming you on the 19th December.
With kind regards and sincere thanks once again, for your support.
Michelle Vickers
CEO
The service will be held in the Chapel of St. Peter ad Vincula, HM Tower of London. It is situated within the Tower's Inner Ward and dates from 1520. It is a Royal Peculiar. The name refers to St. Peter's imprisonment under Herod Agrippa in Jerusalem. The Chapel is probably best known as the burial place of some of the most famous prisoners executed at the Tower, including Anne Boleyn, Catherine Howard and Lady Jane Grey.