Description
2018 is here!
Learn the best way to ditch the diet whilst simultaneously creating habits that will last a lifetime. I teach you how to eat to optimise your health 85% of the time, and most importantly how to integrate eating out and to enjoy pleasures of food and wine without the guilt.
If you are ready for some simple & real health fixes this year, then join Emily at 'The Health Hustle' on February 1st at Somers Vintage Tea Rooms in Lindfield, 7.30pm start.
The evening will be inspired by a simple and clear set of principles that re-sets your thinking and lifestyle and gives you an unstoppable motivation.
We will be looking at the 7 step process OF CHANGE. It is common for people to take on new 'life improvement' goals, but not achieve them (I do this too!) - and there are a number of reasons for this. It is nothing to do with willpower - more a lack of understanding about the process of change, and no structure or accountability to make it happen.

Whenever we take on a new goal or set of goals, there is a process to follow to ensure we achieve them (see below).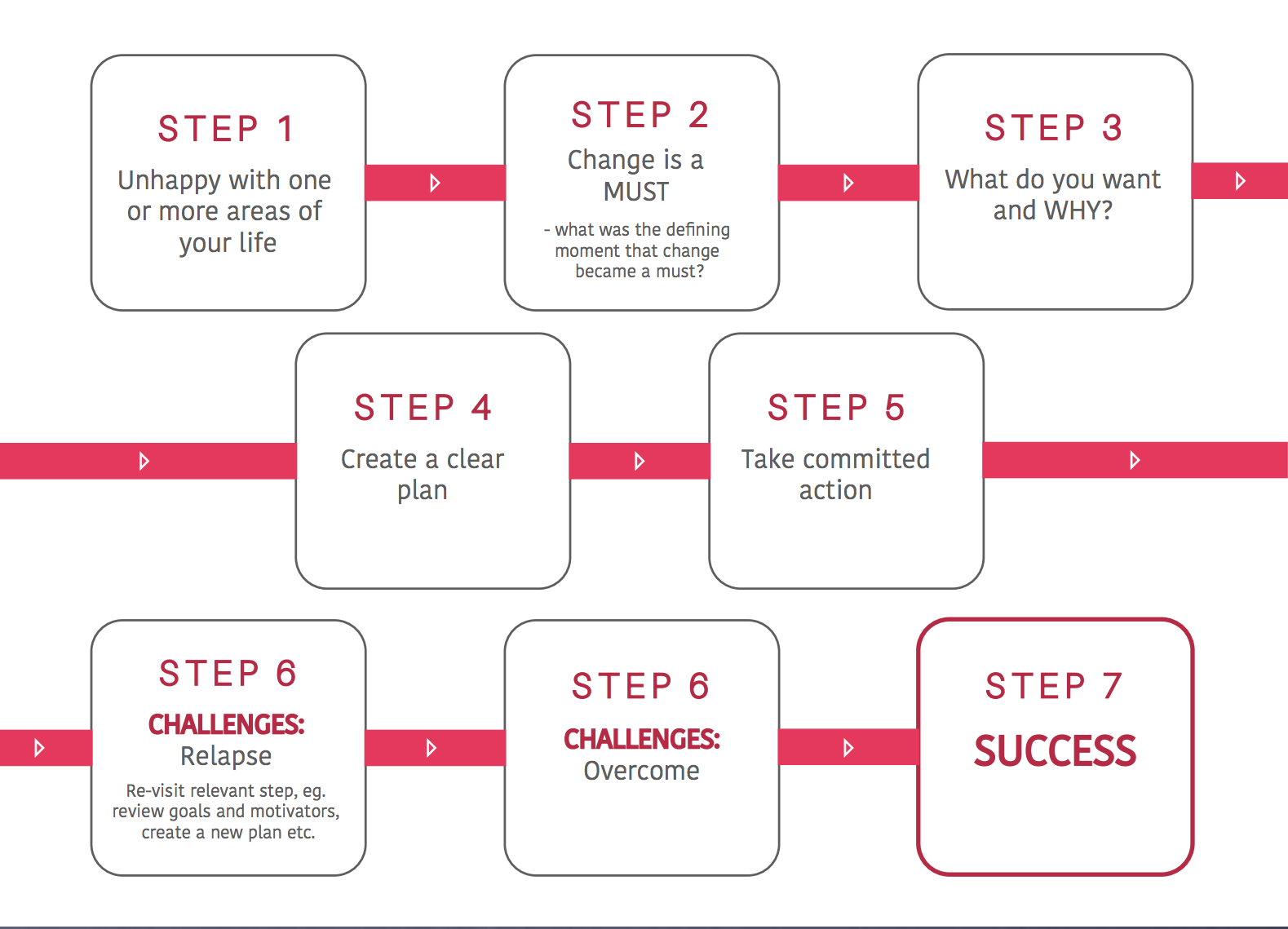 So the 'Health Hustle' and ME are here to help you get motivated and support you to follow this 7 step process to get the results you want.
The weight loss industry changes FAST—there's always a new fad diet or supplement that makes it's way into the mainstream PROMISING to give you fast results.
There's SO MUCH information out there, it can be overwhelming, and I know you're busy and that's why you have me, so I can provide you with my best strategies for losing weight AND help you sift through all of the advice out there for beating the stubborn pounds and getting your health on track!

So Who Is This Workshop For?
✓ Overworked, Overstressed, Women Of Sussex, Who Are Smart Enough To Not Rely On Willpower
✓ Women Who Want A Health Kick-Start In 2018 & The Results
✓ Busy Professional Women (Including professional home-makers!) Who Don't Have Enough Hours In The Day
✓ "Expert Dieters" who have read all the diet books, Tried the shakes, Starved on the pills, Cut the sugar
✓ Women Who Have Spent The Past 20 Years Looking After EVERYONE Else
And why do you NEED to come?
* You are ready for some simple & real health fixes
* Your mindset needs gearing up for health success
* You want to get clear on what you are trying to do and HOW to do it
* You are sitting on the fence to whether now is the right time and want to hear how some of my AMAZING clients are doing
* You want to feel like a social butterfly ready to get the health and body you want this 2018
Come eat, laugh, tell and be in a safe place for all overworked and overstressed women.
Book right here, right now to join us on Thursday 1st February In Lindfield, West Sussex.
The Evening...
On arrival to Somers Vintage Tearooms, you will be greated by myself (Emily) and the rest of the team with a glass of something nutritious. The evening is designed to be intimate and informative, as well as providing a safe space for you to express yourself and learn how to initiate the changes suggested. It will be ran over a two hour block, which will be a mixture of talks, shares, food tasting and interactive mind-mapping. I will have you leaving the workshop with a CLEAR set of health goals and some REALISTIVE action steps to achieving them!
This is a free event as I want you to really feel the value of self-care and wellbeing. This is my way of giving back!
There is an option for you to trial one of the recipes off my New Year Plan for £7.50
- Chickpea & Spinach Curry
- Lamb & Chickpea Curry


What's In It For You?
- How to determine your altitude by stopping planning and starting doing
- Why you have been wasting your time counting calories and my genius and scientific method for weight loss and improved health, designed to fit into the busiest people's lifestyle
- How planning your meals and getting prepared for the week ahead can save you 5 hours a week!
- Why focusing on the pleasure and not the pain will help you create a fun, delicious and sustainable way of living
- When to use gratitude to fill up your happiness tank
Hope to see you there!
Ex