The Highly Sensitive Brain Webinar with Elaine Aron
About this Event
We will be sharing research from the first ever handbook for HSP professionals, The Highly Sensitive Brain, edited by Dr Bianca Acevedo.
Join Dr Elaine Aron and leading sensitivity researchers Dr Jadzia Jagiellowicz, Dr Bianca Acevedo and Dr Judith Homberg explaining their research from the book.
This event is for HSPs themselves, so they can access the same information their psychologists and doctors are reading. All attendees will receive a recording of the webinar.
Each scientist will tell you about their findings and then take questions, which you can submit in advance or ask live in the webinar.
By joining the webinar, you will learn about the causes of high sensitivity and how HSPs' brains are different to others'. You will learn about health for HSPs, including mental health and working with a therapist.
The webinar will be hosted by Rosie Raleigh, CEO of Vantage: The Campaign for Highly Sensitive People. Proceeds from the event will help fund Vantage's work to raise awareness and increase acceptance of high sensitivity.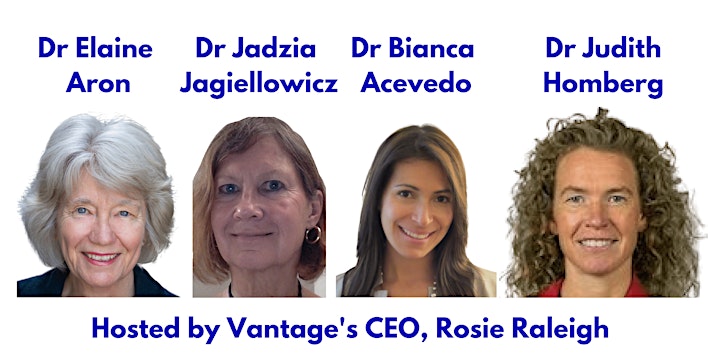 Date and Time
Location
Refund Policy