Are you a complete horror film buff? Know your Mike Myers from your Jasons? Take on our Halloween House Party
About this event
You're alone at home, the phone rings and it's an eery voice...what do you do? SCREAMMMMM. If you're familiar with these classic horror films then don't miss our Halloween Horror Quiz.
Take on Adam the quizmaster and other teams to see who know's their horrors the most!
Winners receive a £60 bar tab and horror merchandise. Max teams of 6, £2 per player. Please note tables are expected to arrive at 7pm to secure their table. Any later may result in your table being given away.
Warning attendees of quiz may die in 7 days.
PLEASE NOTE WHILST TICKETS ARE FREE BOOKING YOUR PLACE ON HERE DOES NOT SECURE YOUR TABLE. PLEASE BOOK USING OUR WEBSITE: https://bit.ly/3hGu9U1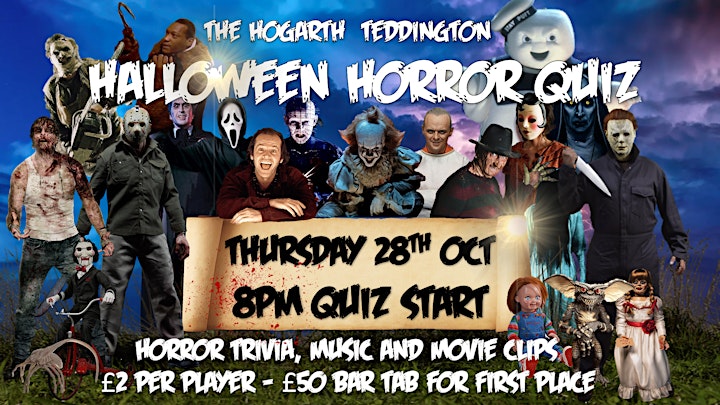 Organiser of The Hogarth's Halloween Horror Quiz
The Hogarth Pub
Modern Pub, newly refurbished in the heart of Teddington.
Indepandantly owned serving modern pub quisine with american and continantal twists. Creative cocktails, stunning wines and craf beers.
Great community vibes with many excellent events!
Suntrap garden, board games, dog friendly