The CBKA is delighted to welcome back the renowned US honeybee scientist Dr. Jamie Ellis to talk about reproduction of the honey bee colony.
About this event
Most people are aware of reproduction at the individual honey bee level: queens produce the other bees in the nest. However, few people consider that colonies also reproduce, a feat accomplished by the swarm. In this lecture, Dr. Ellis will discuss bee behavior before and during swarms and place this within the larger context of a colony's biology."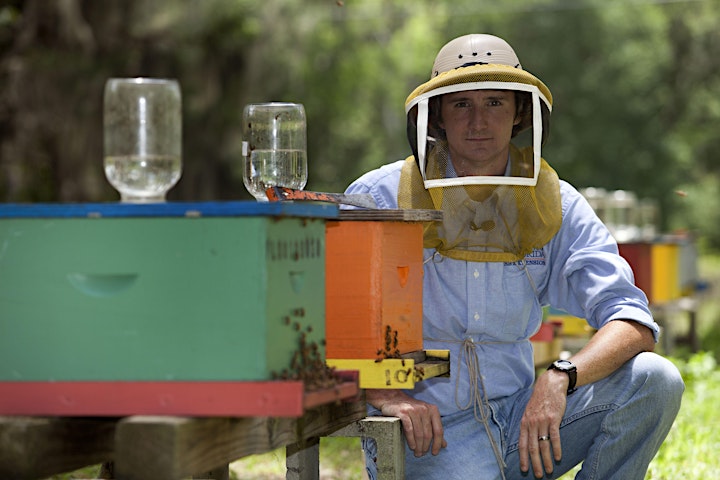 About the speaker:
Jamie Ellis is the Gahan Endowed Professor of Entomology in the Department of Entomology and Nematology at the University of Florida where he created the UF/IFAS Bee College and the UF/IFAS Master Beekeeper Program. As an instructor, Jamie supervises PhD and masters students. Currently, Jamie and his team have over 30 active research projects in the fields of honey bee husbandry, conservation and ecology, and integrated crop pollination.
Dr. Ellis and his team at the University of Florida's Honey Bee Research and Exension Laboratory host a most informative but fun podcast Two Bees in a Podcast which we highly recommend.
ZOOM
When you register for a ticket you will receive an auto email confirmation with a 'View the Event' button - click and it takes you back to Eventbrite and the Zoom hyperlink is there. Also, you will receive several emails from Eventbrite on the day which will contain the link. If you didn't receive it, please check your email spam folder and settings.
NOTES
Under 18s - CBKA is for everyone, but anyone under the age of 18 should be accompanied on camera by an adult.
Organiser of The honeybee swarm: reproduction at the colony level
WELCOME TO CAMBRIDGESHIRE BEEKEEPER'S ASSOCIATION
We are a volunteer-run members' organisation and Registered Charity that represents the interests of beekeepers in the county of cambridgeshire. We educate, advise and bring together more than 500 beekeepers and raise awareness of issues affecting honeybees.