The Hub's Holiday Party: Wear your ugly holiday sweater!
About this event
We are very excited to invite you to The Hub's Holiday Party on the 16th of December from 17:00 onwards. The party will be held at the café at Humanity Hub City Centre and will take the form of a potluck, so make sure to bring your most delicious signature dish to share! We will enjoy each other's food while drinking, dancing, and having fun in the picture corner.
The theme of this year's Holiday Party is "Wear your ugly holiday sweater!" and that is not without a real Ugly Sweater Competition! Make sure to wear your most hideous holiday sweater and you might even win a prize.
Please save the date & register for this event! The final program will soon be announced. We hope to see you all there.
Of course, we will keep a close eye on the evolving Covid regulations and we will keep you updated on any changes.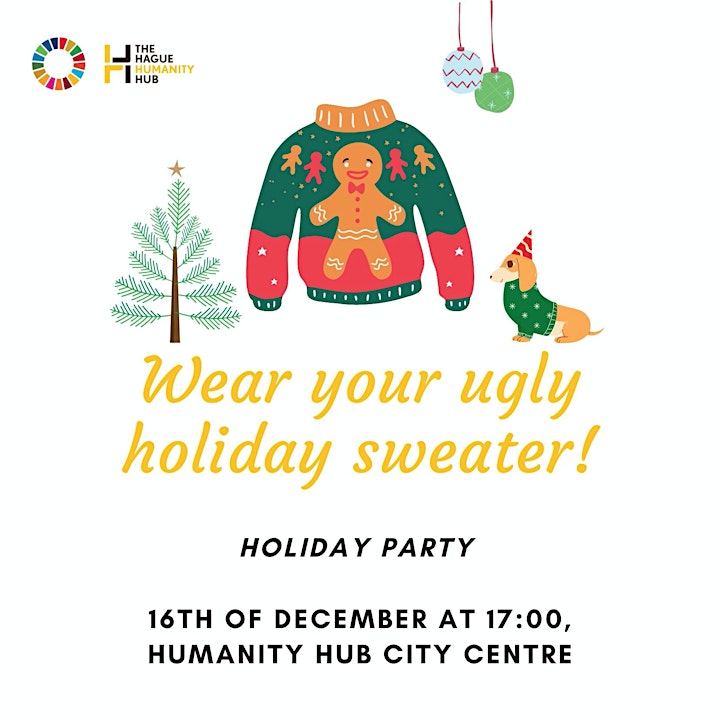 Organiser of The Hub's Holiday Party!
A COMMUNITY OF INNOVATORS IN PEACE, JUSTICE, AND HUMANITARIAN ACTION
The Hague Humanity Hub, based at the Fluwelen Burgwal in central The Hague, officially opened its doors on the 2nd of January 2018.
The Hague Humanity Hub is a unique platform, where forward-thinking organizations and people are united by their drive to develop innovative solutions to today's global challenges in peace, justice, and humanitarian action. Besides a professional workplace, the Hub offers access to an open and diverse community for innovation, co-creation, and knowledge exchange.
Among its first members are UN OCHA centre for humanitarian data, HiiL, Dutch Coalition for Humanitarian Innovation, HumanityX, and World Resources Institute. Within 9 months of opening, the Hub already has more than 60 members organizations.