Description
THE IACF GARDEN PARTY 2017
Join us on Saturday 16th and Sunday 17th September for a final, late summer outdoor party in the beautiful gardens of Torre Abbey for a day buzzing with music, family fun, food, theatrical performances, outdoor film screenings, botanical delights, exhibitions and much more!
Inspired by Agatha Christie's passion and curiosity for travel, this year's theme blends the quintessential English summer garden party with some distinctly Middle Eastern flavours. Settle down for a deck chair picnic and soak up the atmosphere!
GARDEN PARTY TICKETS £10* | UNDER 16s FREE
*The Garden Party is included in the price of IACF 5 Day, Weekend and Day Tickets.
To find out more and to book, visit www.iacf-uk.org
Here's a snapshot of what to expect from your day!
- Gates open and family activities from 10.00am
- Music and Food from 12.00pm
- Evening Theatre & Film (Saturday only) from 6pm
FAMILY ACTIVITIES
Create your own Crime Scene: Artist Gaby Lovatt will be helping families make their own model-boxes inspired by the pioneering forensic scientist Frances Glessner Lee, who created intricate dollhouse-style models of crime scenes and was the first woman to join the International Association of Chief of Police. Take inspiration from the crimes of Cluedo, Torre Abbey's amazing rooms, your dream bedroom or somewhere else – this is a chance to model your own mystery!
Weave your own Story: Adventure around Torre Abbey to see all of Esna Su's beautiful sculptures that are hanging around the building. Take inspiration from the way they are woven together, their shapes and colours. Then try to make your own colourful creation to take home, weaving different materials together to make beautiful patterns and shapes.
Story Makers: Create your own play through drama and improvisation. What mystery will you create or discover?! If you would like to participate, just book on when you arrive or go to the Big Tent area just before the session start.
Facepainting; The Face Painting Company will be bringing their award-winning artistic skills each afternoon to transform faces of all ages (free for all Garden Party visitors).
Tile Painting: Take inspiration from the tiles that have been created by the local community in Torre Abbey's Persian Garden, created especially for the festival. Try making your own beautiful coloured tile to take home.
Young Archaeologists: Get to work in Torre Abbey Gardens on our archaeological dig! What will you find buried under the surface?
Garden Potions: Get mucky making Garden Potions inspired by Agatha Christie's knowledge of chemistry and concoctions! Safe, messy materials play for all ages, from pre-school. Aprons provided.
Mystery Trails: Solve puzzles around the house & gardens of Torre Abbey.. Become a detective on our Agatha Christie Mystery Trail – hunting for clues around the house and gardens
MUSIC
Taking to the stage on Saturday to fill the air with music will be The Baklava Ensemble, a South Devon quartet who blend the Mediterranean sounds of oud, bouzouki, concertina, Middle Eastern percussion, mandolin, baglama, guitar, and voices to bring evocative, stirring and lively music both contemporary and ancient.
Sunday will see Big Buzzard's jazz duo of Andy Williamson (sax) and Steve Dow (guitar) play vintage swing standards with a contemporary, improvised twist.
Also featuring on Sunday is the virtuosic guitar talents of Pouya Mahmoodi, who has been forging a new path for Iranian music, weaving together the seemingly disparate threads of Persian classical tradition and rock, jazz, and blues.
Across the weekend, Torbay's talent hotbed, Soundlaunch ,will be bringing a host of local young musicians to sing their hearts out for the crowds.
AROUND THE GROUNDS..
The Secret Persian Garden: "Paradise" is the ancient Persian word for a "walled enclosure". In keeping with this spirit, we invite you to enter through the ancient arches of the Abbey ruins to discover an oasis of botanical delights! In this Persian haven of tranquility you will be welcomed with a traditional Middle Eastern mint tea to help you relax amongst the water fountains and palms. With support from Otter Nurseries, Paignton Zoo, National Trust and Tor2.
Traders: Browse local book sellers, artisans, and in the Garden Marketplace. Publications by agatha Christie, Speakers and artists, limited editions and gifts are also available through our festival shop run by Waterstones and Torre Abbey.
In The House: Garden Party visitors can also explore the labyrinthine galleries of the historic Torre Abbey House including exhibitions, installations and artworks created for the festival.
FOOD & DRINK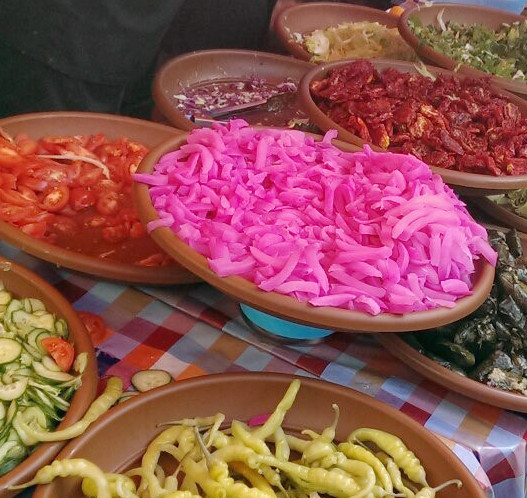 World Food Cafe: In keeping with the theme of Agatha Christie's travels across the Middle East, Persian gastronomic delights will be on offer throughout the afternoon. Afternoon Teas will also be provided by the Tea Rooms at Torre Abbey.
Dartington Dairy: Agatha Christie was a notorious lover of cream, reportedly going so far as drinking entire mugs of it! In that spirit, Dartington Dairy will be bringing their delicious and innovative ice creams along with tasting samples of their wonderfully healthy Kefir dairy drinks, a speciality of the Caucasus Mountains of Northern Turkey.
Cocktaills: Paignton's very own Lion's Monocle Cocktail bar will be mixing delicious themed handmade cocktails on Saturday afternoon and early evening.
The Tea Rooms & Shack Bar: The Abbey Tea Rooms and Garden Shack will be open all weekend serving cream teas, great coffee, local craft beers, wine, and a myriad of tasty snacks.
INTO THE EVENING.
OUT OF THE WOODS: DOORSTEP ARTS
"Happily Ever After has come and gone, and we're still here." Join Doorstep Youth Theatre on Saturday evening as they try to find their way Out Of The Woods. Characters from favourite fairy tales attempt to rewrite their stories. The Woods are a magical place, where damsels in distress suddenly find they can fight back, where children can enter the stories they tell, and where the shadows of giants flicker, but no one seems to know who is in charge. A preview this original new musical co-devised by Torbay's Doorstep Youth Theatre and professional artists from Doorstep Arts. We also welcome Plymouth's Youth Company 'Beyond Face' who will be sharing some of their new work with festival audiences.
DEATH ON THE NILE (1978): OUTDOOR SCREENING
On Saturday evening, enjoy a classic Agatha Christie movie under the stars. Our outdoor big screen will be showing the UK premier of a newly-restored version Death on the Nile (1978) starring Peter Ustinov as Hercule Poirot, with Bette Davis, Mia Farrow, David Niven, Maggie Smith and Angela Lansbury. Evening bar in the gardens. Bring a blanket, grab some popcorn from the shack bar and settle in for for this classic!