Description
The Board of Trans4m Communiversity Associates (TCA) in collaboration with Beacon Academics invites you to a book circle/ launch of their recently published book; The Idea of the Communiversity.
Across the world, we are facing a crisis in education at all levels: for some communities, schooling remains inaccessible, and for others, educational institutions have become elite qualification factories. For most, the cost of higher education is rising. Underlying these profound challenges are fundamental questions about the nature of universities and higher education in general.
Perhaps for the first time, a group of scholars—a veteran Afro-European political philosopher, a Catholic cleric and social scientist, and an Anglican priest/political economist—have taken a step further and asked: is it possible to re-imagine and re-invent the global university system?
In The Idea of the Communiversity, they propose a new approach to the economic, social, technological, educational and moral transformation of society. This book takes an integral world's approach to societal transformation, by pointing to ways in which we can reform our modes of knowledge creation. Through the fourfold model of community, pilgrimium, academy and co-laboratory, Lessem, Adodo and Bradley—all intellectual and grassroots activists—have re-conceptualised a university for every people and culture, centred on the need to think local and act global. We have seen the eras of post-colonialism and decoloniality. This book ushers us into a new one—that of the Communiversity.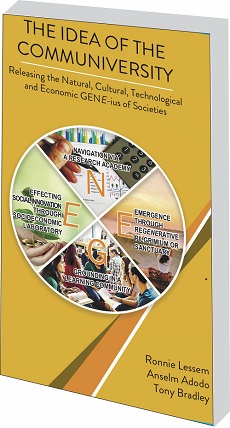 ABOUT THE AUTHORS
The Idea of the Communiversity was born out of the communal, conscious raising and the conceptual and commercial experiences of three people: Samanyanga Ronnie Lessem, an Afro-European social philosopher, Anselm Adodo, a Nigerian-Benedictine priest, philosopher and social scientist, and Tony Bradley, a Celtic-Christian intellectual activist. Each of them, in association with their academic and commercial organisations and societies, spread altogether over 120 years, has sought to transcend the divide between industry and academe, the spiritual and the material, community and economy, one cultural world and another. Each of them has devoted a lifetime to bridging different worlds, most especially those of community and university, albeit also aligned with spirituality and with enterprise, spread across the south and the north, the east and the west.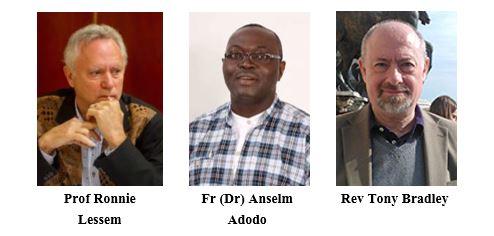 PROF DR RONNIE LESSEM
Professor Ronnie Samanyanga Lessem, born in Zimbabwe and now based in the UK, is the Co-Founder of TRANS4M (France) which has since evolved, together with Dr Anselm Adodo and Aneeqa Malik, into Trans4m Communiversity Associates (TCA) in the UK, which focuses on the regeneration of particular societies. It is currently mainly active, through its emerging Communiversities, in Southern Africa (South Africa, Zimbabwe), West Africa (Nigeria), the Middle East (Egypt, Jordan), the Near East (Pakistan), and Europe (Slovenia, UK). Hitherto Ronnie Lessem has launched projects on European management, with IMD in Switzerland, European-ness and Innovation, with Roland Berger Foundation in Germany, African management, with Wits Graduate Business School in South Africa, and Arab as well as Islamic Management, with TEAM International in Cairo and Jordan. He studied economics at the University of Zimbabwe, the economics of industry at the London School of Economics, Corporate Planning at Harvard Business School, and has since written some 50 books, the most recent, with Anselm Adodo and Tony Bradley, on The Idea of the Communiversity.
FR (DR) ANSELM ADODO
Anselm Adodo is the founder and Director of West Africa's foremost herbal research Institute, the Pax Herbal Clinic and Research Laboratories, popularly called Paxherbals. He is a prominent advocate of African Herbal medicine research, indigenous knowledge systems, rural community development, Africanized economic models, health policy reform and transformation of education in Africa. Apart from over 500 publications in journals, magazines, national dailies and peer-reviewed journals, Anselm has written more than ten books, which include the best-selling 'Nature Power'.
REV TONY BRADLEY
Tony is Lecturer in Social Economy and Innovation in Liverpool Hope University Business School. He has had a varied career as an academic, TV Producer/ Director, Social Entrepreneur (establishing five social enterprises), Screenwriter and Musical Theatre producer. Throughout, he has been a priest in the Church of England, so that his Christian faith has inspired him through all these ventures. He is the author of nine books, the latest co-authored with Ronnie Lessem and Anselm Adodo, The Idea of the Communiversity. Tony is Chair of the Wigan Arts, Culture and Heritage Trust, the North of England's fastest growing arts centre. He is Co-Lead of Communiversity Liverpool and is looking to establish Communiversities across the North of England, as an arts-based focus for the Northern Powerhouse.
The panel discussion will be chaired by Dr Farid Panjwani.
Dr Farid Panjwani, is an Associate Professor and Director, Centre for Research and Evaluation in Muslim Education, UCL Institute of Education, University College London.The Centre for Research and Evaluation in Muslim Education (CREME) is the first research centre of its kind in a mainstream British university.
Dr Farid Panjwani has researched, taught and published on several topics including inter and intra-religious diversity, interface between religious and citizenship education, imagination, and the rise of extremisms in contemporary times. He was a member of the National Commission on Religious Education which published its report last year.
ABOUT THE EVENT
Together the authors along with other colleagues and audience will explore the following fundamental questions:
What kind of knowledge do we need to survive in the present century and next?
Do the current modes of knowledge creation and application address the challenges of the 21st century?
How do we bridge the dichotomy between being and knowing, research and innovation, theory and practice?
The evening will comprise of an informal coming-together of academics, development practitioners, social innovators and people from all walks of life who are concerned about the nature of universities and higher education in general.
BOOK REVIEWS FROM AROUND THE 4-WORLDS
'In this path-breaking book, Lessem, Adodo and Bradley call for a novel re-conception of the modern techno-centric university. In place of the hierarchical and individualistic university, these scholars propose an institution that is spiritual in purpose, that is communitarian in orientation, and that seeks the transformation of the individual and her society. They call this reimagining of the university a "communiversity" and view it as a combination of a community of scholars, engaged in a transformative journey (pilgrimium), that is both an inclusive academy and a functional laboratory. This book is a call to action for educators and activists to create an institution that can work to change concrete societal problems.'
Professor Kenneth B. Nunn, Professor of Law, University of Florida, USA.
Read more reviews here. https://tc-a.org/about-the-book/
EVENT ORGANISERS
Trans4m Communiversity Asscoiates (TCA)
The idea of the Communiversity has arisen out of the increasing recognition that Western 'Mode 1' universities are failing to meet the needs of many local communities, not only in the so-called 'developing world' but, also, in the 'left-behind developed world'. Much of the current serious disaffection with contemporary economic structures, politics, and society stems from a feeling, amongst many, that they are unable to participate in the wealth-creating and sharing aspects of society, which give others their sense of meaning. The resultant estrangement gives rise to social problems of mental illness, isolation – even amongst young professionals – rejection of democratic and authoritative institutions and can, at its extreme, lead to increasing levels of suicide and street violence. Whilst the Communiversity is unable to address all these issues, it is one tool amongst many, which can assist in connecting people, communities and cultures to a model of collaborative learning that helps to make sense of who we are and what we can contribute.
Beacon Academic
Beacon Academic publishes academic books across a wide range of subjects as an imprint of Beacon Books an independent publisher committed to growth in international markets. Beacon Academic prides itself on offering tailored support to authors and producing high quality publications, showcasing the best of academic scholarship and research worldwide.