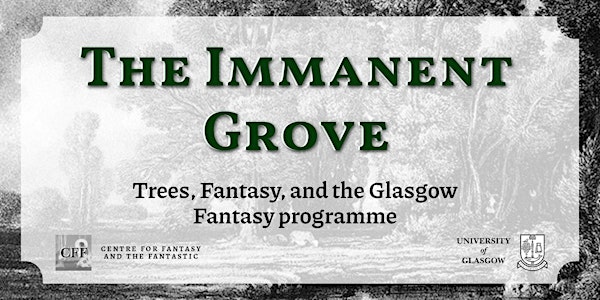 The Immanent Grove: Trees, Fantasy, and the Glasgow Fantasy programme
The Immanent Grove: Memorialising the achievements of the University of Glasgow's Fantasy graduates
About this event
2020 was a year for reflection. In the course of her reflections, PhD student Lucy Holdsworth came up with the idea of memorialising the achievements of the University of Graduate's Fantasy graduates. And how better to celebrate these graduates, Lucy thought, than with the gift of trees?
Trees permeate Fantasy literature and, in the twenty-first century, forests also hold the key to the future. Without extensive reforestation, it is hard to imagine a way to counter the destructive effects of human dominance of the planet. For all these reasons, Lucy found her thoughts turning to a project called Trees for Life, and shared her thoughts with her supervisor Matt Sangster, one of the founding members of Glasgow's recently-launched Centre for Fantasy and the Fantastic. Matt at once set about the process of putting her vision into practice, consulting fellow members of the Centre and obtaining funding from a generous donor. The Immanent Grove was born.
Join us for an evening of magic and nature to celebrate the brilliance of our students and the wonderful work done by Lucy Holdsworth and Matt Sangster, who made this project possible. Let's talk about trees, fantasy, and the Glasgow Fantasy program.
More information on the event here: https://fantasy.glasgow.ac.uk/
Join the conversation on Discord.