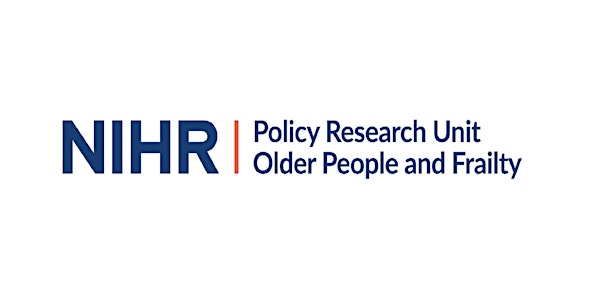 The impact of Care Act Easements on co-resident carers over 70
NIHR OPF Policy Research Unit webinar - impact of Care Act Easements on co-resident carers 70+ looking after partners living with dementia
About this event
The NIHR funded Older People and Frailty Policy Research Unit is holding a webinar to present and discuss emerging findings from their study "The impact of Care Act Easements on co-resident carers over 70 looking after partners living with dementia"  (research study web page link here)
The webinar is aimed at local authorities, health and social care workers, third sector organisations, advocacy groups and anyone with an interest in formal and informal care of older people at home during the pandemic.
The Coronavirus Act 2020 included the unprecedented power for local authorities to temporarily suspend the majority of their adult social care duties required under the Care Act 2014. These suspensions were known as "easements". The primary objective of the study is to investigate the impact of easements on this group of carers and those responsible for safeguarding within local authorities. We will present early findings from interviews with Principal Social Workers and Safeguarding Leads from 20 local authorities including easement authorities and 30 interviews with carers over 70 caring at home for a partner living with dementia.
The webinar will consider the implications of the research for policy and practice in current pandemic circumstances, and for the future.
Once registered, the Zoom link to access the event will be sent to you.
If you have any questions or queries please contact linda.welch@manchester.ac.uk