The Impact of the Nationality and Borders Bill on Modern Slavery in the UK
To mark Anti-Slavery Day in 2021, join IOM UK's online panel discussion
About this event
To mark Anti-Slavery Day in 2021, an online panel discussion will explore the impact of the Nationality and Borders Bill on the UK's response to modern slavery.
Proposals in the Nationality and Borders Bill raise questions of survivor disclosure, interaction with criminal justice protections and could have far-reaching effects for survivors of modern slavery. Who can access the protections of the National Referral Mechanism (NRM) will be impacted by the introduction of information notices, an increased threshold for a positive Reasonable Grounds decision, and changes to public order exemptions for those identified as victims. Support to survivors in the NRM could also be changed, with amendments to the recovery and reflection period, more detail on the types of support to be provided, and access to civil legal aid.
The Nationality and Borders Bill is a major part of the UK government's legislative agenda and this discussion will enable a better understanding about the Bill and how it will impact on the response to modern slavery and survivors themselves.
The panellists will discuss the key clauses on modern slavery contained in the Nationality and Borders Bill and their potential consequences in relation to prosecution, prevention and protection. The panellists will also reflect on why the issue of modern slavery is being addressed through legislation focused on immigration. The discussion will be supported by IOM UK's analysis of key NRM data in relation to some of the reforms proposed in the Bill.
PROGRAMME
13:00-13:05 | Welcome and introduction, Tauhid Pasha, Acting Chief of Mission at IOM UK
13:05 -13:45 | Panel discussion on key aspects of the Nationality and Borders Bill with:
Tamara Barnett, Director of Operations at Human Trafficking Foundation
Phillipa Roberts, Head of Policy and Research at Hope for Justice
Dame Sara Thornton, UK Independent Anti-Slavery Commissioner
13:45 -14.00 | Q&A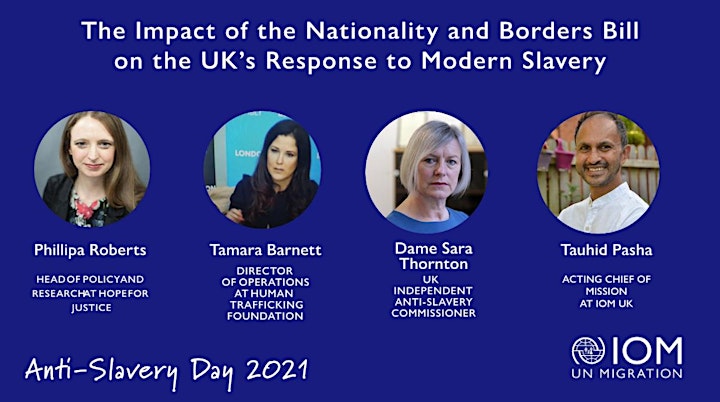 Find out more about the speakers of this event here.
Organiser of The Impact of the Nationality and Borders Bill on Modern Slavery in the UK
Established in 1951, the International Organization for Migration (IOM) is the leading inter-governmental organisation in the field of migration, committed to the principle that humane and orderly migration benefits migrants and society. As the UN Migration Agency, IOM works with migrants, governments and non-governmental partners in the international community to provide humane responses to the growing migration challenges of today.
IOM UK focuses its activities on broad programme areas, such as Refugee Resettlement, Integration and Community Cohesion, Countering Human Trafficking and Modern Slavery, Diaspora and Development, Migrant Assistance and Migration Policy and Research.