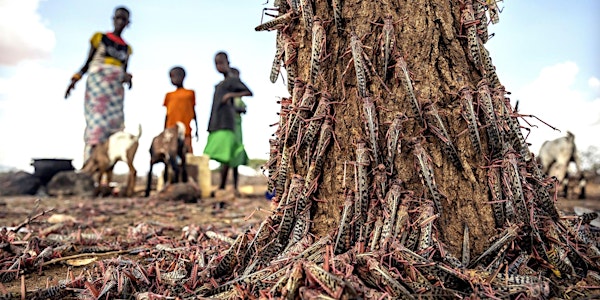 The impacts of Covid 19 on the food crisis in East Africa
This webinar will explore the worsening food crisis in East Africa and what interventions and innovations are needed to combat it.
About this event
The Royal African Society provides the secretariat to the APPG for Africa, and we rely on your generous support to continue our work and be able to convene these public-parliamentary events. The suggested minimum donation for this webinar is £5. Please consider using the "Registration with donation" option.
Start time: 3pm (UK time, GMT + 1)
The number of acutely food insecure people in East Africa is likely to have increased to between 34 and 43 million from May through July due to the socio-economic impact of the pandemic according to UN World Food Programme. If the number of hungry reaches 43 million, it will have more than doubled in three months.
An estimated 20 million in East Africa and Horn already faced food insecurity in nine countries before COVID-19 arrived, with numerous food crises, a massive outbreak of desert locusts and extensive flooding threatening millions across the region. Millions have already lost their jobs as economies falter amid lockdowns and curfews to stop the spread of COVID-19.
The disease is spreading across the region at the same time as fears are increasing that new swarms of desert locusts, particularly in Ethiopia, Kenya and near Somalia may eat newly planted crops ahead of the main harvest from July to September. Floods during the current long rains are another additional threat to people and food supplies in much of the region.
The APPG for Africa together with the Royal African Society is hosting a public-parliamentary webinar to promote understanding of the worsening food crisis in East Africa and what interventions and innovations are effective in mitigating the crisis. We will also explore where there is need for more focus and support from partners. We will be joined by a panel of three speakers before opening up for 30 minutes of live Q&A moderated by the Chair.
Speakers include:
Brenda Lazarus- Emergency Needs Assessment and Early Warning Advisor, FAO Sub-regional Office for Eastern Africa
Shobha Shetty- Practice Manager for Agriculture and Food Security in the World Bank's Africa Sustainable Development Group
Dr Julius Gatune- Senior Researcher and Policy Advisor with the African Centre for Economic Transformation (ACET)
Chair: Lord Chidgey, Co-Chair of the APPG for Africa
IMPORTANT: The link and password for the Zoom webinar will be sent to all those that have registered via Eventbrite on the morning of the webinar.