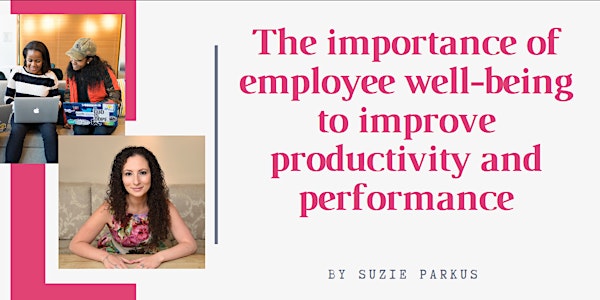 The importance of employee wellbeing to improve productivity & performance
The importance of employee wellbeing to improve productivity & performance with Suzie Parkus - Brought to you by South Westminster BIDs
About this event
Now more than ever, it's imperative that we look after the wellbeing of our staff in order to look after the wellbeing of our business. That said, the world has changed and people's needs are changing too.
In this talk, we will explore what can be done to improve company culture, management styles, bring out the best in your employee performance and in doing so, inspire positive future change for both the company and its staff.
About Suzie Parkus:
Suzie Parkus is a Communications Specialist & Life Coach, Speaker, Trainer and soon to be author. As a serial entrepreneur of 19 years, Suzie has both set up and run over 5 businesses in this time. As a result, she has a plethora of skills and knowledge across a variety of industries and niches.
In addition to which, Suzie has some 13 plus years of personal and professional development under her belt which enables her to support her clients at the highest possible level, enabling them to get results in record time. Understanding thoughts, feelings and emotions is a huge part of the toolkit used to help move clients forward because success is an inside out job.
Having had her own experiences of what it both looks and feels like to run the gauntlet of life when it comes to the desire to achieve big goals, Suzie is now a huge advocate of working smarter and not harder, whilst at the same time achieving outstanding results. This is a unique combination of life learned tools and skills which she also shares with her clients.