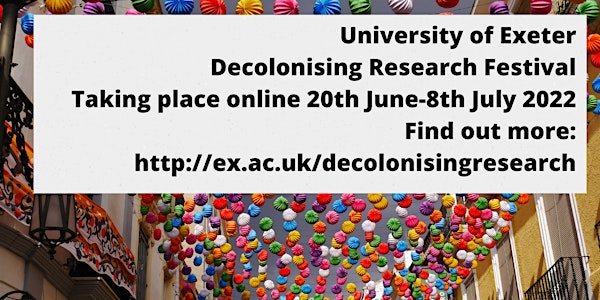 The importance of the historical perspective in research on educational dev
The importance of the historical perspective in research on educational development workshop
About this event
Postgraduate students of International Education and Development Studies who embark on research on a particular education topic in a selected country often lack a deep understanding of the history of education in their chosen context, or of the culture and history of society there, or both. General core courses on international education Master's programmes tend to provide a superficial historical survey of the rise and impact of United Nations-organised education expansion movements over the decades, as well as some discussion of globalisation. These courses also tend to provide a less-than-full picture of the nuance of the role played by education in all aspects of global development, providing questionable evidence of relationships of association (not causation, as often claimed or implied) between education and a range of positive societal developments. Not much questioning of education's role is ever done, beyond some consideration of the way it is used to preserve and reinforce privilege and create a picture of meritocracy and fairness. Demands are placed on countries of the Global South to make educational investments beyond what today's 'developed' economies had managed at similar levels of industrialisation and economic development.
During this workshop the presenter will discuss the historical development of mass education in the Global South and North, and participants will be encouraged to interrogate the role played by education in national development, changing culture, industrialisation and economic growth generally. The workshop will also explore the impact of mass schooling on language, culture and identity, as well as many of the myths that have grown up around internationally-agreed education and development goals. Participants will be encouraged to think through the question of how far back in history a researcher/practitioner should go to ensure that they understand the context and conduct and write-up history that is grounded in a strong and sufficient historical and cultural background.
This workshop is delivered by Dr Joanna Härmä, a writer and researcher who has conducted extensive research on low-fee private schooling targeting lower income communities in India, Nigeria, Ghana, Cote d'Ivoire, Tanzania, Uganda, Zambia and Mozambique. While living and working in Nigeria, she designed and oversaw the only comprehensive census of private schools in Lagos, amongst other research into private schooling in the country, including Kwara State and the federal capital, Abuja. Her first book, Low-fee Private Schooling and Poverty in Developing Countries, was published in 2021. She is currently working on her second book which will look at education and development in the historical perspective that she argues is entirely lacking in most research and writing on the topic. Her original discipline was history and she argues that examining education in the Global South while ignoring history leads to an inaccurate, colonial/imperial picture lacking crucial foundations. She is also a Visiting Fellow at the Centre for International Education at Sussex.