The I'mPOSSIBLE conversation - 4th anniversary and summer edition, 2015

Tuesday, 9 June 2015 from 18:00 to 21:00 (BST)
Event Details
Four years strong of the only event that focuses on celebrating women of colour being alive!
The I'mPOSSIBLE conversation returns for it's summer edition of 2015 and fourth anniversary on Tuesday, June 9.  Powered by Mizani L'Oreal and supported by Pearson plc. the event highlights women of colour from all walks of life who are often our hidden role models and speak on their journey to being POSSIBLE.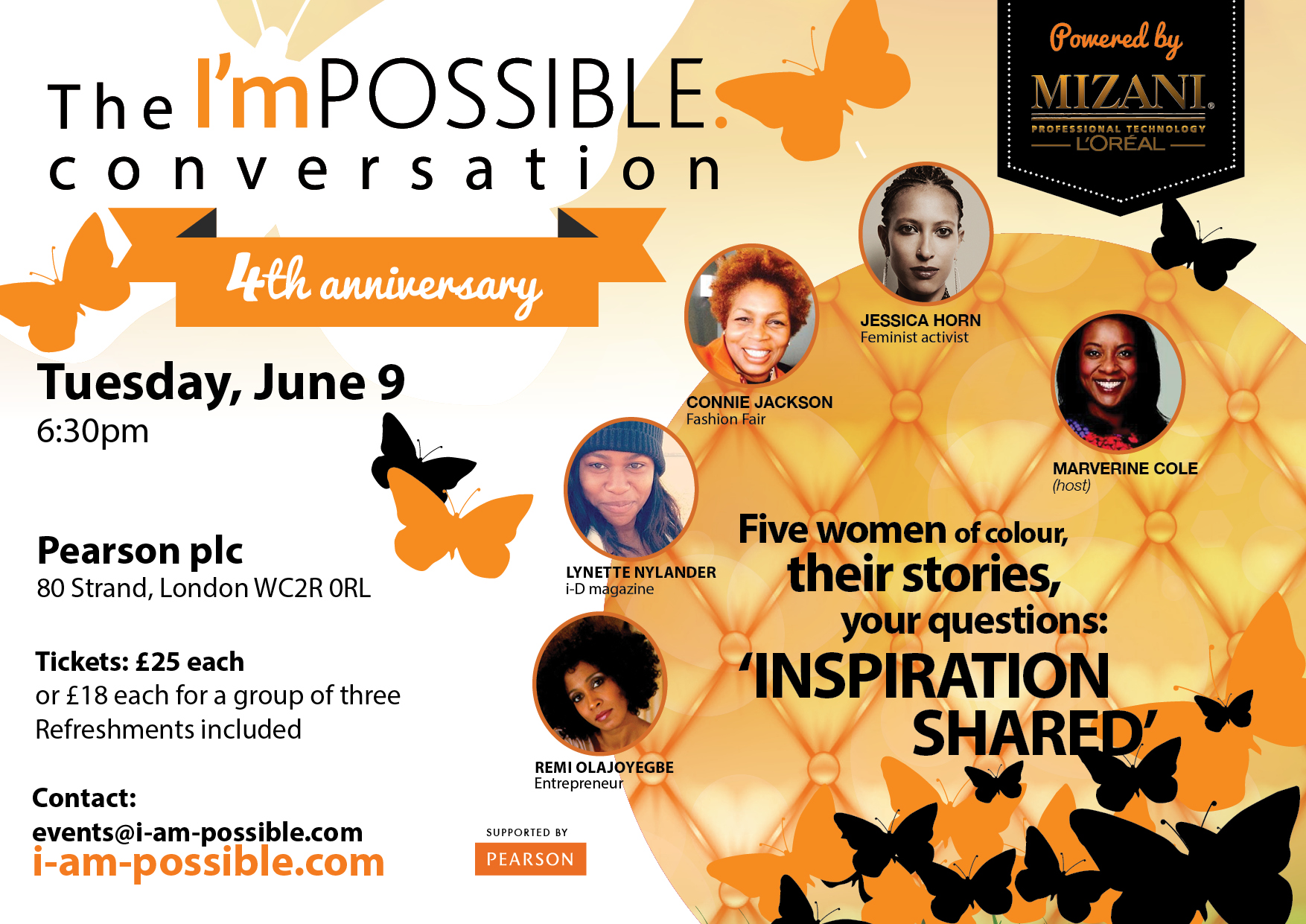 The summer edition line up is as follows: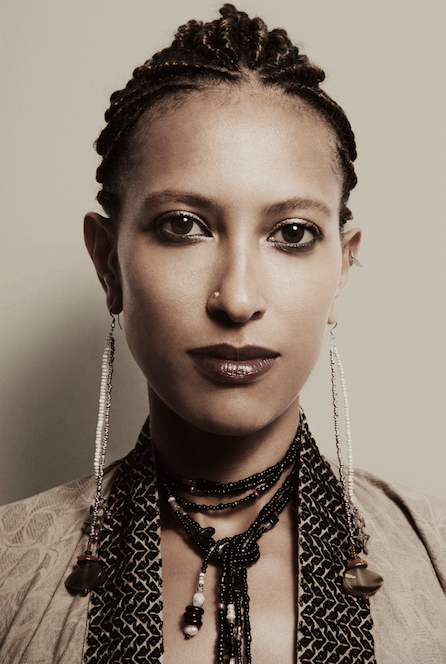 Jessica Horn
Feminist activist, writer and technical advisor on women's rights
 
How do we ensure that women live healthy, pleasurable, autonomous lives in their own bodies? Jessica Horn has worked for over 15 years with activists, progressive donors, researchers and the UN to develop a response. Given the historical moment and a focus on Africa, her work has necessarily been framed by responding to HIV/AIDS and the impacts of armed conflict.
Jessica's research and analysis has been published in professional journals *The Lancet* and *Feminist Africa*, and media platforms Al Jazeera, openDemocracy and The Feminist Wire. She is the author of two monographs on the impact of Christian fundamentalism on women's rights in Africa, and aresource guide on* Gender and Social Movements*. She is also a published poet.

Jessica is a founding member of the African Feminist Forum, board member of Urgent Action Fund-Africa and the International Grants Committee of Comic Relief. She currently works as Senior Advisor to AIR (African Institute for Integrated Responses to Violence Against Women and HIV/AIDS) at the Stephen Lewis Foundation.

Passionate about public debates on women's rights, Jessica has been a featured speaker at Tedx Euston Salon, Women of the World and Africa Utopia festivals at London's Southbank Centre, Africa Writes, and international conferences such as the AWID Forum and Women's Forum for the Economy and Society.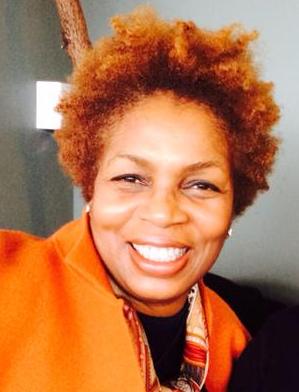 Connie Jackson
 General Manager, Fashion Fair
Named General Manager - UK & Europe for Fashion Fair Beauty Products Limited, the UK subsidiary of Johnson Publishing Company LLC in November 2012.  Johnson Publishing is the publisher of the iconic Ebony Magazine.  
Connie served as Operating Executive for Stargate Capital Investment Group (SCIG) from July 2010 until May 2013 and was responsible for increasing operating efficiency in the companies in which SCIG's Trapezia Fund invested – the first women-focused fund backed by institutional investors in the UK.  An accomplished interim executive and business advisor, previous engagements have included the start-up of the Cherie Blair Foundation for Women and merger implementation for the National Health Service (NHS) in London. She served as Chief Executive of St. Bartholomew's & The Royal London Charitable Foundation (now Barts & The London Charity) until June 2006, with oversight of the investment, administrative and regulatory functions of the Foundation and its £200 million endowment.

Prior to coming to the UK in 2002, Connie served as President & CEO of TCA Health, Inc., a health and social care organisation in Chicago, Illinois, USA, founded by her mother – a family practice physician. She was instrumental in raising government and philanthropic funding to support capital and operational expansion for TCA.  She joined TCA after several years in raising capital funding for the development of several public/private partnerships, in positions with Credit Suisse First Boston, the cities of Chicago and New York and LaSalle Partners Asset Management (now Jones Lang LaSalle).

She is a magna cum laude graduate of Fisk University (USA) in Economics, where she was elected to the Phi Beta Kappa honours society. She has a graduate diploma from the London School of Economics and a MBA from Harvard University.  Connie is actively involved in several civic activities, including serving as Chair of the Soup Kitchen of the American Church in London and as a governor of Goodenough College.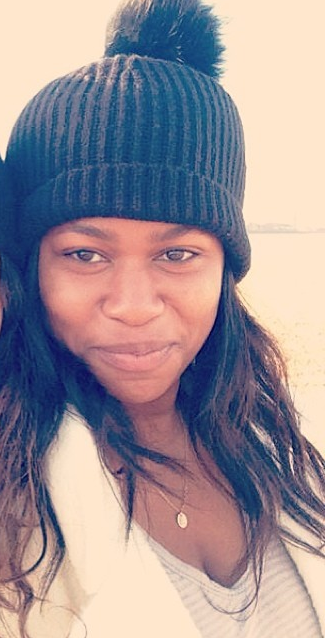 Lynette Nylander
Managing editor, i-D Magazine
 
Born on the outskirts of London, 25 year-old Lynette Nylander, is the managing editor of i-D magazine and has always been interested in personal style, brands and culture.
Excelling at all things creative, she spent her formative years learning musical instruments, studying for her distinctions from the Guildhall School of Speech and Drama. At 14, she won an AOL writing competition and was published to its global users. At 18, she obtained a place at the revered London College of Fashion studying Fashion Design and Marketing and interning with PR powerhouse Mandi Lennard for events for Alexander Wang, Supreme, Giles Deacon and Mattel. She then started her career in earnest, working for global fashion and entertainment and marketing firm, 'Independent Talent Brands'. She then embarked on a career in editorial, joining the masthead at INDUSTRIE Magazine where she worked with the likes of photographers Inez and Vinoodh, Alasdair McLellan and Juergen Teller, models Joan Smalls and Cara Delavigne and writing features on Lara Stone and Emily Weiss. After three years, she rose from editorial co-ordinator to Managing Editor.

In 2014, she joined the iconic i-D magazine as Managing Editor for both print and online, which now boasts 5.2 million unique users. She has also interviewed the likes of Vivienne Westwood, Christopher Shannon, Nykhor Paul, Christiaan Houtenbos and more at her time for the magazine.

Lynette also contributes to other publications such as HighSnobiety, Humanity Magazine, INDUSTRIE as well as consulting for both upcoming and established brands and publications and lives and works in London.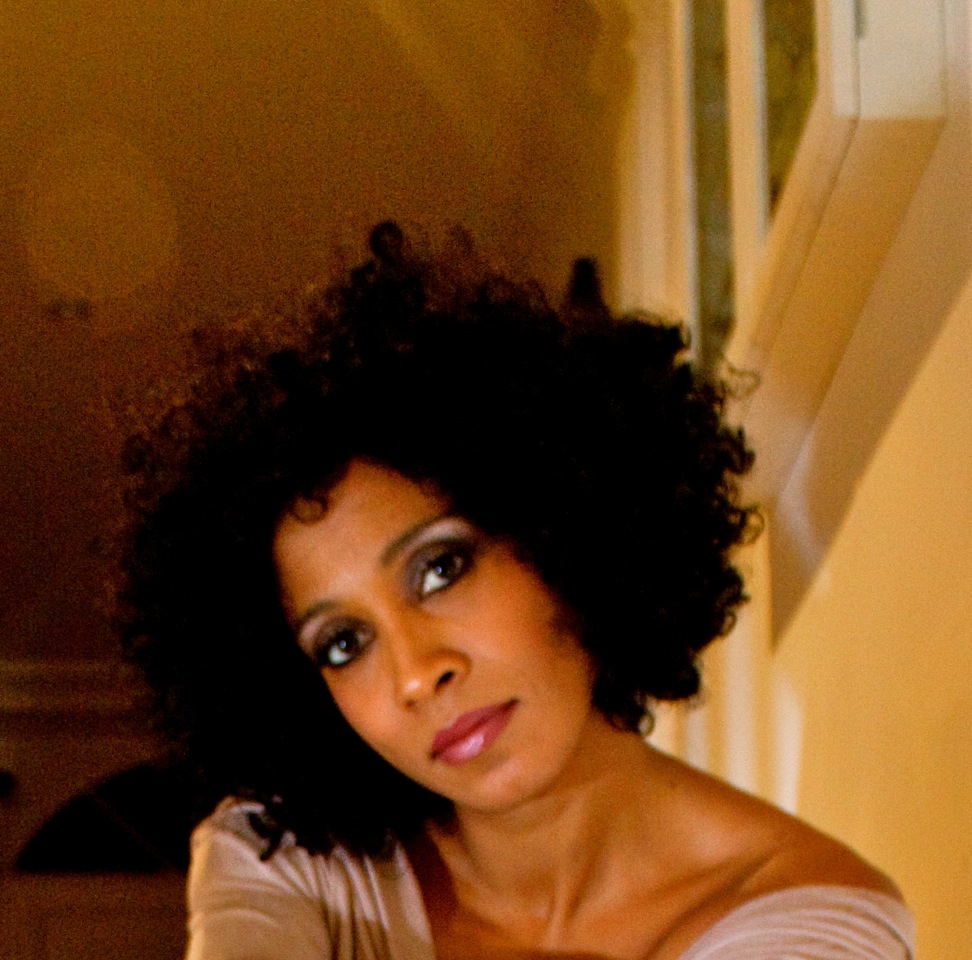 Remi Olajoyegbe
 Entrepreneur
With a CV including titles as diverse as investment banker, pub landlord and business and executive talent coach, Remi Aruna Olajoyegbe is an impressive and entrepreneurial lady. Dynamic, straight talking and goal oriented, she means business.

The younger of two children from an unusual mixed cultural heritage, she is half Assamese and half Nigerian.  Remi grew up and was schooled in London. She holds a masters degree in Social Research and Anthropology from LSE. She was recruited by Goldman Sachs where she rose to lead the Equity Capital Markets Syndicate Group. Capitalising on her mixed race Indian and African background, she then went on to specialise in emerging markets, as a Managing Director and Global Head of Equity Syndicate for Renaissance Capital at the tender age of 33. In her ten plus year career she raised over £200bn for hundreds of companies globally.

In late 2008, she was voted one of the Top 100 influential women in European Finance and named one of Financial News' 100 rising stars, a survey that chooses men and women under 40 who are on the path to reaching the very top of their professions.

Despite an all-encompassing financial career, Remi still found time to nurture a few of her many passions. Firstly, food and interior design: in 2004 together with two friends she bought and renovated two pubs in South East London. The Palmerston is now a multi award winning gastro pub.

Remi also joined a local charity, Peckham Shed which is an inclusive theatre company, working with children aged 7-17 with mixed learning and physical abilities. She fulfilled duties as a long standing board member and also a workshop mentor to children aged 7-11. This allowed her to combine her on going love for the performing arts, personal development and people in a hands-on and practical way.

In recent years she has devoted more time to her entrepreneurial endeavours and focuses most of her time working as a business, executive and life coach using her wealth of experience to help others set and achieve a variety of goals.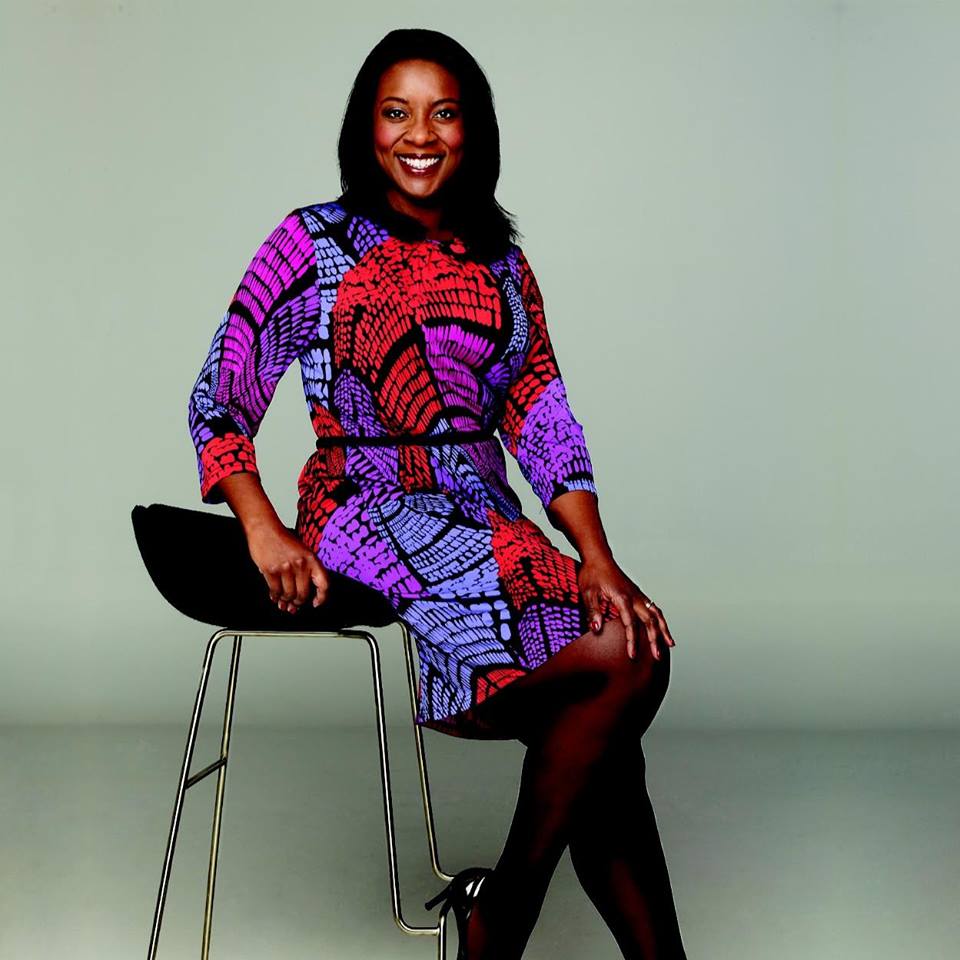 Marverine Cole (host)
Presenter
Has worked for many of Britain's most watched and listened to broadcasters in the last 20 years of her career in the media. As an Award-winning Journalist, she's anchored hundreds of hours of live TV news for the BBC, ITV & Sky News. She's also now a trusted face of Britain's biggest and most successful shopping channels, QVC. She's the first-ever, black female presenter in their main line-up in the channel's 22-year history.

Her Presenter blog get 30,000 unique hits a month. It's one of the most challenging TV jobs around: working live, and unscripted, without autocue. The channel reaches 26m households every day and Marverine works with big name brands like Apple, Sony and Dyson and she frequently interviews household names like Dame Joan Collins and Lulu.

Marverine's commitment to the development of talent in the media industry is strong: over the last decade she's inspired, mentored and taught countless aspiring journalists and media professionals. After a hard day's work in front of the TV camera, Marverine loves nothing better than a trip down the pub for a few beers. Classed as one of Britain's leading female experts about beer, she's a qualified Beer Sommelier!
Be a part of the magic! 
When & Where

Pearson plc.
80 Strand
WC2R 0RL London
United Kingdom


Tuesday, 9 June 2015 from 18:00 to 21:00 (BST)
Add to my calendar
Organiser
I'mPOSSIBLE. is a UK registered social enterprise whose primary aim is to celebrate, connect, highlight, and promote the achievements of women of colour, globally.
Its secondary aim is to educate and empower this group by showcasing their successes, life stories and testimonies as well as provide tools to success, signposting organisations and information that will help you get there.
Thirdly, I'mPOSSIBLE. will network organisations, events, information and news as well as create conversations within the community on issues that will be of interest or affect women of colour in Britain through its website, social media platforms and specially created events.