The I'mPOSSIBLE conversation Black History Month 2015 edition

Wednesday, 14 October 2015 from 19:00 to 21:30 (BST)
Event Details
The I'mPOSSIBLE conversation returns for Black History Month on Wednesday, October 14th taking place at the home of our sponsors, Mizani UK at the L'Oreal UK headquarters.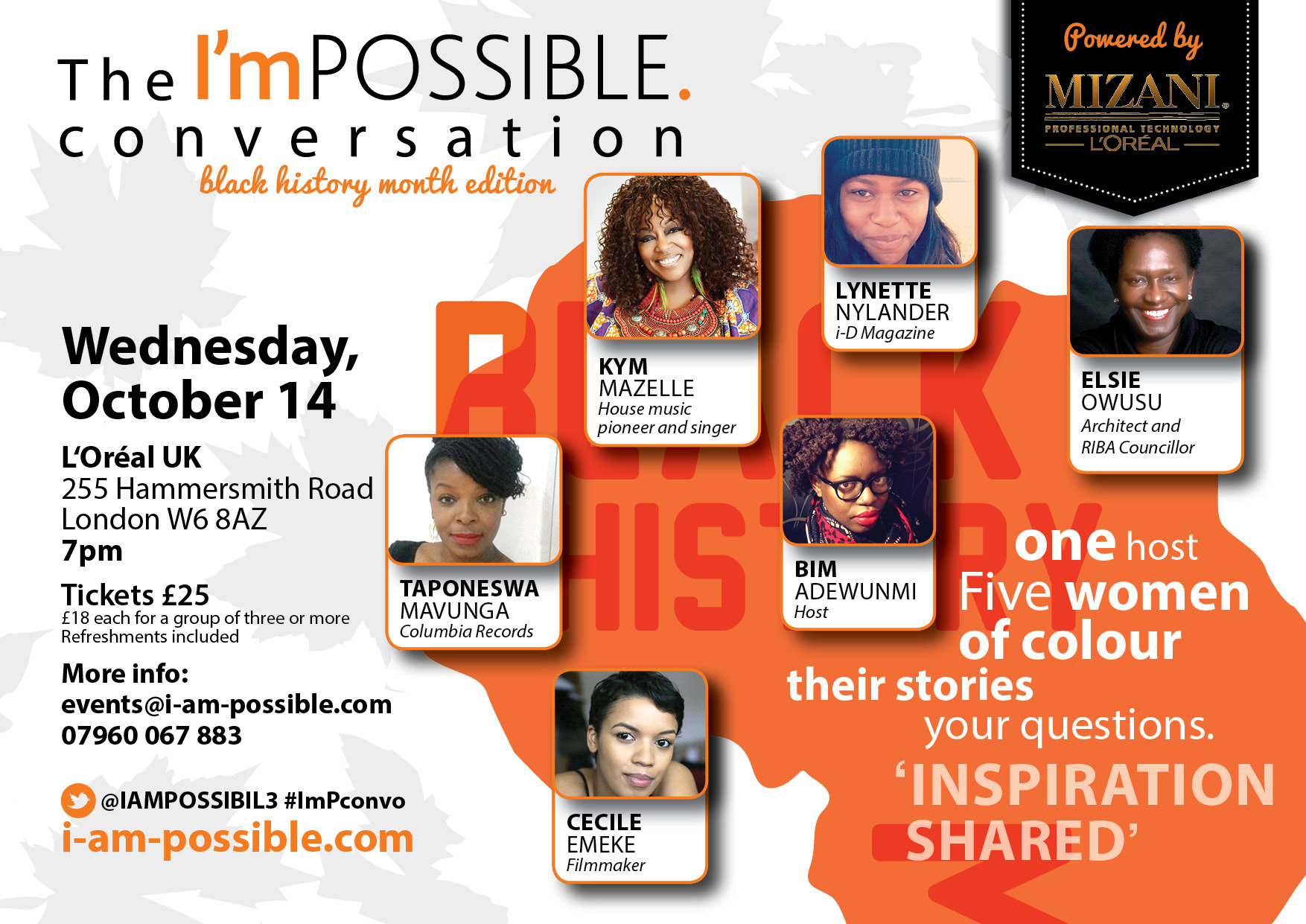 Since 2011, I'mPOSSIBLE has been putting the life stories and successes of women of colour on a platform to be heard, celebrated and to get inspiration from.  Our Black History Month line up is: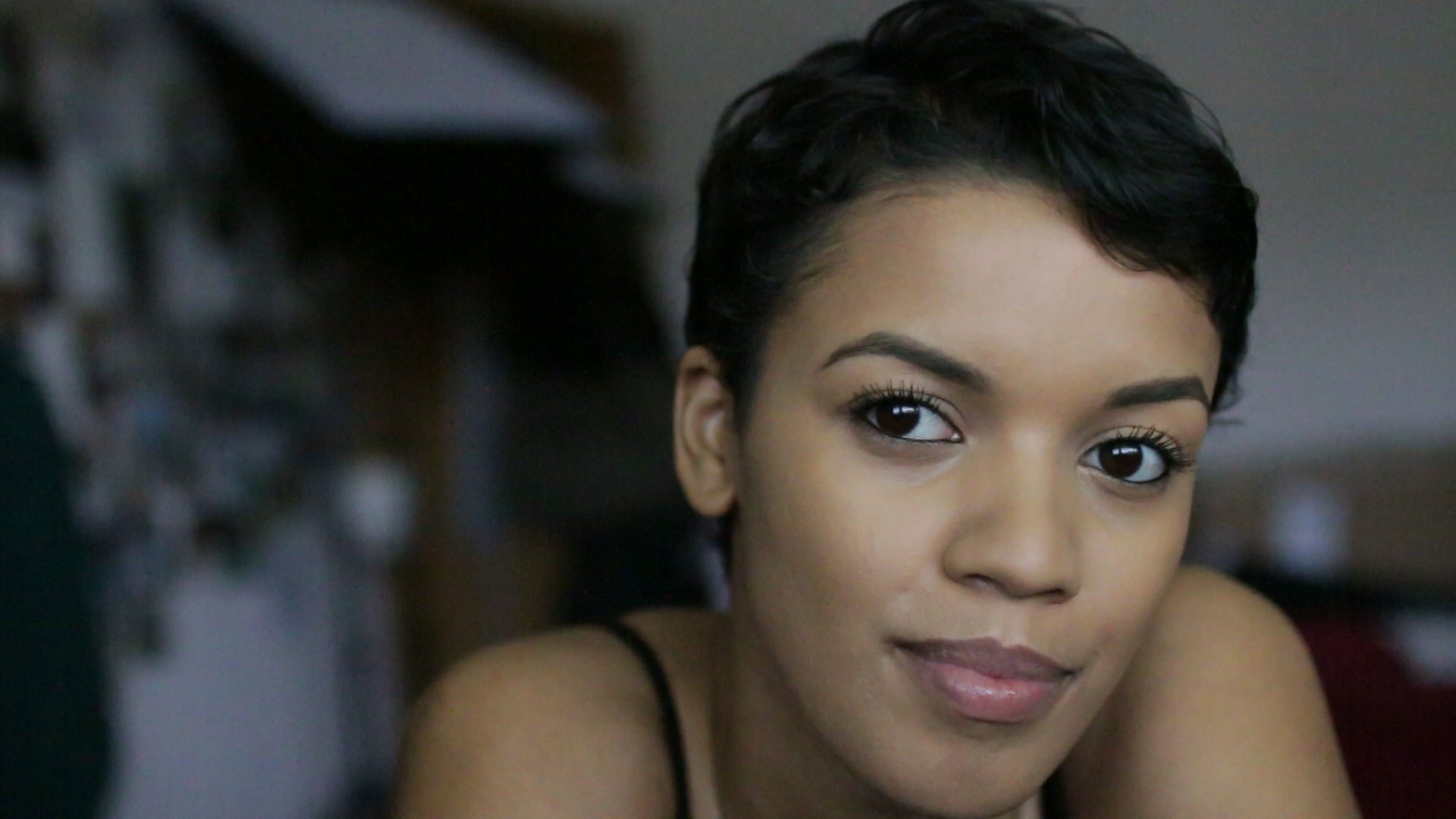 Cecile Emeke
is a director, writer and artist from London, who is most known for the global online documentary series 'strolling' and the short film turned web series 'ackee & saltfish'. Cecile's work has featured everywhere from the New York Times, BBC, Shadow & Act, the Washington Post, Ebony Magazine, Fader, Nylon, Mashable Dazed, Afropunk, Okay Africa to the Tribeca Film Festival, the BFI London Film Festival, the American Black Film Festival, the Trinidad and Tobago Film Festival, to the Brooklyn Museum, the Southbank Centre and more.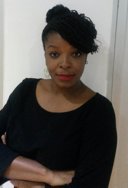 Taponeswa Mavunga
has spent the last year  in Johannesburg working at Viacom Africa as Head Of Talent And Music - responsible for MTV,  MTV Base and the newly launched BET Africa. During this time, she has worked very closely with Nigerian dancehall artist Patoranking who recently signed a worldwide distribution deal with VP Records and UK born, Nigerian based singer Seyi Shay newly signed to Universal Island. Prior to this, Taponeswa was at Atlantic Records UK for over a decade where she managed a variety of publicity campaigns for the likes of Jay Z, Sean Paul, Estelle, Ed Sheeran and Rudimental. Her work on the latter has won a Music Week Award for Best PR Campaign in 2014.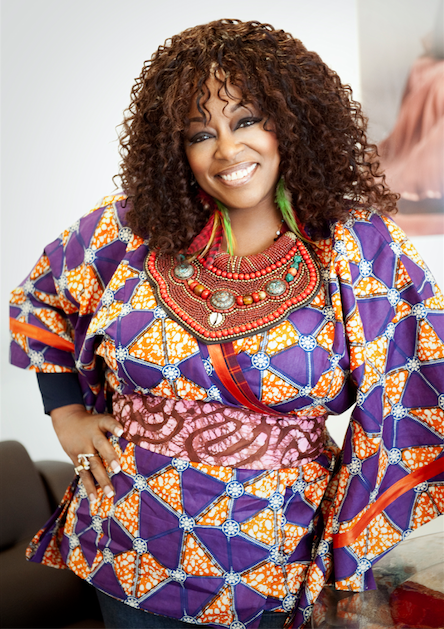 Kym Mazelle 
Dubbed 'the first lady of House music', Mazelle Pioneered the music genre to Europe from the United States, in the late 80s.  Born in Gary, Indiana, USA, Mazelle grew up on the same street as the Jackson family and knew several members.
Mazelle's career started in Chicago during her last year at University.  She worked with record producer Marshall Jefferson on the 1987 release 'Taste My Love' and in 1988, she released the single "Useless (I Don't Need You Now)", a hit on the club charts.  Her next release, a year later, "Wait," a duet with Robert Howard from The Blow Monkeys, peaked at #7 on the UK charts.  In 1990, the single "Missing You" by Soul II Soul that Mazelle featured on, achieved major success worldwide and in 1996, Mazelle recorded a cover version of the song "Young Hearts Run Free" which appeared in the Baz Luhrmann film, 'William Shakespeare's Romeo + Juliet'. 
Mazelle's TV credits include 'Celebrity Fit Club', 'Celebrity MasterChef' and the BBCs 'Voice UK'.  Her theatre credits are 'Thriller Live', 'Smokey Joe's Café' and Ray Charles' "I Can't Stop Loving You".
Mazelle still tours around England and has a dedicated and faithful following.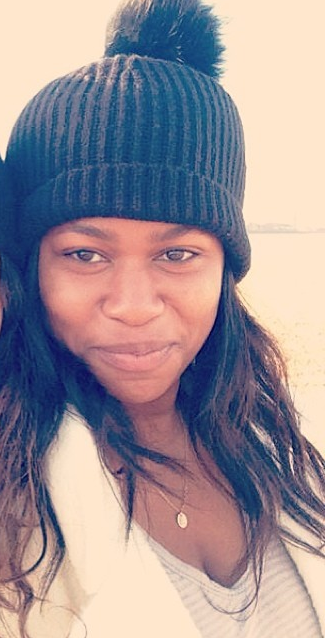 Lynette Nylander
Born on the outskirts of London, 25 year-old Lynette Nylander, is the managing editor of i-D magazine and has always been interested in personal style, brands and culture.
Excelling at all things creative, she spent her formative years learning musical instruments, studying for her distinctions from the Guildhall School of Speech and Drama. At 14, she won an AOL writing competition and was published to its global users. At 18, she obtained a place at the revered London College of Fashion studying Fashion Design and Marketing and interning with PR powerhouse Mandi Lennard for events for Alexander Wang, Supreme, Giles Deacon and Mattel. She then started her career in earnest, working for global fashion and entertainment and marketing firm, 'Independent Talent Brands'. She then embarked on a career in editorial, joining the masthead at INDUSTRIE Magazine where she worked with the likes of photographers Inez and Vinoodh, Alasdair McLellan and Juergen Teller, models Joan Smalls and Cara Delavigne and writing features on Lara Stone and Emily Weiss. After three years, she rose from editorial co-ordinator to Managing Editor.
In 2014, she joined the iconic i-D magazine as Managing Editor for both print and online, which now boasts 5.2 million unique users. She has also interviewed the likes of Vivienne Westwood, Christopher Shannon, Nykhor Paul, Christiaan Houtenbos and more at her time for the magazine.

Lynette also contributes to other publications such as HighSnobiety, Humanity Magazine, INDUSTRIE as well as consulting for both upcoming and established brands and publications and lives and works in London.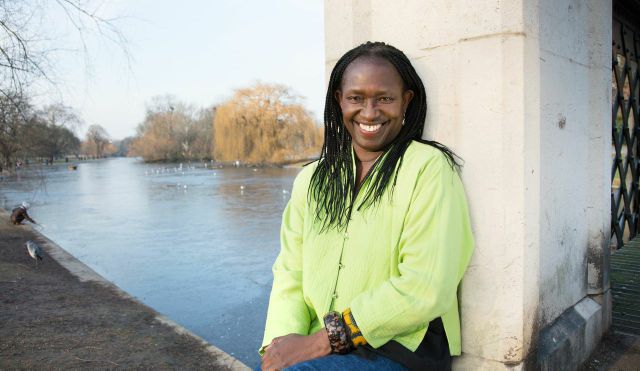 Elsie Owusu OBE
a chartered architect and urban designer, Owusu is a partner at Feilden+Mawson (F+M), a principal of her own practice, 'Elsie Owusu Architects' (EOA) and a registered Specialist Conservation Architect.  A former board member of Arts Council England and the National Trust of England, Elsie's main interests are contemporary architecture, city planning and how these elements connect with visual arts. 
For F+M, she was lead architect for interiors on the UK Supreme Court and lead masterplanner for Green Park Station, London. Elsie has wide-ranging expertise on urban planning, transport and infrastructure. With EOA, she has completed designs for public transport systems in Lagos, Nigeria and Accra and is currently designing a new city hall in Kumasi, Ghana.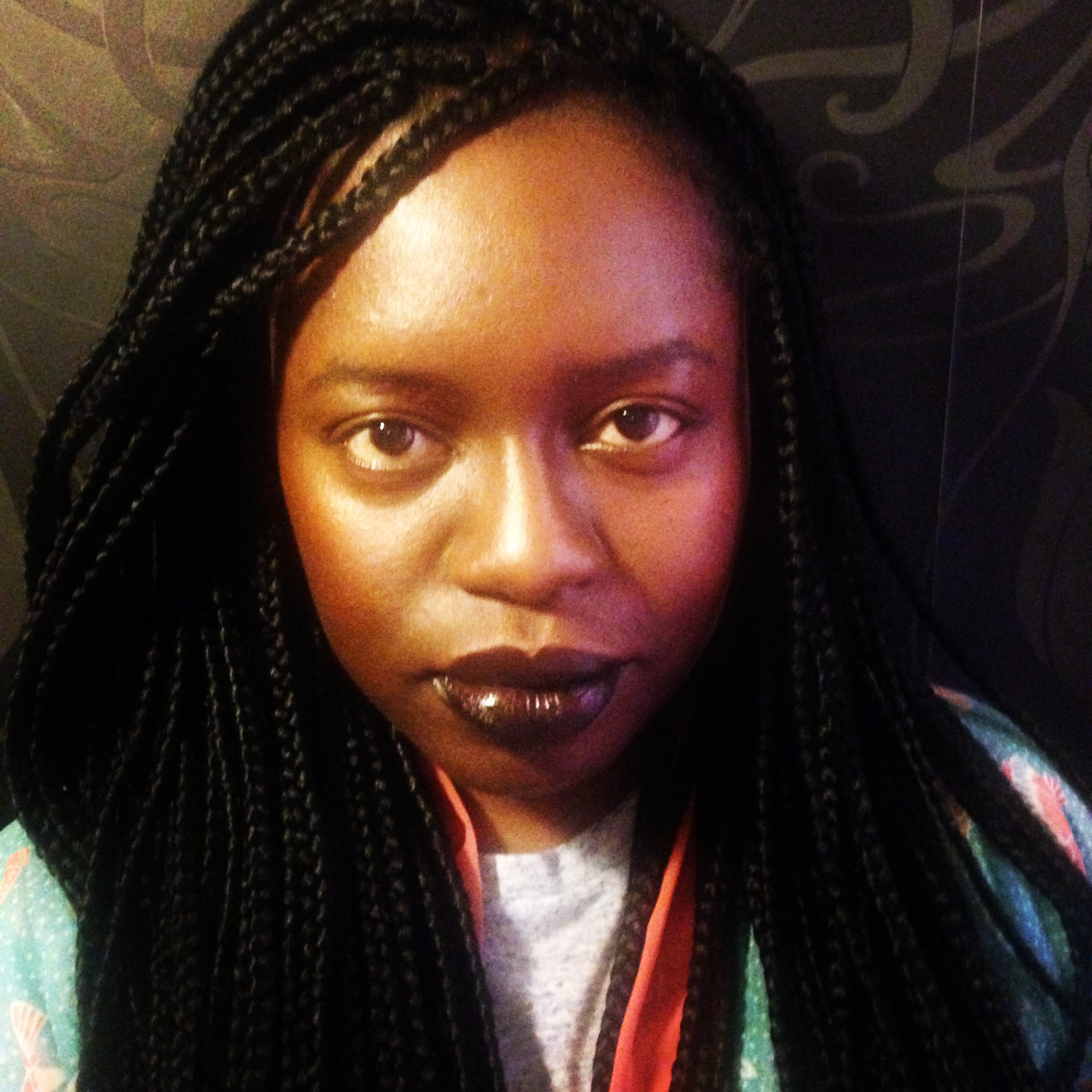 Bim Adewunmi (host)
has been a journalist for the last decade. She is currently the culture editor at BuzzFeed UK, where she has written on topics such as the conformity of YouTube beauty videos, the greatest love stories of the British small screen and the lack of empathy non-black readers and consumers of popular culture feel towards black women. She also commissions longform personal essays for the Ideas section.
She was previously a feature writer for the Guardian. Her last role there was as women's editor and she currently still writes the Crush column in the Guardian Weekend Magazine.  Her work has appeared in Monocle, ARISE magazine, The Independent, Grazia, Mslexia among others. She is a regular contributor to BBC Radio 4 programmes Front Row, Broadcasting House, Woman's Hour and Saturday Review among others.

Bim is interested in popular culture, particularly the points at which it intersects with race, gender, sexuality and other "isms". She is currently working on a collection of essays.
Come see these phenomenal, trailblazing women tell their stories of triumph, the obstacles they've overcome and the sisterhood they're a part of.  Come and see their POSSIBLE and ultimately, realise yours.
Wednesday, October 14, 2015
7pm
Tickets £25 each or £18 for a group of three or more
Refreshments provided
L'Oreal HQ
202 Hammersmith Road
London W6 8AZ
When & Where

L'Oreal UK headquarters
255 Hammersmith Road
W6 8AZ London
United Kingdom


Wednesday, 14 October 2015 from 19:00 to 21:30 (BST)
Add to my calendar
Organiser
I'mPOSSIBLE. global CIC
I'mPOSSIBLE. is a UK registered social enterprise whose primary aim is to celebrate, connect, highlight, and promote the achievements of women of colour, globally.
Its secondary aim is to educate and empower this group by showcasing their successes, life stories and testimonies as well as provide tools to success, signposting organisations and information that will help you get there.
Thirdly, I'mPOSSIBLE. will network organisations, events, information and news as well as create conversations within the community on issues that will be of interest or affect women of colour in Britain through its website, social media platforms and specially created events.
The I'mPOSSIBLE conversation Black History Month 2015 edition