Sales Have Ended
Ticket sales have ended
Thank you for purchasing your first step to being inspired beyond bounds.
Event Information
Location
Pearson plc.
80 Strand
London
WC2R 0RL
United Kingdom
Sales Have Ended
Ticket sales have ended
Thank you for purchasing your first step to being inspired beyond bounds.
Description
The only quarterly event that celebrates the life journey's of British women of colour is back for it's summer edition and second anniversary!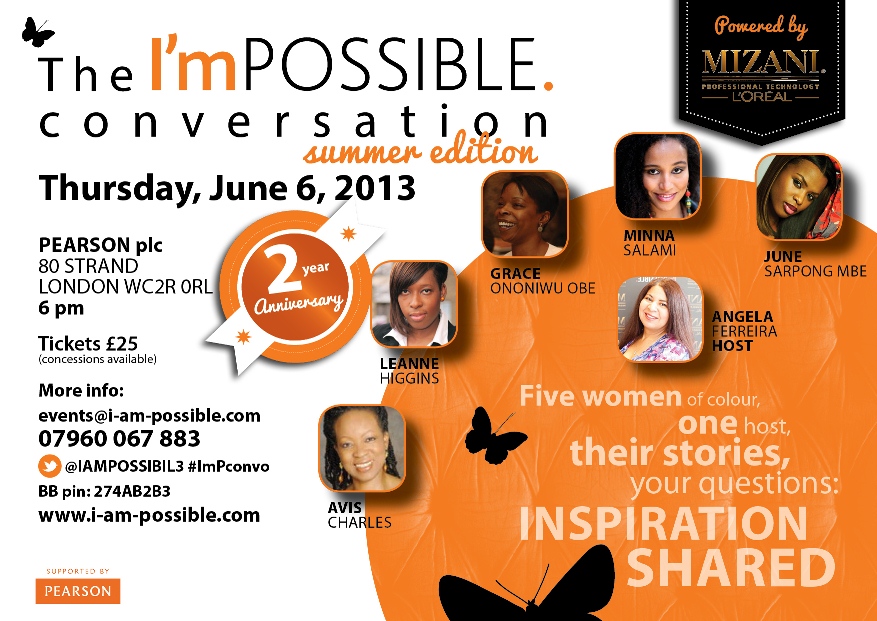 Providing a nurturing platform to the life stories of women of colour to inspire all is the I'mPOSSIBLE conversation's specialty. The second anniversary event will play host to these fabulous women:
Avis Charles is a graduate of the London School of Fashion and was an apprentice at Susan Small, Haute Couture where clients included the British Royal Family and various global celebrities. Her career at Hardy Amies and Norman Hartnell secured her couture expertise, which has laid the foundation for her to work with many leading designers including Ossie Clark and Jean Muir.
In 1995, Avis founded Avis Charles Associates (ACA), a fashion consultancy that specialises in product development and technical expertise. Clients include Dame Vivienne Westwood and a new generation of designers; Jonathan Saunders, Christopher Kane and Victoria Beckham. In 2004 the company was invited to South Africa to develop an educational programme for design students in colleges and universities and a vocational programme for new and young designers entitled 'Shaping the Future'. Avis' passion of fashion for development has led to the launch in 2013 of her own 2013 fashion and lifestyle brand KiVU, which actively supports the growth and development of women in developing countries.
Leanne Higgins is a qualified youth worker, co-founder of EMBF CIC (Empower and Motivate young people for a Brighter Future), founder of Deal with D.V. and a survivor of domestic violence from London. Within EMBF CIC, Leanne set up her own project; Deal with D.V. which is aimed to empower young people to deal with relationship abuse/violence and Leanne uses her past personal experiences, skills and knowledge to help organisations and charities work together to help young victims get the support and help they need to move forward with their lives as a survivor.
Leanne wants to make a change to the way young people think about relationships, domestic violence and abuse whilst empowering and inspiring young victims to become young survivors. Leanne was nominated for the Stephen Lawrence Women's Awards 2013 and Women mentoring Women award 2013, for her dedication and support to, helping young people make informed decisions on their future, health and safety.
Grace Ononiwu qualified as a Solicitor in 1990. She originally joined a private firm of solicitors in High Wycombe practising criminal law but then joined the CPS as a Crown Prosecutor. Grace has held a number of positions in the CPS, which led to her ultimate appointment as Northamptonshire CCP in April 2005, making her the first African Caribbean to be appointed to that position in the history of the CPS.
Grace has made a significant contribution to the CPS Equality and Diversity agenda and was Chair of the National Black Crown Prosecutors Association. Grace took up the post of the Chair of the Local Criminal Justice Board (LCJB) in Northamptonshire in June 2008. In April 2009, Grace was appointed Legal Director for North Region, London and she is now Deputy Chief Crown Prosecutor (DCCP) for the London Districts. Grace took up her post as Chief Crown Prosecutor (CCP) for the East of England Area in August 2012.
Minna Salami is a writer, blogger and commentator. Her work focuses on African feminism, society and popular culture and as such, she's written for various publications including The Guardian, Independent and Huffington Post. She is also a contributor to the Guardian Africa Network.
Minna is the editor of the award-winning blog 'MsAfropolitan', winner of the 2013 African Diaspora Award: 'Outstanding Achievement in Media', listed as one of Applause Africa's '40 African change-makers under 40 and also Nokia's '50 Remarkable Women' and shortlisted as 'Blogger of the Year' in RED Magazine's '2012 Red's Hot Women' awards.

June Sarpong has enjoyed a 15-year career which has seen her become one of the most recognisable faces of British television, as well as being a media phenomenon in her generation that is equally comfortable interviewing politicians, celebrities and members of the public. June has worked extensively with HRH Prince Charles for ten years as an ambassador for the Prince's Trust, she also campaigns for 'The One' and 'Product (RED)'. June was awarded an MBE in 2007 for her services to broadcasting and charity, making her, along with Princess Anne's daughter; Zara Phillips, one of the youngest people to ever receive the award.


June is co-founder of the WIE Network (Women: Inspiration & Enterprise) which first launched in New York in 2010. This acclaimed conference has featured leading speakers such as Sarah Brown, Melinda Gates, Arianna Huffington, Donna Karan, Queen Rania, Nancy Pelosi, Iman and many more. June's latest endeavour Row6.com is a multiplatform, anthropological project that aims to get the world talking through story telling. Inspired by the late great Joseph Campbell's 'The Hero with a Thousand Faces', June and her team including acclaimed photographer; Robert Astley Sparke, traveled for three months collecting stories and images from all over the world. June is currently based in NY but is soon moving back home to London.
Angela Ferreira (host) is a Media Consultant who has successfully worked across Television, Radio and print media and who is continuing to evolve as a broadcaster, writer and trainer.
After a career in TV in key roles including Executive Producer at BBC Television and Daytime Commissioner at Channel 4, Angela has also produced high profile event TV such as The MOBO Awards and The Isle of Wight Festival.
Angela is now utilising her television expertise to consult and advise charity and government departments as well as regularly reviewing the papers and speaking on current affairs, politics and media on radio and TV. Angela also teaches at The National Film and Television School and is a mentor.
Date and time
Location
Pearson plc.
80 Strand
London
WC2R 0RL
United Kingdom