The I'mPOSSIBLE conversation summer edition and third anniversary

Tuesday, 10 June 2014 from 18:30 to 21:00 (GMT)
Event Details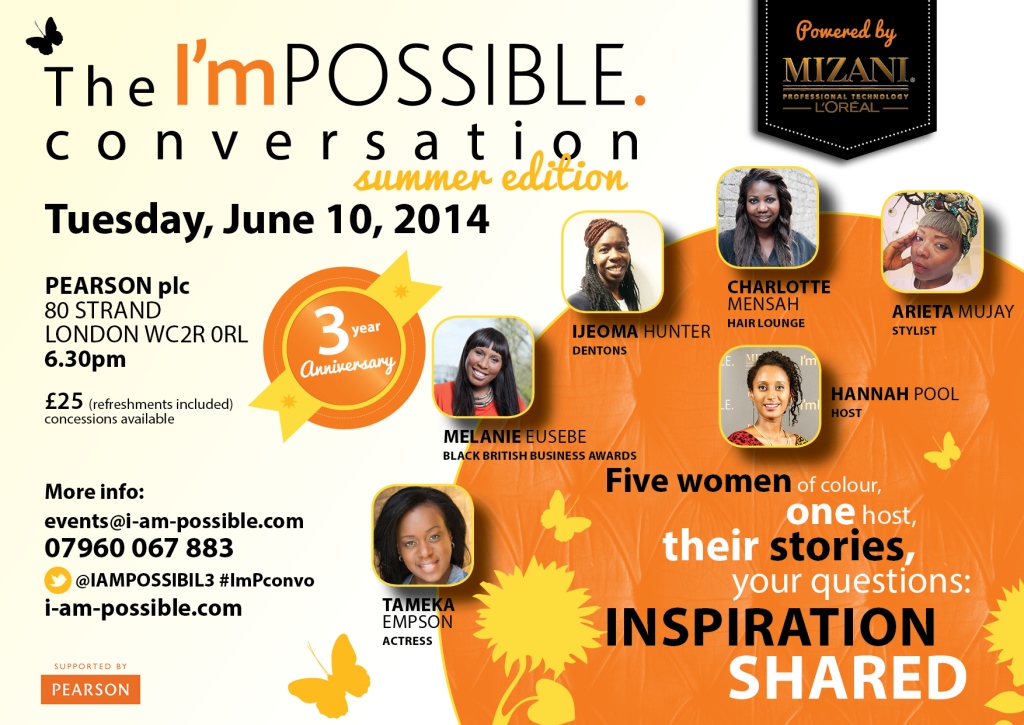 It's back!  For the first time in London this year, the trailblazing event series - the I'mPOSSIBLE conversation returns on June 10 with a sizzling panel line-up!
The only event to solely focus on the life stories of women of colour globally, returns to it's birthplace, London after the glittering first international edition in New York in March. Celebrating its third anniversary, June 10 is set to be a memorable one.
Tickets are on sale now for £25 (refreshments included) and concessions for groups of three or more at £18 each.  This is one not to miss!
Tameka Empson
Tameka is a writer, actress and voiceover artist.  She was first brought to our widespread consciousness with the popular BBC1 show; '3 Non-Blondes'; a hidden camera comedy programme, in 2003, they were listed in The Observer as one of the 50 funniest British comedy acts. Also a theatre actress, Tameka was nominated for an Olivier Award for 'The Big Life' in which she wrote and played the role of a 60 year old Jamaican woman.
Tameka has also lent her voice to the world of audio books and animation. You can hear her as 'Mrs Higgler' in the BBC radio dramatization of Neil Gaiman's book 'Anansi Boys', as 'Tick Bird' in the children's CBeebies cartoon 'Tinga Tinga Tales' and currently on the Nick Junior channel in 'Driftwood Bay' in which she voice 'Hatsie the Hen'.
As a writer, she created her one-woman play; 'Marcia Brown - The Unsung Diva', a Motown inspired cabaret style show which transferred from The Trafalgar Studios in London to The Edinburgh Festival to rave reviews. She also wrote a web series for the affectionately adored character she plays in Eastenders 'Kim Fox'. You can see the spoof documentary 'The B&B Kim's Palace' on the Eastenders website.  Tameka will be returning to Eastenders later this year.
Melanie Eusebe
Melanie is a management consultant with over 17 years international commercial business experience, specialising in strategic transformation initiatives for leading global brands.  While working at IBM and Ernst & Young, Melanie specialised in designing and delivering business transformation programmes and has demonstrated success in identifying strategic priorities for revenue generation and delivery of products and services for profitable growth.
Passionate about uncovering role models and inspiring a new generation of exceptional black business leaders, Eusebe founded the Black British Business Awards in 2013 to reflect the outstanding achievements and contributions of black business people to the British economy. These awards will challenge outdated stereotypes and most importantly, be a vehicle for economic empowerment and partnership.
After graduating from University of Toronto, Melanie gained a Masters in Philosophy (Ethics) from Birkbeck College at the University of London.  She is a regular speaker, lecturer and broadcaster who is respected for her contribution to promoting business leadership skills, harnessing entrepreneurial talent and economic empowerment. She has delivered and participated in sessions for organisations such as Sky, BT, GE, IBM, EY, Inseec, Hult, UCL, The Guardian, Better Bankside Women in Business, Trade School Westminster and works with various schools as a mentor. She is a member of everywomanClub for senior women of influence, a business radio show host, and the Director of The Fresh Ideas Company, a business services consultancy.
Ijeoma Hunter
Ijeoma Hunter leads the marketing and business development for Africa at Dentons, one of the world's largest law firms.  She is responsible for coordinating the marketing of the Africa practice across 70-plus offices and works closely with each of the firm's 20 associate offices on the continent - the largest such network of any international law firm.
Her role involves advising the Managing Partners of some of Africa's leading law firms on their marketing strategy and on the investment required to take advantage of the international opportunities before them. She has recently returned from visits to Uganda and Rwanda.
Ijeoma studied law at Nottingham Law School and started her professional services career as a Marketing Administrator at Norton Rose. Since then she has worked in a variety of business development and marketing roles at leading firms including CMS Cameron McKenna, Hewitt, Salans and Travelers.
Ijeoma has always been passionate about the similarities shared by different cultures and one of her proudest moments was when she was chosen to go on secondment to Moscow, Russia. Prior to that she had spent a year living in Okayama, Japan. Whilst there she taught English and took the opportunity to travel across the country exploring Japanese traditions.
Ijeoma lives in London with her husband and young son. She enjoys cooking, travelling and visiting contemporary art exhibitions.
Charlotte Mensah
Charlotte Mensah is the owner of Hair Lounge, London and Afro Hairdresser of the Year 2013.  Mensah is at the forefront of creative Afro styling in the UK, famed for her flair of embracing natural hair textures, this internationally renowned celebrity hairdresser is a stylist very much in demand. If she's not in Africa training young hairdressers in the art of hairdressing, then you'll find her working with some of the most famous names in the world of entertainment, high finance and business including celebrity chef and former model, Lorraine Pascale.
 As well as scooping a number of the biggest accolades in British Afro Hairdressing and being the owner of the multi award-winning salon, Hair Lounge on Portobello Road, Charlotte's work is regularly featured in a number of leading hair publications which has brought her recognition on a global scale.
Having served her apprenticeship in one of London's leading Afro salons in the late 1980s, under the tutelage of legendary Winston Isaacs, Mensah has over 28 years experience under her belt in the highly competitive hair industry.  Charlotte has proven that she is a survivor and one of the biggest talents in Afro styling.
Having received numerous accolades for her contribution to the world of hair and business, 2013 saw her scoop a string of titles for her work, that included Afro Salon of the Year at the 2013 Hair Awards, Weave Stylist of the Year 2013 and Styling Team of the Year 2013 at the Black Beauty/Sensationnel Hair Awards. Charlotte's success didn't stop there, as she claimed her third award in one week when she was crowned 'Afro Hairdresser of the Year 2013' at the prestigious British Hairdressing Awards 2013. Her winning 'Texture' collection was the result of a partnership with photographer John Rawson and the magical fusion of their talents created a ground-breaking and stunning shoot. She was also handpicked by L'Oréal's luxury Afro haircare brand 'MIZANI' to create the spectacular campaign shots for their celebrity ambassadors, pop singer Shingai Shoniwa and more recently,Queen of UK Soul, Beverley Knight. This led to her being invited onto the prestigious judging panel for the L'Oréal Colour Trophy MIZANI Afro Catwalk Look Award held in May 2013 at the Grosvenor Hotel.
Ideally placed and with a wealth of practical and technical experience, it seemed the next natural step for Charlotte was to embark into the educational field of the hair industry. Since making this transition, she has designed and developed a number of workshop programs which has seen her travel to countries that include Eastern Europe, USA and Africa and is currently in the early development stages of setting up The Charlotte Mensah Academy which will offer less fortunate young Ghanaians an opportunity to learn a vocational skill that will enhance their lives and the lives of their families.  In addition to concentrating on her career, her family life is very precious to her and as a dedicated mum of two, it's this part of her life along with her faith, that keeps her grounded. Her own charity, L.O.V.E (Ladies of Visionary Empowerment) was set-up in honour of her late Mother; this benevolent fund is aimed at furthering the education and empowerment of young women in Africa.  Recently she was engaged by the Princes Trust as specialist business mentor, mentoring young entrepreneurs who are trying to start or expand their business within the field of the hair and beauty industry.
Arieta Mujay
Arieta Mujay is  a 35 year old fashion creative that has been working in fashion at various capacities for 15 years across the UK and Africa.  Mujay is currently the creative director and owner of African Creative Collective, a UK Based consultancy created with the sole aim of nurturing and promoting African fashion and design talent. Clients include, Chichia, Orange Culture, Kenema and UK Trade and Investment and start up beauty brand, MDM FLOW.
Starting out as a window dresser for GAP in Brighton, Mujay started to get involved in styling.  She assisted veteran stylists like Didi Danso, Karen Klarkson and PR Guru, Sarah Walter on a weekly basis working on fashion stories for the UK's Daily Mirror and Glamour Magazine. She also gained work experience from RED, Just 17, Sneak and Smash Hits where she met Henry Holland, the renowned fashion designer.  She then moved into fashion PR and worked as press officer for New Look while still styling part time, she rose to the position of PR Manager before leaving the company for River Island. While there, alongside her PR role, she was also the Fashion Editor of the River Island In store Magazine as well as shoot director and stylist for all the online content.  Arieta was selected to go on the 777 Tour with pop star, Rihanna and as such, became an integral part of the team working closely with Rihanna to design her 'Rihanna for River Island' collection, the London fashion week show and all the subsequent noise on the launch. As head of PR  for the brand, Arieta worked on all the other subsequent collections in this collaboration.  Mujay has been head of PR for three major brands across the UK high street.
A Veteran stylist of the Arise Shows since 2008, Arieta styled over 75 collections at the ARISE  SHOW In Lagos to date. Arieta has styled shows for the best and most sought after designers across Africa including, Maki Oh, Christie Brown, Duaba Serwa, Amine Benidourich, Okunore Twins etc.  In August 2012, Arieta embarked on a solo trip across Africa to understand the business of fashion, visiting nine countries over four weeks. The outcome of this trip is currently being documented in a book soon to be released.  Currently heralded by the international fashion press as one of Africa's six stylists/creatives to know, Arieta lives and breathes all facets of fashion with a massive passion for promoting all things African Culture and style.
Hannah Pool (host)
Hannah Pool writes regularly in the national and international media. She has written features, interviews and comment for the Guardian for over a decade. Her work also appears in: The Times; The Independent; Grazia and others.
Hannah is curator of talks and debates at Africa Utopia and Women of the World (WOW) festivals at the Southbank centre, London. Hannah's memoir 'My Fathers' Daughter: A story of family and belonging' (Penguin2005) was described by the Washington Post as "a significant and moving book."
Hannah appears regularly on BBC Radio 4, has spoken at TedXEuston, Africa Gathering and Africa Writes. She is chair of UKFeminista and former associate editor of ARISE magazine and was the subject of CNN's African Voices.
For more information:
www.i-am-possible.com
07960 067 883
@IAMPOSSIBIL3
When & Where

Pearson plc.
80 Strand
WC2R 0RL London
United Kingdom


Tuesday, 10 June 2014 from 18:30 to 21:00 (GMT)
Add to my calendar
Organiser
I'mPOSSIBLE. is a UK registered social enterprise whose primary aim is to celebrate, connect, highlight, and promote the achievements of women of colour, globally.
Its secondary aim is to educate and empower this group by showcasing their successes, life stories and testimonies as well as provide tools to success, signposting organisations and information that will help you get there.
Thirdly, I'mPOSSIBLE. will network organisations, events, information and news as well as create conversations within the community on issues that will be of interest or affect women of colour in Britain through its website, social media platforms and specially created events.