Location
Pearson plc.
80 Strand
London
WC2R 0DW
Description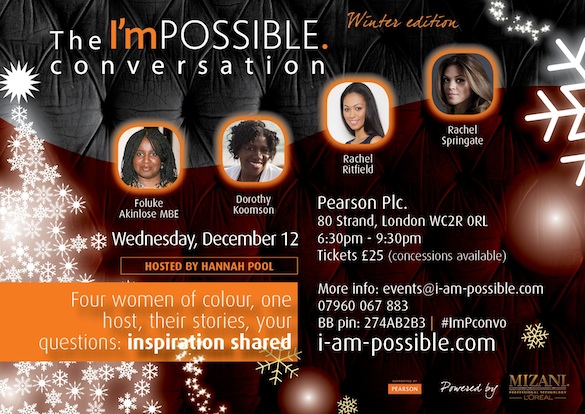 The I'mPOSSIBLE conversation powered by Mizani UK is a ground-breaking event which focusses on publicising the life journeys of women of colour in Britain. The winter edition returns on Wednesday December 12 taking place at the UK headquarters of global publishers of FT and Penguin Books; Pearson plc.

The winter edition panelists are: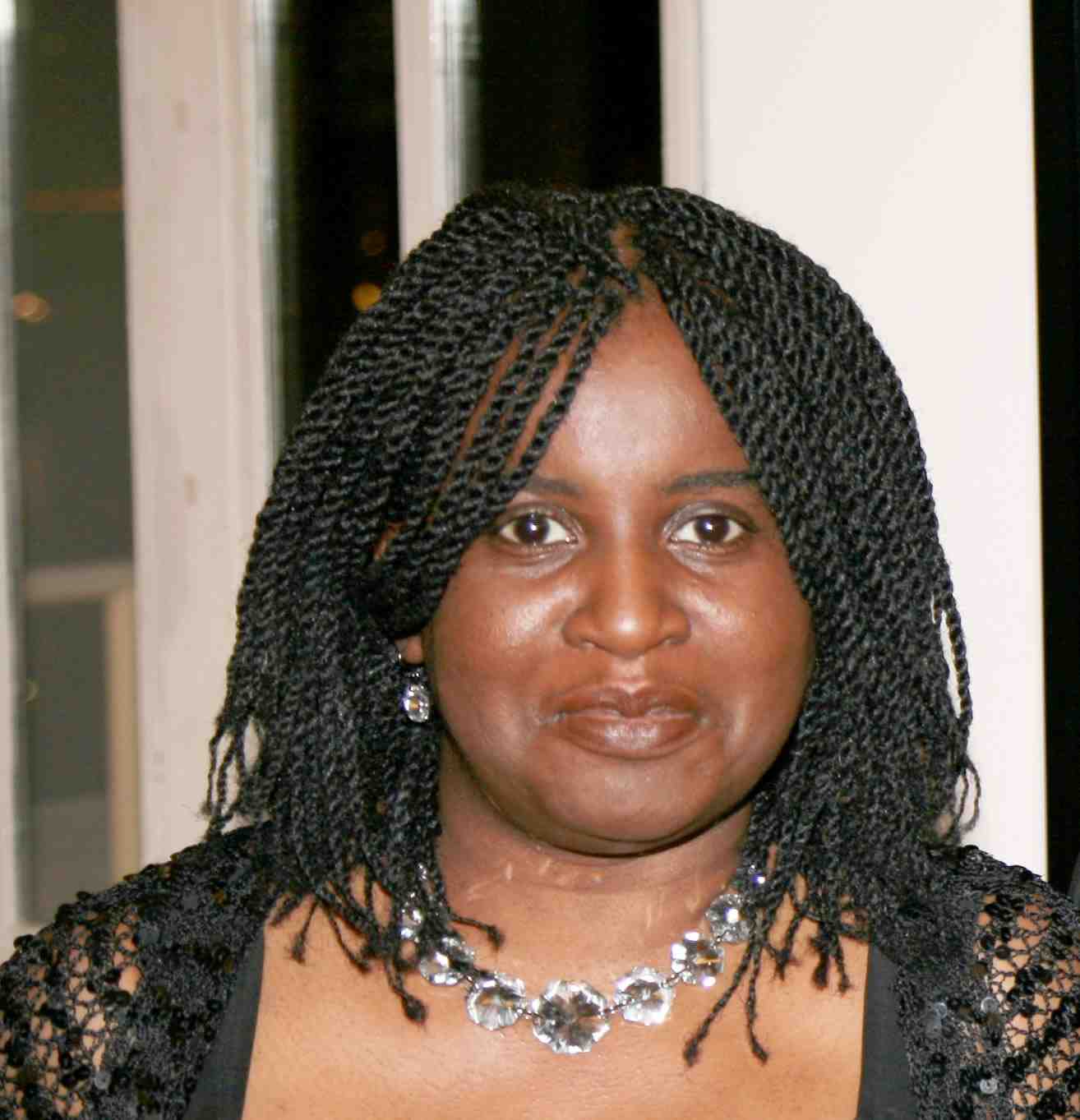 Foluke Akinlose MBE
founder of PRECIOUS (www.preciousonline.co.uk), the leading online network and resource for women of colour, is a trained journalist and editor with a strong background in web and traditional media. She launched PRECIOUS in 1999 when working in the New Media department at ITN. It was the first digital publication aimed at women of colour to launch in the UK. In 1997 she launched the annual, Precious Awards (www.preciousawards.com) which celebrates women of colour in business and leadership. Endorsed as 'vital' by PM David Cameron, the awards celebrate the achievements of women across a range of industries. In 2008, Foluke was named in the top 100 of Courvoisier's 'Future 500' list and honoured with an MBE in the 2010 New Year's Honours List for services to the Creative Industries. In 2011, she was listed on 'One World Actions List of One Hundred (Unseen) Powerful Women who change the World' and in 2012 Foluke was awarded a Media Pioneer Award at the Specialist Media Show awards.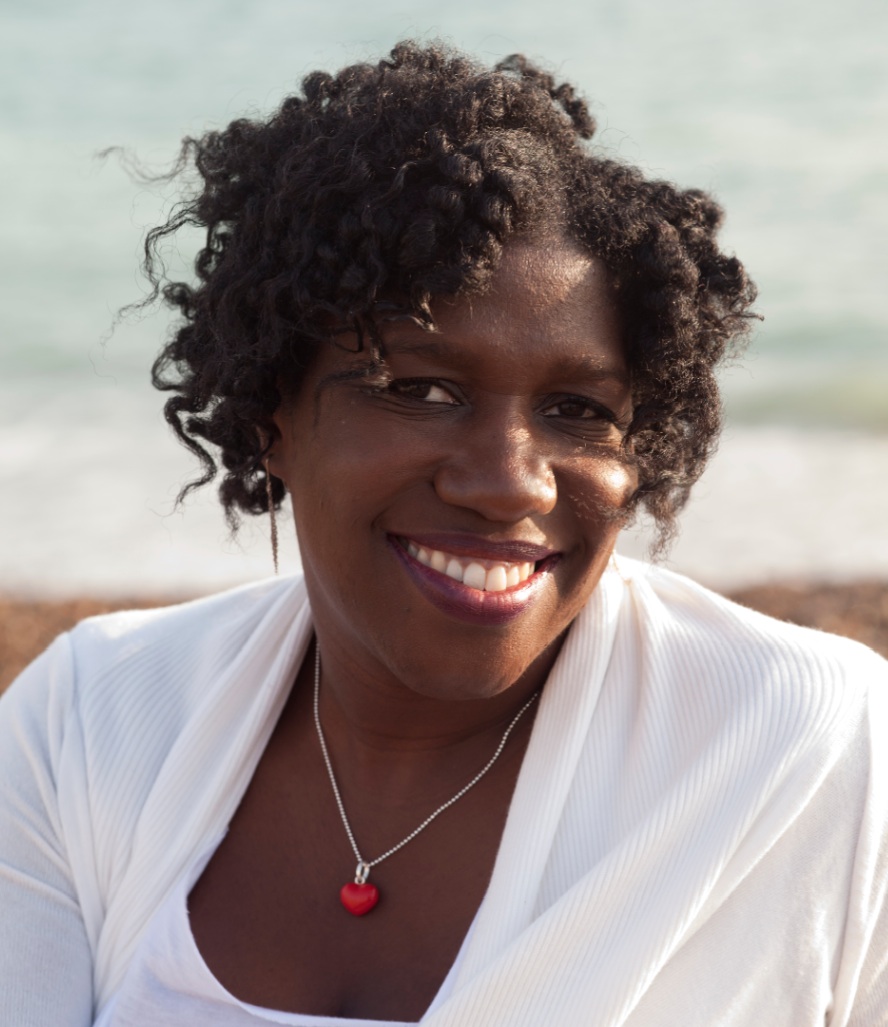 Dorothy Koomson
is the international bestselling author of seven novels which have topped the charts in several countries across the world. Her books are powerful, thought-provoking and compelling reads that reflect real-life dilemmas where familial relationships are pivotal and emotions are raw. Sales of Dorothy's books exceed 1.5 million copies in the UK and her novels are translated into 30 languages. In 2006, Dorothy's novel, My Best Friend's Girl was selected as a Richard & Judy Summer Read and, in 2010 The Ice Cream Girls was shortlisted for a Galaxy British Book Award. Originally from South London, books and reading have always played a pivotal role in Dorothy's life. Passionate about the importance of reading and literacy, Dorothy is a regular speaker in libraries and at festivals and is developing her own 'Read Your Heart Out' community for book lovers.

Rachel Ritfield
a face and name synonymous with international fashion campaigns and catwalk shows, Rachel Ritfeld is the embodiment of diversity — professionally and personally. In life as on the stage, Rachel is many things wrapped into one. Her multicultural heritage: Indian, Black Caribbean and Ghanaian and impressive fluency in over six languages and degree in Social Anthropology helps her further understand the complexities of the world and celebrate diversity on a number of levels. Raised in Brussels, Rachel developed a strong working ethic and a crystal clear focus from a young age which has led her businesswoman persona to be fueled by her compassion towards combatting social inequalities worldwide.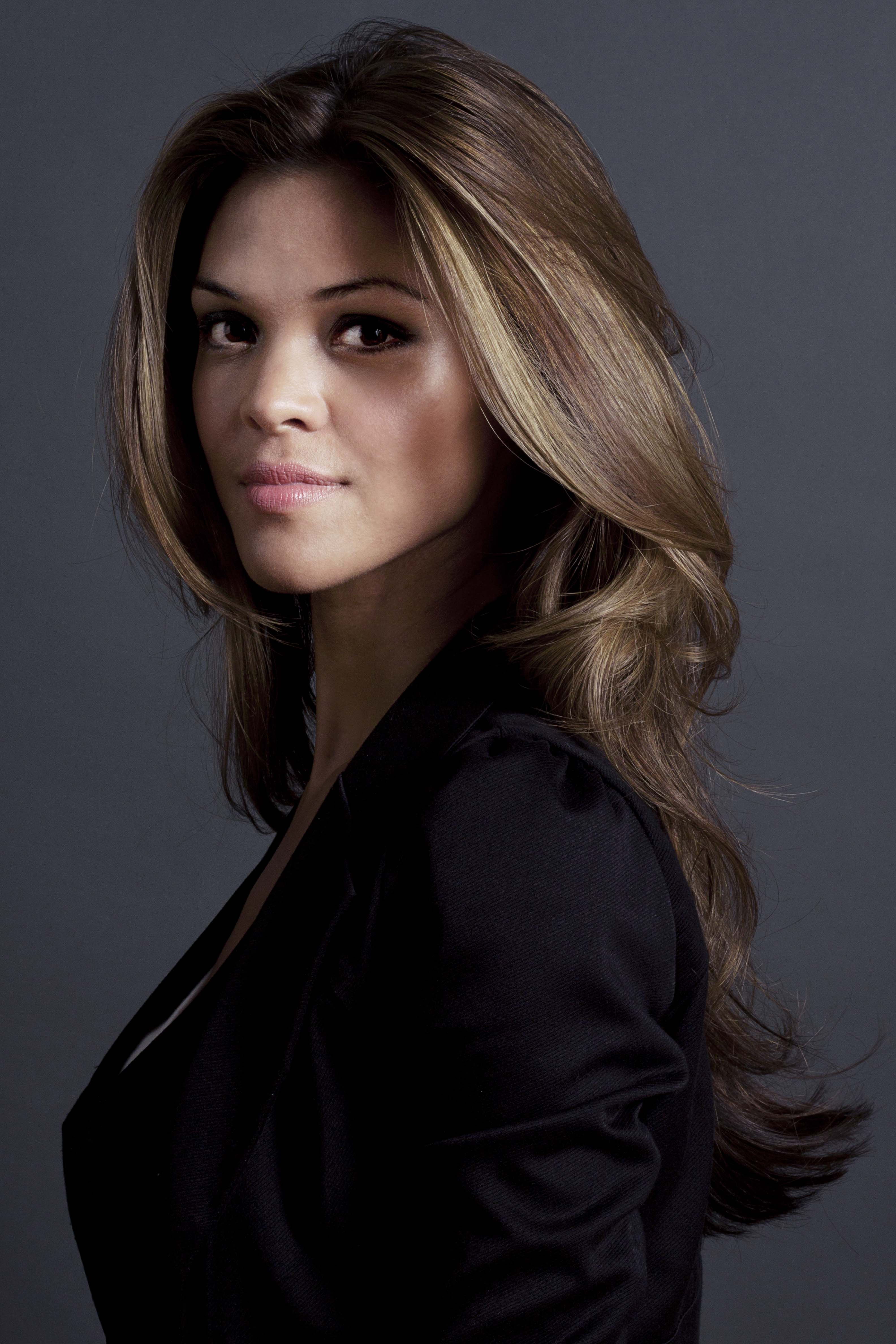 Rachel Springate
founder and CEO of Enright Entertainment and former Global Head of Corporate Sales and Business Development at Quintessentially. Rachel has spent her career building an unrivalled global network, working with CEO's, Entrepreneurs, Heads of Industry, Major Brands and Marketing Directors. While at Quintessentially, the world's leading luxury lifestyle group, with offices in 60 cities worldwide. Rachel established the corporate division where she increased corporate sales from £250,000 - £5,000,000 in three years while building the corporate sales team globally from 3 – 30+ people. Rachel has now taken her sales and management experience alongside her vast international network of contacts, to form Enright Entertainment (www.enrightentertainment.com), a company dedicated to working with hand-picked, start up technology companies, to establish and create major strategic partnerships and opportunities for them.
All hosted by esteemed author and journalist; Hannah Pool.
The event has seen inspirational panellists such as Bonnie Greer OBE, Margaret Casely-Hayford, Angie LeMar, Michelle Gayle, Charlene White, Dr Uchenna Okoye, Hannah Pool, Dr Maggie Aderin-Pocock MBE, Hope Powell CBE, Rev Rose Hudson-Wilkin and many more. It helps its audience to find paths to their 'definitions of success' through the conversation on the theme of 'how I became POSSIBLE'.
No other event or organisation is putting women of colour in Britain's stories and life experiences in the public domain, unabridged, with no interruptions or apologies and celebrating it in such a positive and uplifting way. I'mPOSSIBLE is creating history and widening the access to experiences that inspire, empower and uplift for everyone to enjoy.
For more information, see: www.i-am-possible.com.