Location
University Of Surrey
Stag Hill
University Campus
GU2 7XH
United Kingdom
You are invited to attend the inaugural University of Surrey Annual Open Research Lecture, 8th April 2022
About this event
We are delighted to announce that our inaugural Annual Open Research Lecture will be held on 8th April 2022 at 2:00pm – 5:15pm, followed by a wine reception.
The event will be opened by Prof David Sampson, PVCRI Surrey and Prof Emily Farran, Academic Lead in Research Culture and Integrity Surrey. Our invited speaker, Dr Karen Salt, Deputy Director, R&D Culture and Environment, UKRI, will be presenting on the topic of Open and Transparent Research Culture. The event will also include a poster session and round table panel discussion with Grace Gottlieb (Head of Research Policy, UCL), Dr Karen Salt (UKRI), Dr Marton Ribary (Winner of the Surrey 2021 Open Research Award), and Prof Marcus Munafo (Head of UK Reproducibility Network).
Note: This is currently planned as an in-person event held in Austin Pearce 3, 4 & foyer, with online options for the annual lecture and panel discussion. Both options require registration. You can select your preferred option on the next page.
This event will be recorded for distribution through various Surrey outlets, including our YouTube playlist. All attendees agree to the possibility of appearing on these recordings by virtue of attending the event or participating in the event.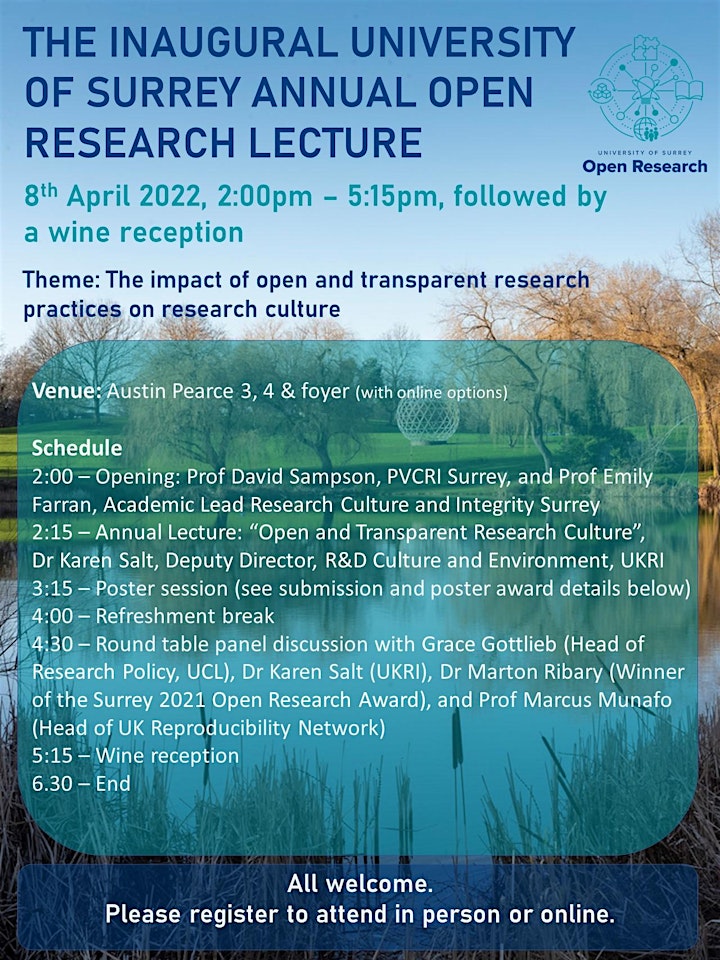 FOR DETAILS ON THE CALL FOR POSTERS AND PRIZE
PLEASE CLICK HERE.