The Inbox to Zero Challenge 30th October 2017

Monday, 30 October 2017 from 09:30 to 14:30 (GMT)
Event Details
The Inbox to Zero Challenge
Email becoming a monster? Inbox out of control? Join the Inbox to Zero Challenge and discover all the Ninja tips and tricks you need to get your inbox to zero and keep it there!
The average worker spends 41% of their time on email management, and the volume of email each of us receives is currently doubling every 4-5 years. More than half of all UK workers admit to being stressed by how much email they receive. It's time to take control.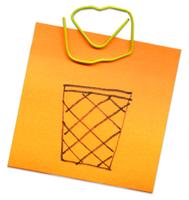 How this works 
We kick off at 9.30am – with our live virtual training webinar
This is where we challenge your mindset, show you the tools and give you everything you need to get your inbox to zero – and keep it there. We'll offer you a new way to think about email, tools to convert emails into actions, tips, tricks and tried and tested 'ninja email' moves.
From 11am it's over to you – to put it into action and actually get YOUR inbox to zero
We'll check in every hour on the hour where you can ask questions, seek support, share successes and claim your Inbox Zero badge, and your Productivity Ninja will be on hand throughout to answer any questions you have along the way.

At 2pm we'll have a final wrap up, announce the winners of the challenge and present you with your virtual Ninja goody bag
What You'll Need 
Please ensure you have a good Internet connection, microphone and speakers (VoIP) – a headset is recommended – and of course access to your live emails from your regular email program on your laptop/desktop (not a phone or iPad – trust us, it's much easier!)
We'll be using GoToWebinar for the live virtual session. We'll send you all the joining details once you've booked your place. 
What our clients say…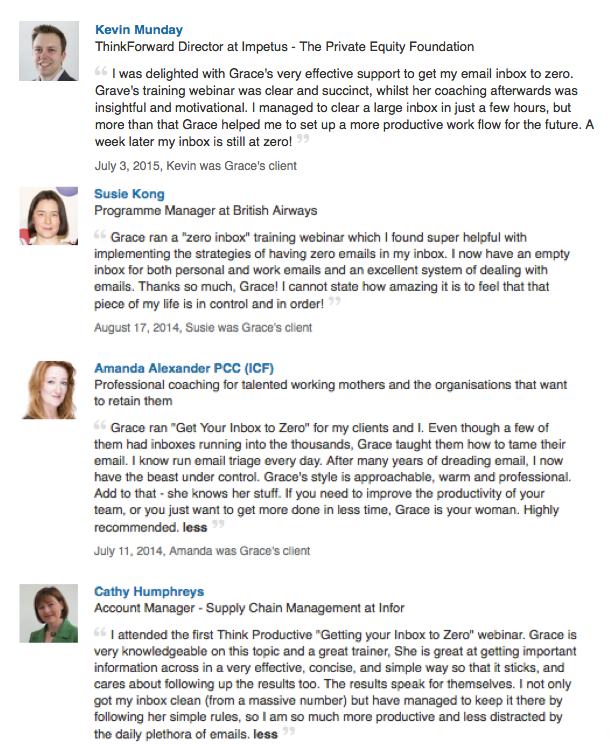 Organiser
Head coach, Chief Encourager, Productivity Ninja
Grace Marshall is an author, coach and Productivity Ninja, who specialises in helping people find ways of doing their best work with less stress and overwhelm and more fun, focus and fulfilment.
She is also a qualified NLP practitioner and DiSC facilitator and a mum of two. Grace admits she's not a naturally organised person. Her passion for productivity began when she got fed up of saying "I haven't got enough time."
Her second book "How to be Really Productive" won Best Commuter's Read in the 2017 CMI Management Book of the Year awards.