Description
The Incredible Bulk has access to over 45,000 cards of Magic The Gathering for you to build the bulkiest of sealed decks. It is running as a casual event with all money raised going towards charities that help children and families with cancer. Read on to find out more about how the event will run and what amazing prizes you could win!



What is the main Magic the Gathering event?
You will have a maximum of 10 minutes to pick your cards from the 45,000 that are available. You can pick as many cards as fit in a standard sized ultra-pro deck box. You will then have 30 minutes to construct (and name) your sealed deck before you play in a 4 (50 minute) round swiss tournament.
We have hidden some extra time tokens and maybe some less bulky magic cards in with the bulk for you to try and find. If you find an extra time token, simply hold it in the air and you can get an extra 30 seconds of picking once time has been called. What the less bulky cards are, you will just have to search hard and see what you find – we wouldn't want to spoil the surprise. Shout and let us know when you find them though!
In addition we have confirmed Magic The Gathering Vendors at the event for you to buy great products and some fun magic themed games for you to join in with. We are hoping to have side events so you can make the most of your day, so watch this space for more info when we have these confirmed.
As it is a charity event we will have charity stalls to raise awareness of the causes we are fundraising for. There will be the opportunity for you to sign up to the bone marrow register on the day (we just need a bit of your spit and that is all) and a number of charity items you can purchase to show your support.
Finally there will be the opportunity to purchase any leftover bulk at the end of the event, so keep your ears open for the announcements on the day.
What if I don't play Magic the Gathering?

Don't worry, there are still plenty of fun things for you to do. There will be performances throughout the day from Magic Malka (a real life close up magician), magical story telling events for children, an introduction to Magic the Gathering for anyone wanting to learn to play, board and card games for all ages, and lots of raffles and auctions to win amazing prizes!
DKMS and NHS Blood and Transplant Team will also be there on the day to raise awareness of the life saving work that they do. And if you haven't already there will be the opportuntiy for you to join the bone marrow register - all they need is a bit of your spit!

You do not need to buy an event ticket if you are not playing in the bulk event, but please sign up for your free entry ticket so we can manage numbers.
What does my Main Event ticket buy me?
This depends on the ticket type you buy as we have different options available. Different levels of tickets allow more bonuses to help you get the best bulk cards. Put simply, the more you pay the more time you get and the earlier in the day you get to pick the cards (before all the 'good bulk' is gone).
For example:
All Platinum tickets get you first pick of the whole range of cards and the full 10 minutes.
The Basic Gold Ticket gets you 8 minutes of picking and second pick (after the platinum players are finished).
The Basic Silver Ticket gets you 6 minutes of picking and 3rd pick (after the gold players are finished).
The Basic Bronze Ticket gets you 4 minutes of picking and 4th pick (after the silver players are finished).
You have the option to buy additional picking time at £1 a minute up to the maximum of 10 minutes on the Bronze, Silver and Gold Tickets. See the table for the full breakdown of prices
ALL tickets include:
a set time to 'draft' your bulk deck,
entry into the main event,
keep your amazing bulk cards,
a packed lunch and bottle of water,
free raffle ticket entry to win the one of a kind Incredible Bulk playmat,
50% of parking at Cabot Circus on the day of the event,
10% of accommodation at Future Inn for the day of the event.

What can I win?
It may be a casual event but we have some great prizes up for grabs. We have prizes for; top 8, spoon prize for last place, raffle prize and spirit prizes for things such as best named deck, quickest win, best themed deck, craziest combo etc.
Top 8 Prizes:
You have the choice of the following prizes (with first place getting first pick)
John Avon Limited Edition Land Print (x5; one land per prize)
John Avon Limited Edition Signed Art Book
Jeff Laubenstein Limited Edition Show and Tell Print
Jeff Laubenstein Limited Edition Recurring Nightmare Print
Spoon Prizes:
Play mat and Jeff Laubenstein signed token
Raffle Prize:
A one of a kind playmat created just for the Incredible Bulk signed and illustrated by some of the UKs best Magic the Gathering Artists such as John Avon and Jeff Laubenstein.
Spirit Prize:
Play mat and Jeff Laubenstein signed token.
How can I buy extra Raffle Tickets?
Each ticket to the bulk event will give you 1 raffle ticket but you have the option to buy more to increase your chances of winning the Incredible Bulk Play Mat.
Tickets are available at £2 each or 10 for £10. These can be bought online before the event and/or on the day. The raffle will be drawn at the end of the day and announced with the rest of the prizes.
How do I nominate someone for a Spirit Prize?
All you need to do is keep an eye out during the day for the most spirited player - this could be someone that has built the craziest deck, that was particularly helpful or gave you the best game. You can nominate people for the spirit prize on your results slip. Return your nomination slips to the results desk where the votes will be counted and announced at the end of the day with the rest of the prizes
I don't want to play the event, can I still help?
Absolutely!
We are looking for volunteers that can help with various parts of the day including, charity tables, raffle, registration etc. If you would be interested in helping with any of these please contact us and we would be happy to discuss this with you.

We are selling off the left over magic bulk at the end to boost the charity donations. If you have any bulk of your own that you would like to donate to the event we would happily take this off your hands. Please bring it with you on the day.
Please register for one of our free tickets so that we know you are coming and can make sure we don't exceed capacity at the venue.
Finally you can help by sharing the event with your family and friends.
What Charities are you raising money for?
As some of you know already Fiona and Ben (who along with their friends have organised this event) had a daughter, Ripley, who passed away as a result of her 9 month battle with Leukaemia in October 2017 at the age of 2. Since her diagnosis they have been fundraising and raising awareness of the charities that helped them and Ripely during (and after) this difficult time, so far raising over £11,000. You can see all of the charities and Ripley's story on their just giving page: https://www.justgiving.com/remember/497598/Ripley%20Olive-Corless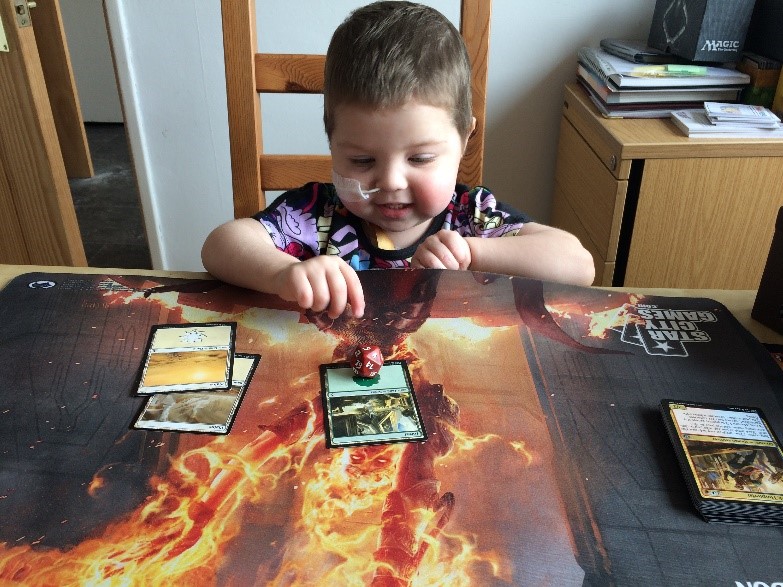 For the Incredible Bulk we have chosen to support the following charities:
DKMS & Anthony Nolan: These are both charities that sign people up to the bone marrow register and support people with blood cancer and undergoing bone marrow or stem cell transplants. There will be information available on the day about joining the bone marrow register. All it takes is a spit test and you could save someone's life. Ripley's transplant gave her 6 more precious months with her family and friends, for other people it gives them a whole new life.
Molly Olly's Wishes: Molly Olly's Wishes is a small charity that provides a book and stuffed Lion to help children to understand some of the medical procedures they have to undergo. There will be bracelets and badges in Ripley's favourite colour (pink) that you can buy on the day to show your support for the charity – and of course the chance to meet the amazing Olly The Lion!
The Isabel Baker Foundation: This is another small charity that supports bereaved and oncology parents. They provide financial support to parents to help with additional hospital and funeral costs at a time when money is the last thing on your mind. For Ripley they gave her family a grant that went towards giving her a headstone that reflected who she was.

How do I get there?

By Car:
Exit the M4 at junction 19, and then take the M32 into Bristol City Centre. At the end of M32 merge left after the traffic lights on Bond Street. Car Parking is available at the Cabot Circus multi-storey car park with a 50% discsount – the entrance to the car park is located 50 meters past the Office Outlet unit on your left.
Please note: The hotel is located around the corner from the car park on Bond Street South. The hotel is signposted within the car park.
Your parking ticket can be validated on the day at the venue to get the 50% discount. This makes the approximate prices for parking as follows:
6 hours £3.65
7+ hours £9.

By Bus:
The following local routes stop around Cabot Circus:
6, 7, 8, 9, 24, 35, 36, 37, 42, 42A, 43, 44, 45, 47, 48, 48A, 49, X48, X49, 72, 178, UWE
Bristol Bus and Coach Station is also nearby, and the City Sightseeing bus stops outside Harvey Nichols.
There is also a free hospital minibus that runs from Cabot Circus' car park to: Bristol Eye Hospital, Bristol Dental Hospital, Bristol Royal Infirmary, Bristol Royal Hospital for Children, Bristol Heart Institute and the Bristol Haematology & Oncology Centre. This bus runs every 20 minutes between the hours of 7am-8pm, Monday to Friday.
By Train:
Bristol Temple Meads station is a short walk, bus ride or ferry journey away. The staion is served by direct, high-speed services from London, Reading, Swindon, Chippenham and Bath, as well as local services from Taunton, Westbury, Portsmouth, Exeter, Weston-super-Mare, Salisbury, Gloucester, Yate, Cheltenham, Newport and Cardiff.
By Bike:
Cycle parking stands are provided around the centre.
Where can I stay?
Future Inn has rooms available on a first come first serve basis for any attending the incredible bulk with a 10% discount. To book you need to call them direct and give your booking reference for the event.