Description
Heffers Bookshop and British Library Publications invite you to an evening discussing Lois Austen-Leigh's The Incredible Crime.
This crime novel by a great, great niece of Jane Austen – supposedly written on the very desk used by her illustrious ancestor – has been shrouded in mystery since it fell out of print. Now the British Library is re-issuing The Incredible Crime as part of the library's Crime Classics series.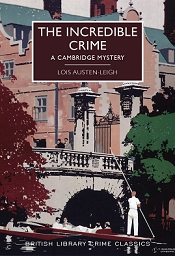 Lois Austen-Leigh lived in Aldeburgh and the novel is set partly in Cambridge and partly in Suffolk.
Editor Kirsten Saxton, Professor of English at Mills College, Oakland, California, will be with us to present the book, and family members of Lois Austen-Leigh attending will also be in attendance.
Tickets for the event are priced at £4 in advance (£5 on the door) and can be purchased through this page, by calling 01223 463200 or in person at Heffers bookshop. Please note that tickets are transferable but not refundable.