Description
You are warmly invited to join us in London, for an exciting new initiative.
On Tuesday October 29th, at the stylish and glamorous Soho Hotel in London, we will host a unique double occasion: THE INDIE FORUM & THE INDIE AWARDS
The idea is to have an affordable, accessible complement to our flagship annual event, the Indie Summit, which takes please each year in May.
You can choose to attend either event for just GBP 75.00: or buy a 'combi' ticket to attend both, for GBP 120.00. (All prices exclude VAT tax and Eventbrite's modest booking fee.)
Whichever option you choose, you'll be mingling and networking with around 100 movers and shakers of some of the world's leading independent agencies, from all communications disciplines: creativity, media planning and buying, PR and social media.
So what's involved?

From 14.00 to 18.00 – the Indie Forum.
Like the Indie Summit, the Indie Forum is about learning, sharing and inspiration:
Learning: from world class practising experts in the key topics which define an independent agency's business success
Sharing: meeting and exchanging experiences with other agency leaders, during a coffee break or the evening cocktail hour
Inspiration: seeing and hearing about some amazing achievements and success stories, opening our minds to the ever-richer possibilities and opportunities of our business.
The Indie Forum is a fast-paced, contemporary style event with a terrific range of speakers – TEN in total, each distilling their message into an intensive, 15 minute window.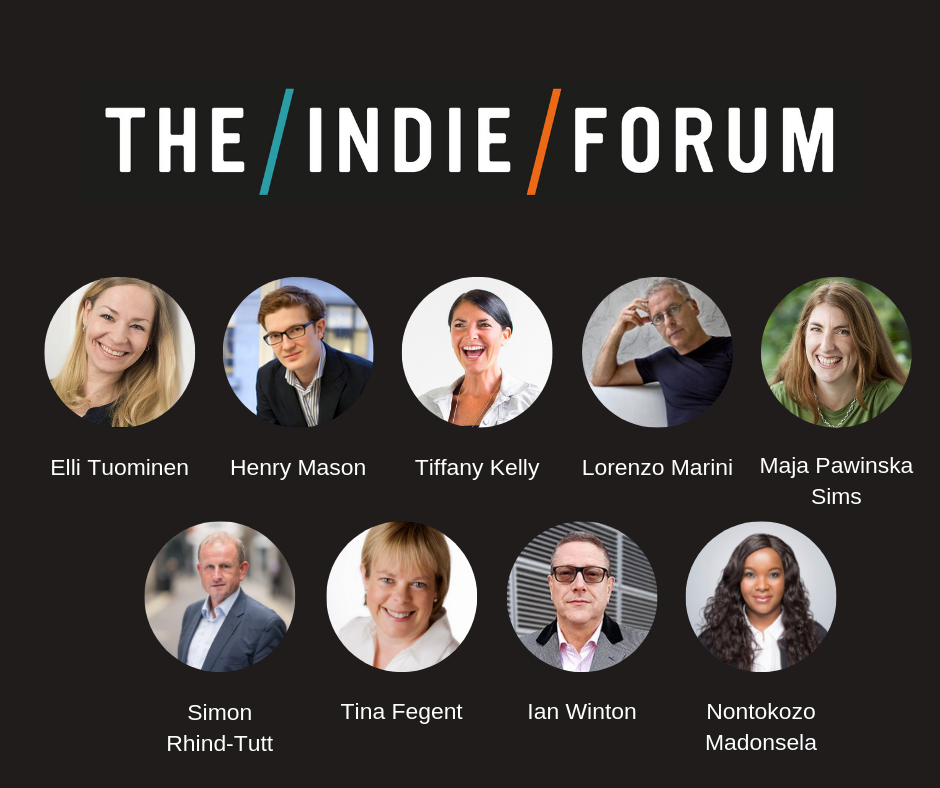 We have just announced the first nine:
Tina Fegent, Founder of Tina Fegent Consulting.

You know the feeling. The pitch went great. You get the call: we love your work, but we need to talk about costs. You won the battle: can you win the war? Tina has extensive experience working for both sides. Is it possible to get to a win-win? Yes it is.. but you have to know how. Tina does.
Henry Mason, Founder and Managing Director of Trendwatching.

As an agency leader, you are always either one step behind your client: or one step ahead. Where would you rather be? Henry's unique methodology shows how you and your agency can identify trends before others do and extract insights which will keep your client's brands ahead of the game.
Elli Tuominen, Founder and Strategist of Kurio in Helsinki.

Everyone is talking about Creativity. Everyone is talking about Artificial Intelligence. Right brain, left brain, different worlds. Can you bring them together? Elli's sell-out workshops were one of the major hits of this year's Cannes festival. Come and discover for yourself.
Simon Rhind-Tutt, Co-Founder and Managing Partner, Relationship Audits and Management.

We all know the cliche: Creativity wins business, Account Management loses it. Simon and his partners have analysed more than 5,000 client-agency relationships to see why they sometimes go well, and sometimes not. Find out what your clients don't tell you, before they invite you to re-pitch their business. With five simple clues to what they really want.
Tiffany Kelly, Founder of RoundTable Global.

"Well, you know" – as John Lennon sang – "we all wanna change the world." And yes, most of the young people in your agency (or the ones you want to join your agency) share that sentiment. But how many people live up to that? Tiffany does. Be amazed, be inspired, be fearless and be extraordinary.
Maja Pawinska Sims, EMEA Editor, The Holmes Report. Recently, PR has hit the headlines for all the wrong reasons (think the Max Clifford and Bell Pottinger scandals), reincarnating the perennial suggestion that the PR industry is nothing more than spin. Maja, EMEA Editor of the world's leading Public Relations platform, the Holmes Report, will discuss the 'dark side of PR' and how the often misunderstood trade can do a better job of selling itself.
Nontokozo Madonsela, Group CMO, Momentum Metropolitan Holdings.

Nontokozo knows how critical it is to be distinct in a world of clutter.

In her journey as a South African CMO, she has successfully battled all kinds of obstacles from shrinking budgets to boardroom discrimination.

She will share how she works with her agencies, creating successful marketing and communications campaigns with modest initial budgets - earning the right to ask for larger investments, based on a proven impact on business growth.
Lorenzo Marini, Artist and Agency CEO, Milan. Lorenzo was Creative Director at Italy's best known advertising firm, Armando Testa. Then he founded his own agency, now the Lorenzo Marini Group, with great success. But Lorenzo is also an artist, with solo shows and art installations like his recent Alphacube, creating a sensation from New York to Venice to Shanghai. So which is more important to him: art or business? And can fame in one field, create commercial success in the other? The answers might surprise you.
Ian Winton, International Partnerships Director, Crimtan. We all know about the power of digital lifecycle marketing to target the right people, in the right place at the right time. But with legislative changes and cookies becoming redundant, how do you run impactful, targeted digital campaigns? Ian explain how brands can now target more accurately relevant content in a post cookie environment.
Speaker programme
14.00 Welcome and introduction: Julian Boulding
Part One: Learning and Sharing
14.05 - Simon Rhind-Tutt: Co-Founder and Managing Partner, Relationship Audits and Management, London

14.25 - Tina Fegent: Founder, Tina Fegent Consulting, London

14.45 - Ian Winton: International Partnerships Director, Crimtan, London

15.05 - Maja Pawinska Sims, EMEA Editor, The Holmes Report, London

15.25 - Nontozoko Madonsela, Group CMO, Momentum Metropolitan Holdings, Johannesburg (TBC)

---
15.45 Refreshment and networking break
---
Part Two: Inspiration
16.15 - Elli Tuominen, Co-Founder and Strategist, Kurio Helsinki
16.35 - Lorenzo Marini: Artist and Agency CEO, Milan
16.55 - TBA
17.15 - Henry Mason: Founder and Managing Director, Trendwatching, London
17.45 - Tiffany Kelly: Founder, Round Table Global and Co-Founder, Phoenix Rising, Global
17.55 - Closing remarks (Julian Boulding)
16.00 - Drinks
---

From 18.00 to 21.00 – the Indie Awards Presentation & Party
We launched the Indie Awards three years ago, because so many Indie Agencies told us they had stopped entering the major festivals. The high-spending global networks just seemed to be freezing them out. And we see this happening too: 97% of prizes at the Festival of Media go to network agencies and almost 90% of Cannes Lions go to the network agencies.
The Indie Awards are the only multi-discipline creative communications awards, exclusively FOR independent agencies and judged BY independent agencies. They are your awards and designed around your needs, wishes and insights. This year for example, seeing the global trend to award campaigns in support of social good, to the virtual exclusion of brand-building work – we've split these out, so every kind of campaign has a chance to win. Although there will still be a 'best-in show' because everyone wants a chance to win the top prize.
For the last two years, we followed a traditional awards format with a smart dinner in a glamorous location, music, speeches and a big stage. This year, we're going for a more fun and informal approach. But with no less quality and style.
At the Soho Hotel we are fortunate to have the exclusive use of a boutique, state-of-the-art movie theatre for 100 people – normally used for private screenings during events like the BAFTAs. Here, we will present the winning work in the best possible environment, in six categories: creativity, consumer PR, corporate PR, media buying and new for 2019, "Public Good." We'll still present the six winners with their unique INDIE AWARDS trophies – the hand-crafted Scottish whistles.
We'll have a short keynote from one of the most famous names in the creative industries. Plus some valuable insights from the judges, as to why they chose the winning work. Then back to our private bar to toast the winners with a glass or two of something celebratory!
Drinks are on us until 9pm when for anyone who doesn't have an early bedtime or a train to catch, we'll have VIP entry tickets to a fashionable London club (where you can buy each other more drinks until late.)
We hope to see you on Tuesday October 29th!
TO BE SURE OF YOUR PLACE FOR THE INDIE FORUM OR THE INDIE AWARDS OR BOTH – CLICK THE 'TICKETS' BUTTON NOW AND HAVE YOUR CREDIT CARD READY. WE HAVE 100 PLACES AND THEY MAY WELL SELL OUT – DON'T WAIT TOO LONG!
Terms and Conditions


Full payment is due at the time of booking and should be made via Eventbrite's secure credit card payment facility. No booking is confirmed until payment is received. Prices include Eventbrite's booking fee are as listed on the Eventbrite booking forms and exclude local taxes except where stated.

In case you need to pay by any other means, please contact Stephanie Geisler at thenetworkone: stephanie.geisler@thenetworkone.com.

The cost will include all conference sessions and refreshments.

Agency delegate bookings may only be made by, or on behalf of Owners and Senior Directors of independent marketing and communications agencies. thenetworkone reserves the right to decline bookings if in our judgment the delegate does not meet these criteria. If any booking is declined, the delegate will be informed individually and a full refund made, within two weeks.

Speakers are advertised in good faith but thenetworkone cannot guarantee the appearance of any individual speaker. Thenetworkone reserves the right to make alterations to the program content.

Refunds are at the absolute discretion of thenetworkone and will normally only be offered in the event of the cancellation of the event, due to unavoidable reasons outside our control. In case of cancellation of the event for any reason, thenetworkone's liability will be limited to the money received by thenetworkone from registered delegates, directly or via Eventbrite. However, a substitute delegate of similar seniority may attend the conference in place of the booked delegate, at no additional cost, subject to written confirmation provided by you and acknowledged by thenetworkone.

You will receive a paper ticket to download and print. Please bring this with you to the conference, to speed your registration. In case you lose it or have problems printing it, please also bring photo ID for registration. Admission will be by delegate badge only, which you will receive when you register at the conference venue. Badges are valid for the named delegate only and must be worn at all times during the Summit. Thenetworkone reserves the right to refuse admission to any delegate who cannot provide evidence of registration.

The Indie Summit organisers


The Indie Summit is hosted by Thenetworkone Management Ltd, trading as thenetworkone: a world leading organization of independent marketing and communications agencies, working with more than 1,200 accredited agencies, in 109 countries worldwide.


Frequently asked questions


How many people from my agency can attend?
Agencies may register up to three delegates. If you would like to register more, please contact the organisers.

Are substitutes allowed?
If you have registered for the event and are unable to attend, please let us know. We can accept a substitute from your agency, providing he or she is also a senior director of the agency. There is no charge for this.

What is your policy on refunds?
There is no right to a refund except in case of the cancellation of the event. Thenetworkone may attempt to re-sell places to delegates who cannot attend, less an administration charge, if there is a waiting list.

Is there an advantage to booking early?
YES. WE RECOMMEND YOU BOOK NOW. Places are limited by the size of the conference theatre and we expect that the event will sell out.