Location
Houses of Parliament
Portcullis House
Boothroyd Room
London
SW1A 2LW
United Kingdom
A live industry panel discussion on the subject of diversity with leading business and beauty industry experts, plus Q&A and Networking
About this event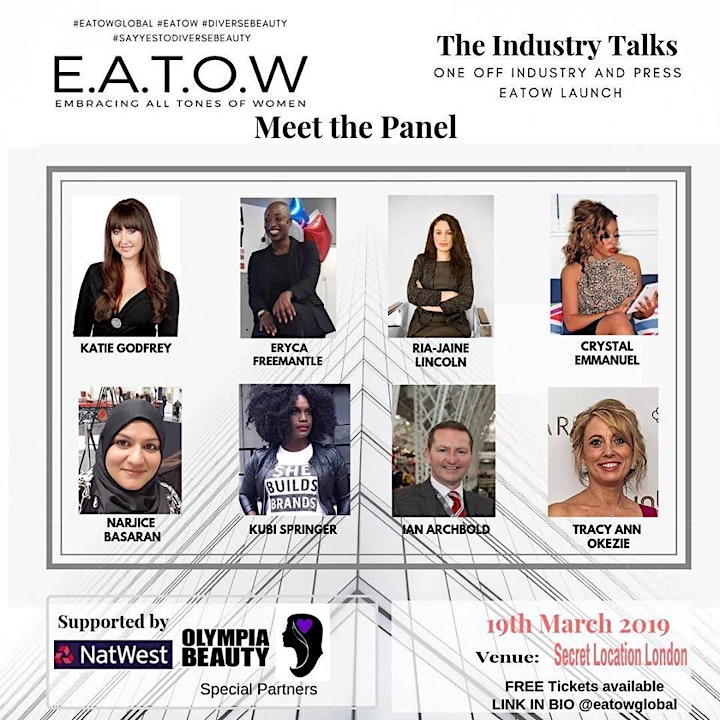 Confirmed Industry Panel
Ian Archbold (Managing Director, Olympia Beauty)
Kubi Springer - (Founder, She Builds Brands)
Eryca Freemantle - (Founder, EATOW)
Hosted by
Crystal Emmanuel - ( Celebrity Creations Management & Beauty in Dubai)
POLITE NOTICE
We have to inform you there is no food permitted at the event. We advise that you eat before arriving.
No video recording of the event for more than 5 mins at a time.
No lengthy mobile conversations
Thank you on behalf of team EATOW
Itinerary
- Introduction to EATOW
- Introduction to 4 Top Industry Panelists
- The good and bad: How diversity is, alongside how it is not, being represented and pushed forward as crucial within the industry toady
- Q&A with Industry Panelists hosted by Crystal Emmanuel
- Ask the Audience: Direct Questions to Panelists by the audience attending
- EATOW Global Membership Club: Q&A with Ria-Jaine Lincoln (Founder, Ria Jaine Accountancy) and Eryca Freemantle (Founder of EATOW)
- Networking & Opportunities: Network with EATOW global beauty industry special guests, champions, sponsors and panellists for the remainder of the evening.
For more information visit:
NOTE: All attendees must have a valid I.D to attend this event.