The Information Technologists Events Panel; Visit to the RNLI London station

Thursday, 27 March 2014 from 16:00 to 17:30 (GMT)
Event Details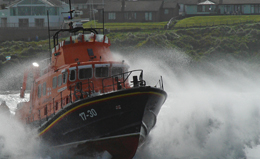 London's lifeboat crews have experienced another busy summer period of searches and rescues with 263 separate lifeboat launches between June and August 2013 on the river Thames. Once again two of the RNLI's London lifeboat stations were in the top five busiest of all 236 lifeboat stations in the UK and Republic of Ireland. The busiest was Tower station, which operates from a floating pier below Waterloo Bridge.
The busy summer season highlights the important work of the Royal National Lifeboat institution in London, which remains a charity and relies entirely on voluntary contributions to run its lifeboats. It is only through donations and support from the public that the charity is able to maintain the stations and launch its lifeboats to provide a vital search and rescue function on the UK's busiest inland waterway.
It is planned to adjourn to the RS Hispaniola after the event, but note that any costs associated with this are not included in the visit fee. (http://hispaniola.co.uk/)
The visit can accommodate a maximum of 18 people. There will be a charge of £15 (plus booking fee), which includes a donation to the RNLI
Note that Northern Line trains will not be stopping at Embankment station at the time of the visit. For alternative travel instructions, please download www.alphabase.co.uk/rnlid.pdf
Note: The RNLI state "the RNLI try to accommodate visits to our premises where we can do so without affecting our ability to carry out the RNLI's operations as a sea, water and beach rescue charity. However, access to our premises, or to any part of them, may be dependent on factors outside our control, including the weather, sea conditions and rescue operations."
Please contact the organiser if you require wheelchair access, and if any guest is under the age of 18.
Do you have questions about The Information Technologists Events Panel; Visit to the RNLI London station?
Contact Administrator
When & Where

RNLI London Station,Victoria Embankment, London, WC2R 2PP
Victoria Embankment

United Kingdom


Thursday, 27 March 2014 from 16:00 to 17:30 (GMT)
Add to my calendar
Organiser
Statement regarding charitable donations
Save for venue or other third party charges made to WCIT, all receipts from events booked on this site are to  be used for the purpose of fund raising, and will be donated to one or more charities, which by default will be the WCIT Charitable Trust. Bookings are accepted on that explicit understanding by the attendee and where relevant any guests.
Statement of WCIT liability  (Worshipful Company of Information Technologists; www.wcit.org.uk)
By agreeing to participate in the above event  I confirm and agree on behalf of myself and any  guest invited by me that I and my invitees do so at our own risk and that neither the Charity Company nor The Worshipful Company of Information Technologists nor any other organiser, agent or staff member shall have any liability for any act or omission unless undertaken maliciously or otherwise wilfully or in a reckless way.
Refund Policy :
Refunds will only be made if a request is received by e-mail to  the organiser at least the stated number of clear business days prior to the event and  at the absolute discretion of the Organiser. [For example, a refund may not be paid if WCIT has at the time of the receipt of a refund request already made irrevocable payments to a third party]. Where agreed, any payments will be via a refund from the card provider, made net of any charges levied by Eventbrite / card fees for processing, unless payment has already been received by WCIT, in which case the refund will be made by cheque.