The Innovation Network for Health and Social Care in Wales - Autumn Meeting...
Description
Yn dilyn y sesiwn lwyddiannus ar sefyllfa'r ecosystem arloesi ledled Cymru ym maes iechyd a gofal ym mis Mehefin, rydym yn dod ag aelodau ynghyd unwaith eto i drafod gofal iechyd sy'n seiliedig ar werth a'r broses o'i gaffael.
Bydd y digwyddiad yn cynnwys cyfraniadau gan Lywodraeth Cymru a Phartneriaeth Cydwasanaethau GIG Cymru, a bydd yn rhoi cyflwyniad a chefndir i'r Cytundeb Cydweithio ar gyfer Iechyd a'r Diwydiant.
Byddwn yn clywed hefyd gan ATiC a Pocket Medic am yr hyn maen nhw wedi'i ddysgu am "Dementia - Can You See What I See?"
Mae'r cyfarfod Rhwydweithio hwn yn gyfle i aelodau wneud y canlynol:
Rhannu eich straeon am arferion arloesi a'r angen i helpu i greu darlun o arloesi a chyfle i gydweithio ledled y wlad
Dysgu am y rhaglenni a'r mentrau sydd ar gael yng Nghymru i helpu i roi syniadau ar waith.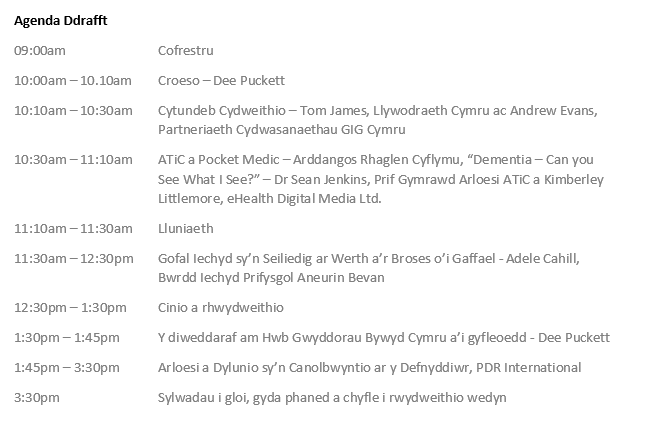 Os oes gennych chi unrhyw gwestiynau neu os oes angen help arnoch chi, cysylltwch â thîm digwyddiadau Hwb Gwyddorau Bywyd Cymru ar events@lshubwales.com
---
Following the successful session on the innovation ecosystem landscape across Wales for health and care session in June, we are convening members to discuss value-based healthcare and its procurement.
The event will feature contributions from Welsh Government and NHS Wales Shared Services Partnership, providing an introduction and background to the Joint Working Agreement for Health and Industry.
We will also hear from ATiC and Pocket Medic on their learnings on "Dementia – Can You See What I see?".
This Network meeting is a chance for members to:
Share your stories of innovation practice and need to help build a picture of innovation and opportunity for collaboration across the country
Learn about programmes and initiatives in Wales available to provide support to turn ideas into practice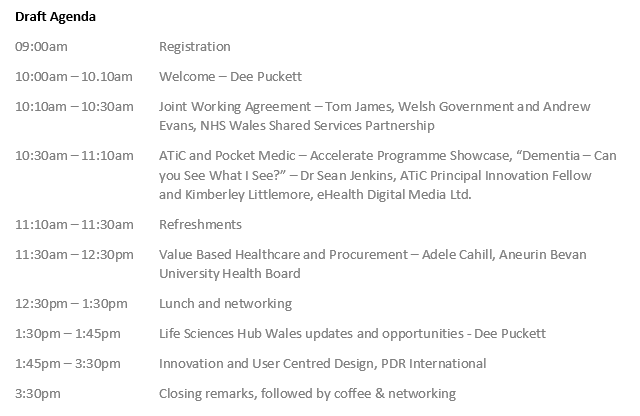 Should you have any questions or require assistance, please contact the Life Sciences Hub Wales events team on events@lshubwales.com