Description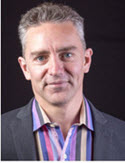 Our next CDN will be on 29th March: Note this is the THURSDAY
Following up from the cyber-attack last year on the NHS and many other organisations, companies put a real focus on their cyber security. As we all deal with data (and its protection) on a daily basis and our clients might have already addressed extra security measures with regards to their online portal / document management there is an excitement for this topic.
Jason Cobine of Cobine Carmelson will tell us about managing risks, what to ask an insurer, differences in cover, some actual claims (& what happened), the risks you might take without insurance and the difference between using a broker and going direct.
Jason Cobine set up Cobine Carmelson after 19 years with 6 different insurance brokers. Jason is an avid user of LinkedIn and social media and advises on the risks to online and offline assets plus the income they generate and the reputation companies rely on. From looking after corporates for one of the three largest Insurance Brokers in the World to helping local businesses and property owners his ethos has always been the same – get the claims paid.