Description
This Conference is your opportunity to meet over 25 top investment firms and main growth-support institutions. All in one room and in one day sharing how you can get equity funding. Leading Crowdfunding platforms, Business Angels Networks and Venture Capitalists offering support to businesses from early- to scale-up stages will be there to help you with your funding needs. Famous and successful entrepreneurs will conclude the day discussing what it takes to build a scalable and sustainable venture that attracts investors.
If you're an entrepreneur - come to learn what investors are really looking for; as well as your best equity funding options and how to secure them. Make sure to have your business cards and practice your elevator pitch.
If you're an investor - come to discover what's happening in the investment space; what are the most promising industries to consider; how to prevent your risks and make the right investment choice.
Event Sponsored by
NatWest is not only one of the leading and well-established UK banks, but also a team of experts with entrepreneurial spirit. They understand that running a business can be both exciting and challenging, but with the right combination of support, guidance and funding, it can do better. Often businesses just need a little boost to help to unlock their potential, and by gaining the right skills, knowledge and networks they can make big things happen. Thus NatWest is an institution, which provides apart from funding necessary support to make sure your business growth faster and better.
Envestors is one of the leading private investor networks which sits "above the crowd". Being established in 2004, today Envestors Ltd. has over 4,000 sophisticated investors have registered on the Envestors platform and invest a minimum of £25,000 (average £42,000) per transaction. To date Envestors has completed £95m of investment into 200 companies through its offices in London, Jersey and Dubai. Envestors has won numerous awards including "Private Investor Network of the Year" on three occasions (2009, 2011 and 2014).
Rockstar Hubs International is a part of Rockstar Group of Companies. Since 2007, The Rockstar Group has mentored and grown over 6,500 businesses in the UK. The Rockstar Group has some of the UK's most well known and respected entrepreneurs as its mentors. Within the group it also owns a law firm, hedge fund, crowdfunding platform, sales outsourcing firm and App development company.

A City Law Firm awarded most innovative law firm, London 2016, is a dynamic firm of solicitors located in the City. Their team have extensive experience in acting for startup businesses, helping them to grow, find investment and exit. In addition to this they act for expanding businesses looking for larger investments or who are merging, selling or acquiring additional businesses. Their commercial team not only offer sound legal advice, but help businesses understand investment options such as crowdfunding and option agreements; and can help develop exit strategy or enhance capital worth.

The Royal Academy of Engineering's Enterprise Hub (RAEng Enterprise Hub) aims to accelerate innovation for the benefit of society by supporting founders of innovative engineering and technology enterprises with grants, bespoke training and mentoring from Academy Fellows. We also work to inspire and encourage business minded UK-based engineers to pursue entrepreneurial endeavours by celebrating and promoting successes.
Companies you will meet, include: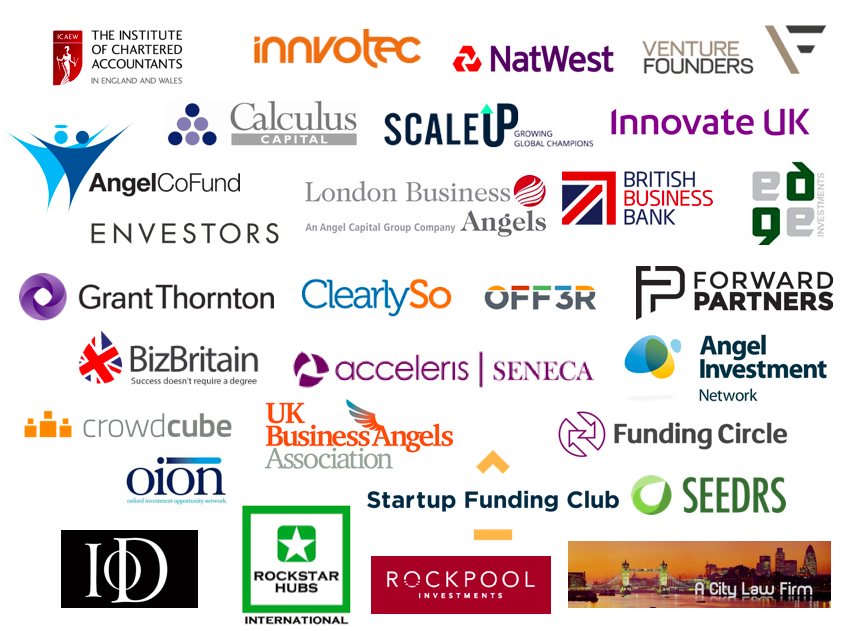 Speakers:




Special Guests:

Agenda:

⌚ 09.00 - 09.30 REGISTRATION
⌚ 09.30 - 10.00 WELCOME FROM BFS AND SPONSORS
⌚ 10.00-10.30 Session I: Investment Trends Overview
(Sectors securing major investors' support; Most utilised funding sources; Brexit impact on equity funding)
MODERATOR: Johnathan Pfahl, Founder of Rockstar Hubs
10:00- 10.15 Matt Adey, Director & Senior Economist at the British Business Bank
10.15 -10:30 James Sproule, Chief Economist and Director of Policy at the Institute of Directors
⌚ 10.30-10.40 Session II: Investment-Readiness from a Legal Pespective
Alia Ali, Head of Commercial Law at A City Law Firm Limited
⌚ 10.40-11.20 Session II.I: Strategy and Planning for fast and sustainable Growth
(Planning, Valuation, Dilution, Cash-ins, and Growth or Exit Strategies)
MODERATOR: Alia Ali, Head of Commercial Law at A City Law Firm Limited
Andrie Santis, Manager of Growth Finance at Grant Thornton
David De Koning, Director for Global Communications at Funding Circle
Richard Moore, Head of New Investments at Calculus Capital
Norman Molyneux, Founder & Chief Executive of Acceleris Capital
⌚ 11.20-11.40 Coffee-break
⌚ 11.40-12.20 Session III: Funding solutions for Starting up a business
(Funding options; Most sustainable sectors; Associated risks for investors and ways to prevent/reduce those)
MODERATOR: Mark Saunders, Director of Business Banking at NatWest
Martyn Holman, Partner at Forward Partners
Stephen Page, Founder and CEO at Startup Funding Club
Gary Lennon, Business Development Director at BizBritain
Noor Choudhary, ICAEW
Nick Bassett, UK's Head of Investor Partnership at Innovate UK
⌚ 12.20-13.00 Session IV: Crowdfunding
(What's happening in the space; Regulations and Investment practices; Various crowdfunding models; Most successful campaigns)
MODERATOR: Oliver Woolley, Founder & CEO at Envestors
Matt Cooper, Commercial Director at Crowdcube
Rich Mason, Campaigns & Investment Director at Seedrs
Eva Weber, Investment Director at VentureFounders
Lex Deak, Founder & CEO at OFF3R
⌚ 13.00-14.00 Lunch
⌚ 14.00-14.40 Session V: Private or 'Angel' Investment
(What Angel investors are looking for; How to find the right Angel; Pros and cons of Angel Investment; Due-diligence on Investors and Founders; Becoming SEIS/EIS qualified)
MODERATOR: Tim Mills, Investment Director at Angel CoFund
Alexander Sleigh, Investment Director at London Business Angels
Roderick Beer, Strategic Relations Director at UK Business Angels Association
Xavier Ballester, Partner at Angel Investment Network

Katrina Cruz, Private Investor Relations at ClearlySo

⌚ 14.40-15.20 Session VI: Venture Capitalists
(Range of VCs; Requirements and expectations; When to bring a VC on board; How to secure institutional investors)
Paul Excell, Executive Director at ScaleUp Group
Chris Baker, Investment Director at Oxford Investment Opportunity Network (OION)
David Fisher, Investment Director at Edge Investment Group
Nick Gurney-Sharpe, Chief Investment Officer at Innvotec
⌚ 15.20-16.00 Session VII: Experts & Entrepreneurs Panel
(Very special business-guests, who built highly-successful ventures will be sharing their journeys and discussing the role of external funding in growing the business)
MODERATOR: Arina Osiannaya, Founder and CEO at The Business Funding Show
Dr Graeme Malcolm OBE, Co-founder and CEO of photonics technology company M Squared, one of the UK's fastest-growing tech companies.

M Squared is one of the UK's fastest-growing tech companies. M Squared's rapid growth has been recognised by the Deloitte Technology Fast 50, The Sunday Times Tech Track 100, Bloomberg Business Innovators, The Leap 100 and the Scale-Up Club. This year also saw the business receive the Queen's Awards for Enterprise in Innovation for its groundbreaking 'SolsTiS' laser platform. M Squared has been recently supported by the Business Growth Fund with £6.25m. Graeme is an entrepreneur who already successfully built and sold other highly-scientific ventures Thus he knows a great deal of all stages you may consider going through and will be there to share how to build and grow your business rapidly utilising external funds.
David Murray-Hundley, Serial Entrepreneur and Director/NED IW Capital, Crowdstacker, Portr, E-Fundamentals, Brabham, Force Over Mass, Scopely, Adaro, Ferrari, mentor for Level 39.
Murray-Hundley published his first for Superior Software at just 11 years old. He worked for the first internet companies when people still asked him for ID. He was one of the founding team members at Commerce One long before it peaked at a $22bn market cap... the same company that bankrupted him. So, he did well in his 20s, lost it in his early 30s and did well again. Been sat as the person looking to raise cash and also the person who lends. Fortunate enough to have some wisdom and track record. Represents companies or is involved with companies in the UK that 'actually' raise money or lend money with no BS. This year only, he made two high profile exits, so definitely David is a person to ask about strategy.
Dr Louise Beaumont, Vice Chair Open Bank Working Group at TechUK, Advisory Board Member at Funding Options, Brace Club, Verifeye Media, and CEO of Vector Associates Ltd.
Prior to her current roles, Louise was the head of public affairs and marketing at GTI Finance, a prominent investor in the SME alternative finance sector. I addition, Louise was the co-founder and chief sales and marketing officer at GLI Finance investee Platform Black.
An expert in alternative funding platforms, Dr Louise Beaumont creates markets, enables scale, and drives growth. She is particularly interested in the intersection between technology, financial services and public sector; and has worked with blue chips (Capgemini, Siemens, Microsoft), many start-ups, investors (GLI Finance) and everything in between to grow companies and create value.
Julien Callede, Co-Founder, MADE.com
Julien grew up in Nantes in Western France. It was in Paris, however, whilst attending university at HEC, that the seed for MADE was first planted. During his time at HEC, Julien completed a placement at a private equity fund that had recently bought a furniture company and here, learnt the basics of product sourcing and the international furniture market. It was also during his time at the HEC that Julien met fellow student, Ning Li, with whom plans for a furniture e-commerce business were first discussed. These plans grew with the help of Brent Hoberman and Chloe Macintosh. In February 2010 Julien arrived in London and, together the three co-founders, launched MADE. Since then, the business has grown rapidly, and now operates successfully in Belgium, France, Germany, Italy, and the Netherlands alongside its London home. MADE's vision is to become Europe's number one online destination for home design.
⌚ 16.00-16.15 Closing Remarks
⌚ 16.15-17.30 Networking reception
SPONSORSHIP OPPORTUNITIES​ AVAILABLE, FOR DETAILS VISIT THIS PAGE or CONTACT ORGANISERS.
Organiser:
The Business Funding Show
Arina Osiannaya, Managing Director
+44 (0) 740 584 70 13 | arina@businessfundingshow.com | www.businessfundingshow.com