Description
The Irregularity of Order is a collection of brand new contemporary drawings and artwork created using smoke, ink and fire responding to the theme of chaos and order by Leeds based artist Amanda Burton
You are warmly invited to join us for a special preview evening and launch party for this brand new exhibition at Inkwell Arts. This is your chance to be the first to see the artists latest work while enjoying wine and nibbles.
Exhibition Launch: Thursday March 29th 6pm -8pm.
Venue: Inkwell Arts, 31 Potternewton Lane, Leeds, LS7 3LW.
Free Entry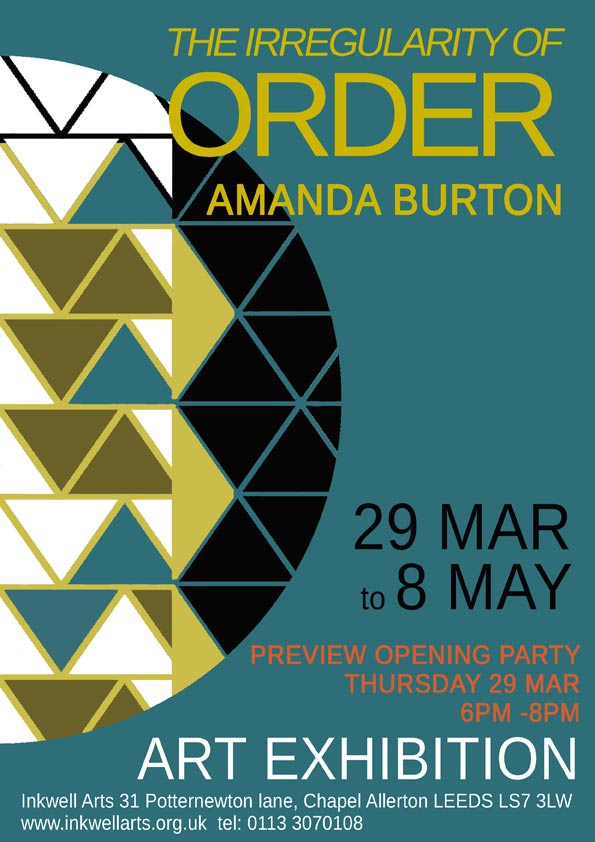 Amanda's academic background in mathematics and science offers a broad source of inspiration for her artwork. Her particular interests lay both in nature and modular structures. Through her work she explores the desire to better understand her surroundings, in both the physical and the metaphysical sense, and considers each piece she creates to be a study or experiment towards that journey.
Echoing recent personal events, her recent work has been a response to the phenomenon of chaos and order. Order seems intrinsic to human life, yet the unpredictability of chaos penetrates its systems and design. "We cannot control our own destinies, nor can we control the outcomes of those around us whose lives may affect chaos and disorder to our own."
Experimenting with the visual appeal of repeating pattern and order and combining it with the unpredictability of mediums such as smoke, fire or water she has created a body of work that explores the visual effects of these two polar entities with astonishing aesthetic effects.
The exhibition runs from March 29th - May 8th
General viewing times: Mon - Sat 10am -4pm