The Irruption of the Psychosocial in Criminal Justice: Disputed Logics
The Irruption of the Psychosocial in Criminal Justice: Disputed Logics
About this event
The University of Edinburgh Criminology Reading Group Seminar Series 2021/2022 presents:
"The Irruption of the Psychosocial in Criminal Justice: Disputed Logics"
Natalia Cabrera Morales, Pontificia Universidad Católica de Valparaíso
The New Public Management extended its global view over the justice institutions in Chile around the 2000 decade, through a series of reforms. This paradigm which comes from business management and economy, relegates the political and ethical role of the public sector, to give primacy to mercantile logics. In the Chilean criminal justice system since the Criminal Procedure Reform that began in the 2000's, criminal policy has acquired managerial and bureaucratised features. As a consequence of this reform, psychosocial professionals (social workers, psychologists and sometimes sociologists) are heavily included in different roles. Thus, the tension between more humanitarian logic and productivity is intertwined with the dispute over the legitimate expertise to apply (legal or psychosocial).
Although literature has studied criminal models from a theoretical and historical perspective in Chile, the view of the actors remains unexplored. Using thematic analysis, we analyse deep interviews with lawyers (8) and psychosocial professionals (9). As preliminary results we found that although the knowledge of psychosocial professionals is valued, it is generally instrumental to efficacy and efficiency of case resolution. Even when psychosocial knowledge is recognised as better for holistically addressing complex problems behind the crime and even when legal expertise is pinpointed as short-sighted and extremely procedural, we observe that lawyers are involved in the resolution of the conflict beyond the legal and procedural. Psychosocial professionals are also bureaucrats and devoted to productivity. Even though, actors would like to better assist the conflicts, their performance is shaped by standards and function limits which structures the everyday labor on criminal justice in Chile.
This communication will present preliminary results of a qualitative research founded by FONDECYT titled: "New repertories of public action: psychosocial professionals in the criminal and family justice reform context in Chile" [FONDECYT 11190123]. The results concerning the criminal justice institutions will be discussed in two intertwined domains: i) Criminal Managerialism and New Public Management embodied by criminal justice professionals and; ii) The knowledge dispute between law and psychosocial. First we will contextualise reviewing the history of the criminal justice reform inspired by Managerialism and New Public Management, and then we will review and discuss preliminary main results of deep interviews with lawyers and psychosocial professionals.
The main researcher of the project is Dr. Fabiola Miranda Pérez who has a PhD in Political Science of the Grenoble Alpes University, IEP of Grenoble, France. Dr. Miranda is a professor at the Social Work Department of Universidad Alberto Hurtado. Her main research areas are Sociology of Justice; Social Policy; Sociology of Public Action and the non-legal professional's role on Justice; all with a gender perspective.
The presentation will be conducted by Natalia Cabrera Morales, research assistant of Dra Miranda's project. She is also a lawyer from the Pontificia Universidad Católica de Valparaíso and a Master's Sociology student at Pontificia Universidad Católica. She is interested in the study of criminal justice through the lens of social science, specifically regarding control institutions.
---
This event will take place for around an hour with an opportunity for Q&A and discussion towards the end. The event is free for all and will take place on Zoom. Please register to get the zoom link!
Any questions, don't hesitate to get in touch!
We look forward to seeing you!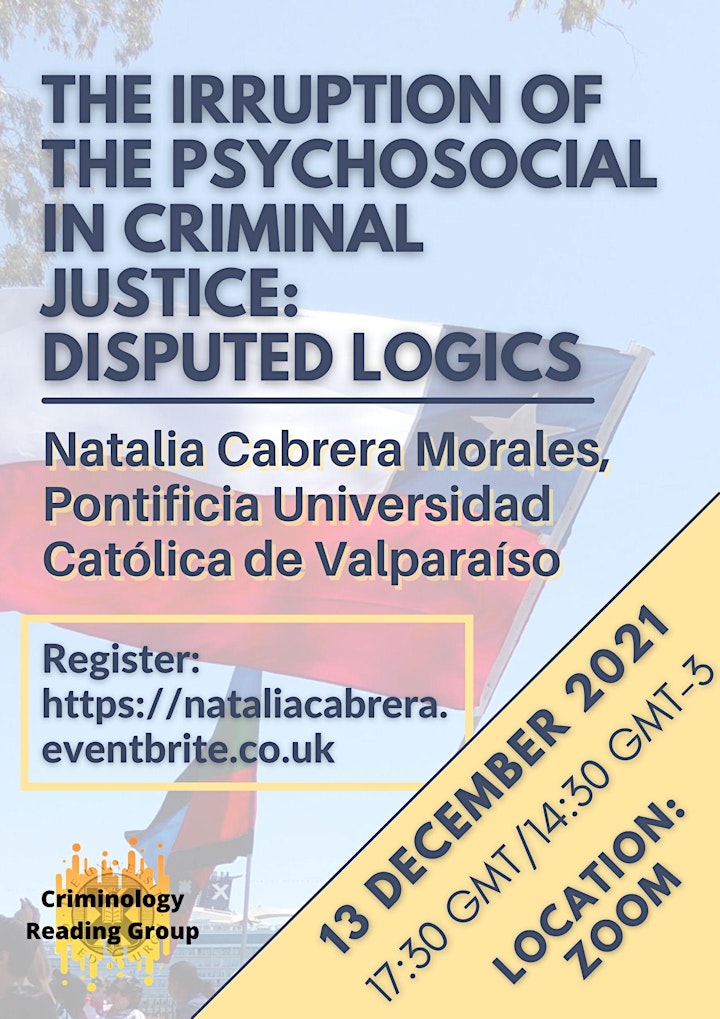 Organiser of The Irruption of the Psychosocial in Criminal Justice: Disputed Logics