Location
Trinity Park
The Events Centre
Felixstowe Road
Ipswich
IP3 8UH
United Kingdom
Welcoming you back to our BIG SALE (with some important changes)!
About this event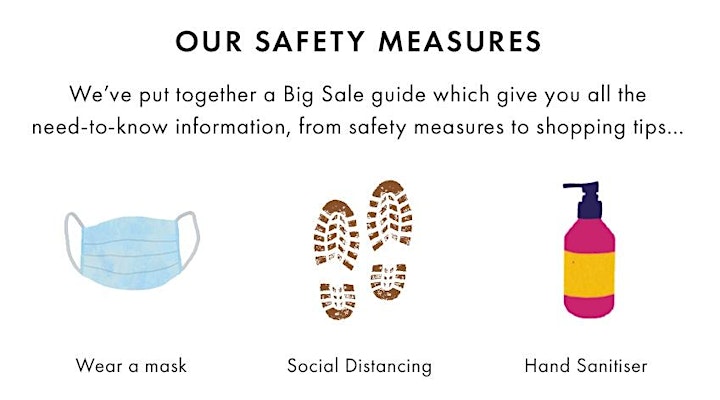 TICKETS NOW AVAILABLE FOR THURSDAY SHOPPING SLOTS HERE.
We hope you'll be as delighted as we are to hear that our Big Sales are coming back. Right now, we're packing our products and getting ready to head to Suffolk first!
We're bringing these much-loved pop-up shops back with additional measures to ensure the safety of all:
Pre-Booked Shopping Slots
Please pre-book your slot before attending. All attendees must have a ticket (including children aged 0-16) and adult tickets require a deposit of £5 which will be deducted from your total at the till.
With your help we'll be able to control the number of people shopping at any one time and allow time for cleaning between sessions.
To keep crowds to a minimum, we ask that groups are no larger than 6 and children are only invited where necessary.
Please arrive 15 minutes before your booked slot to ensure your tickets can be checked and you can make the most of your shopping time. Please also aim to complete your transaction before the end of your slot, in respect to those that have booked into the next shopping slot.
Tickets are non-refundable. Please read full T&C's below.
If you have any symptoms of COVID-19 please do not book or attend a shopping slot and follow the latest Government advice.
Please check for the latest advice on local lockdowns before travelling.
Got Your Face Covering?
In line with new guidelines around face coverings, we're asking that you please wear one at all times whilst at the venue.
Keep a Little Distance
While we can all get a bit closer again, we've decided to keep distancing to 2 metres for added safety.
Safer (and Easier) Shopping
To make your shopping experience safer and more efficient, we've introduced wider aisles and a handy map to help you find what you're looking for a little easier.
Hand Sanitiser
Please help yourself to hand sanitiser at the entrance and additional points throughout the venue. For added peace of mind we'll be regularly cleaning high-contact areas throughout the day.
Fitting rooms
We're sorry, but all fitting rooms will be closed. Don't forget though, we've extended our returns policy to 180 days! All returns should be sent to our warehouse and you'll receive more details on how to do that at the Big Sale.
Time to pay
Our till areas have protective screens and we encourage card or contactless payment where possible.
Something to remember…
These are difficult times that we're all going through together. Please be patient with our staff and kind to everyone, always.
Test and Trace
If necessary, we will be able to contact all ticket holders, via the email address used to book, in order to advise customers of potential contact with Covid-19.
Venue: Trinity Park, The Events Centre, Felixstowe Road, Ipswich, IP3 8UH
There is ample free parking available at the venue.
Please contact bigsales@joules.com with any booking queries.
For more details on our safety measures and shopping tips, please visit www.joules.com/big-sales
TERMS AND CONDITIONS
Joules Limited, a company registered in England and Wales under company number 2934327, with its registered office address at Joules Building, The Point, Rockingham Road, Market Harborough LE16 7QU (Joules) is the organiser of the Joules Big Sale (the "Big Sale").
By purchasing a ticket for the Big Sale, you agree to the following terms and conditions:
• All attendees at the Big Sale must have a relevant adult or child ticket, which must be shown at the venue door. We would love to save paper, so no need to print it out, just present it on your phone.
• Groups must be no larger than six (6) persons.
• Late arrivals are not guaranteed entry to the Big Sale and Joules reserves the right to refuse you admission if you do not arrive by the start of your pre-booked time slot.
• All children must be accompanied and supervised by an adult at all times at the Big Sale.
• Adult ticket deposits can be redeemed via a deduction from the ticket holder's first purchase of Joules' branded products at the Big Sale over £5 and is redeemable at the Big Sale only. It cannot be redeemed on purchases made in-store, online or via Customer Services.
• Ticket holders must exit the Big Sale by the end of their pre-booked time slot.
• Cancellation of the Big Sale by Joules will result in automatic refunds for all ticket holders. Joules' liability in this case will be limited to the face value of your tickets. Save in respect of cancellation by Joules, tickets cannot be refunded or exchanged.
• You attend the Big Sale at your own risk, understanding that Joules has taken additional precautions regarding Covid-19, as outlined in these terms and conditions and on www.joules.com/big-sales, to protect customers and staff.
• All Big Sale attendees must wear a face covering at all times whilst attending the Big Sale at the Big Sale venue (subject to government guidelines).
• Online booking of tickets for the Big Sale is run by the third-party service, Eventbrite (www.eventbrite.co.uk). Errors made when booking a ticket are your responsibility and Joules will not be held responsible for any inconvenience caused by the supply of incorrect personal information. It is your responsibility to check that the tickets issued to you are correct.
• Please contact bigsales@joules.com with any access requirements that you may have.