Join GRT at our FREE event with Shaykh Zahir Mahmood - The Judgement Day Venue: Blackhall Masjid - 1 House O'Hill Rd, Edinburgh EH4 2AJ
About this event
Join GRT at our FREE event with Shaykh Zahir Mahmood - The Judgement Day
Venue: Blackhall Masjid - 1 House O'Hill Rd, Edinburgh EH4 2AJ
Please register now for your FREE ticket (registration compulsory)
By enrolling at this event you agree to Global Relief Trust contacting you to share information about the organisation and any future events that will be taking place. Your information is not shared with any third party.
Please do not attend this event if you have tested positive for COVID.
If you have any COVID symptoms prior to the event please ensure to take a test and confirm a negative result before attending. You can order a free test via the NHS.
Please do NOT put anyone at risk by attending if you think you have COVID.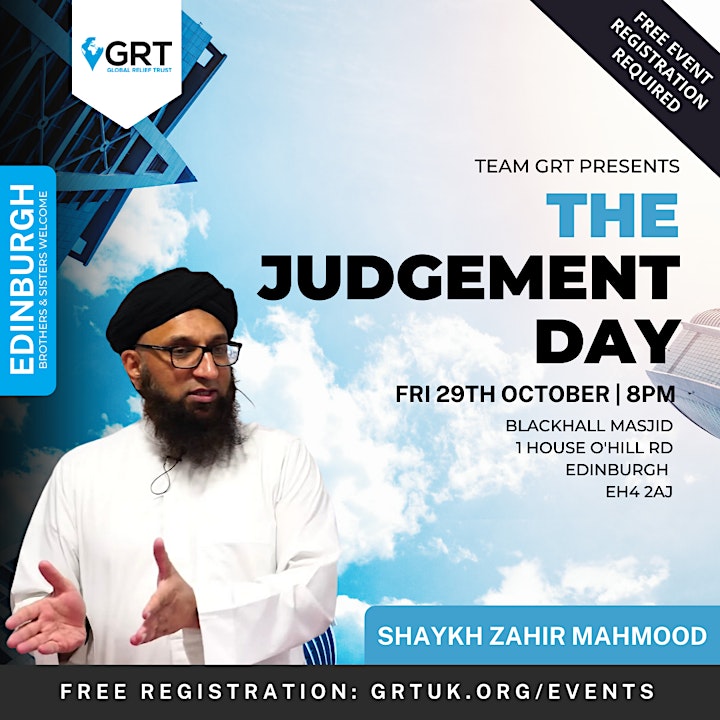 Organiser of The Judgement Day with Shaykh Zahir Mahmood | Edinburgh
Global Relief Trust is a Leading Muslim Charity based in the United Kingdom, working across the globe. Our dedicated teams have vast experience and expertise working in conflict and disaster-hit zones. Our excellent links with local communities ensures that aid delivery is effective and efficient. We have an extensive number of multi-sector projects in Gaza, Yemen, Lebanon, Syria, Bangladesh, Burundi, Kashmir, Pakistan and the Rohingya Refugee camps. As it is our base, we are also supporting local projects in the UK.