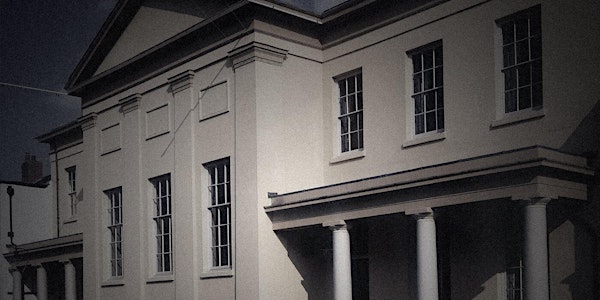 The Judges' Lodgings Halloween Ghost Hunt, Herefordshire - 29th October 22
Location
Judge's Lodging
Broad Street
Presteigne
LD8 2AD
United Kingdom
Refund policy
Contact the organiser to request a refund.
Eventbrite's fee is nonrefundable.
A Halloween ghost hunt experience at The Judges' Lodgings, Old Court & Cells located in Presteigne, Herefordshire border - 29th October 2022
About this event
The Judges Old Court & Cells Ghost Hunt, Presteigne, Wales (Herefordshire England/Wales Border)
Your ghost hunt at The Judges Old Court & Cells in Presteigne will take you back in time. This intriguing and fascinating building situated on the England/Wales border at Herefordshire is rarely investigated, yet it makes for a fascinating ghost hunt experience!
The Judges Old Court & Cells is 3 ghost hunt locations in one and at only £39pp! You will get to explore and investigate the Court Room, Prison Cells in the basement, along with the underground spooky Servant's quarters and the main house where the Judge resided. The house is exquisite with grand spacious rooms over two floors, furnished as they would have been back in the day.
The main lighting source at this location is provided by oil and gas light, just like it would have been in its original working state. It is regularly used today as it operates as a museum and the distinct and unusual smell of the lingering burning oil is present throughout the whole building. As you begin your ghost hunt experience and move through into the main house, the unique smell from the oil lamps hits you and you instantly feel like you've journeyed back in time. This is a ghost hunt location like no other.
On a ghost hunt with Haunted Houses you will have exclusive access to the building/location during the evening. You will learn all about ghost hunting and the techniques used to encourage paranormal activity. We have a whole host of scientific ghost hunt equipment for you to use to aid communication with the spirits. You can take part in Ouija boards, glass divination and table tipping; the more traditional ghost hunt techniques. Or simply sitting in the dark and asking for the spirits to interact with you. Lone vigils (ghost hunting alone) will also be offered where available. During your evening you will be split into smaller groups so you can get the most out of your experience. If you are new to ghost hunting we warn you now – by the end of the night you may just become addicted to the fascinating and intriguing world of ghost hunting.
This is a real ghost hunt experience, there is no fakery, tricks or actors jumping out at you. What are you waiting for? Book your places today!
Ghosts
The Judge's Lodgings is said to be haunted by the spirits of the previous convicts who entered it's doors, or servants who ran the house hold and of course, that of the Judges who worked the courtroom and called this building their home.
It has been reported that many have refused to leave the building after their death, Quick moving shadows have been witnessed moving through doorways and causing loud noises to rattle through the building. The cries of a woman is frequently heard who was sentenced to death within these walls, It is said that she wanders the location searching out her missing child, a child which she was sentenced for murdering.
The downstairs servant's area is said to be rife with lots of un-godly noises, including growls and grunts from behind you in the room you stand. Icy cold winds have been felt blowing across the unwary, and items have been known to of been "kicked" or "thrown" around in front of your eyes.
Our visits here to this location have seen our guests freeze in fright, as metal watering cans lying on the ground were unexplainably dragged over the stone floor when nobody was near them!!
The Cells below the courtroom have been known to slam shut seemingly all by themselves – followed by a knocking sounds coming from inside the claustrophobic lock up. Whistles have been heard on many occasions, as well as strange lights that seem to flutter up and down the stair in the pure darkness.