The June Exhibition: Scottish Society of Botanical Artists
About this event
Our June exhibition is a wonderful collection of Botanical Art.
Before your visit:
The exhibition is open Tuesday -Saturday, 11am - 4pm. Please register for a free ticket and arrive at your booked 30minute slot as we can only allow six visitors at one time. Please wear a mask and follow advertised guidelines within the Clubhouse at all times - this is to comply with current Government restrictions. Thank you very much. If you can't make it on the day, please cancel your ticket via the Eventbrite cancellation function.
About the Exhibition:
Botanical art is both simple and very difficult to define.  In its historical, scientific origins, it was invaluable in recording the nature of plants and is still used worldwide for this purpose. However, some works eschew the scientific, while staying true to the representation of nature, and this is where the hazy line between botanical illustrations and contemporary botanical art lines.
The subjects the Artists chose are all from the natural world, which gives them a huge range of material. And although their styles may not be exactly similar, yet attention to detail both in form and colour is a hallmark of what they do. Their exhibitions are held annually in different parts of the country in an attempt to widen the audience for this media and encourage those who may wish to participate.
Scotland has a long tradition of botanical artists, from the earliest times when it was used to record plants for medicinal uses, or, as illustrations of plants found in far flung regions of the world and not yet seen here. To the present day where there are botanical artists and illustrators working in botanical gardens, in books and magazines.
The SSBA is an inclusive society, still young, aiming to embrace and encourage all forms of botanical art in Scotland. The organisation was started 8 Years ago by a group of enthusiastic botanical artists living here in Scotland. Now comprising around 60 members, who are living throughout the country and beyond; the aim is to support each other, extend the appreciation of the wonders of this specific form of art, hold classes, tutorials and workshops.
We hope that you enjoy the show!
Image credits:
Victoria Braithwaite: 'Amaryllis, Dumfries House'
Elizabeth Scott: 'Malus Domestica Discovery'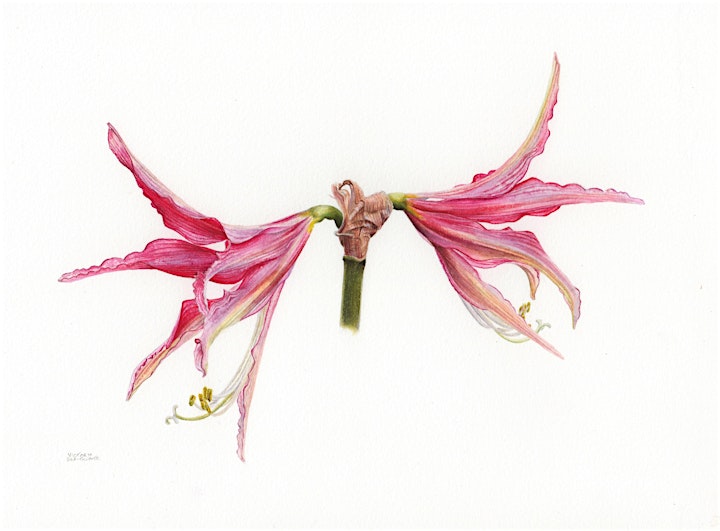 Organiser of The June Exhibition: Scottish Society of Botanical Artists
Due to the current situation caused by the Coronavirus outbreak, the Scottish Arts Club were forced to cancel all live Club events. Instead we have been offering online events to keep supporting the arts in these difficult times.
Every week since the start of lockdown we launched a new instalment of "Virtual Fridays - arts happenings that people could enjoy from the comfort of their home. Every Friday at 6.30pm we provided both our membership as well as the public with either a musical event or an online art exhibition in the shape of either a photo-film or in a more traditional gallery style. Links to the all the events can be found on our website.
Our online events are free to watch. However, the Covid-19 lockdown has left many artists without any income due to closed venues and cancelled performances. To make a donation to help the performers participating in our 'Virtual Fridays', please click Performers' Fund via PayPal button on our website.