Event Information
Refund Policy
Contact the organiser to request a refund.
Eventbrite's fee is nonrefundable.
About this Event

THE KETAMINE CONFERENCE
MOLECULAR MASTERCLASSES BY MICRODOSE
Deep dives into key psychedelic compounds.
21st & 22nd August 2020
Ketamine is creating new pathways to pain management and better mental health. We present a complete exploration of ketamine at the intersection of clinical care, research and investment, featuring the world's top researchers, clinicians, companies, advocates and experts.
Discover the potential of ketamine and NMDA receptor antagonists in the treatment of key mental and physical conditions through keynote presentations, expert panels, interactive discussions and collaboration. This two-day conference brings together experts in the field to discuss the very latest science, health care innovation and business opportunities in this rapidly growing field.
Sponsors
Bexson Biomedical - developing therapies for chronic and acute pain management.
The Conscious Fund - investing in early-stage ventures in plant-based medicine.
Microdose - psychedelic insights, events, podcasts, news and market intelligence.
Speakers
Jeffrey Becker, MD
Martha B. Koo, MD
Steve Mandel, MD
Veronika Gold, MFT
Wes Ryan, MD
Anthony El Chibani
David Feifel
Gregg Peterson
Sandhya Prashad
Stephen Parker
Steve Best
Our Mission
Connect leaders in ketamine science, delivery, and training with clinicians, business leaders and capital.
Translate the science behind ketamine and NMDA Receptor based interventions.
Illustrate the dynamic and nuanced nature of this medication in medical treatment.
Provide perspective on the realities of working in this rapidly evolving space.
Identify pitfalls, medical concerns, delivery gaps and medical/legal issues in the field.
Review markets, investment cases and value propositions for ketamine-based therapies.
Showcase the leading enterprises within the ketamine sector worldwide.
CONFERENCE TIMES & FORMAT
Panels and keynotes will run for 45 minutes, with a 15 minute Q&A session afterwards. The conference will begin at 17:00 (GMT) / 12:00(EST) / 09:00 (PST) each day. You will be sent login and platform details with your ticket.
The whole conference will be recorded and will be available to all ticket holders to enable attendees to make the most of the experience.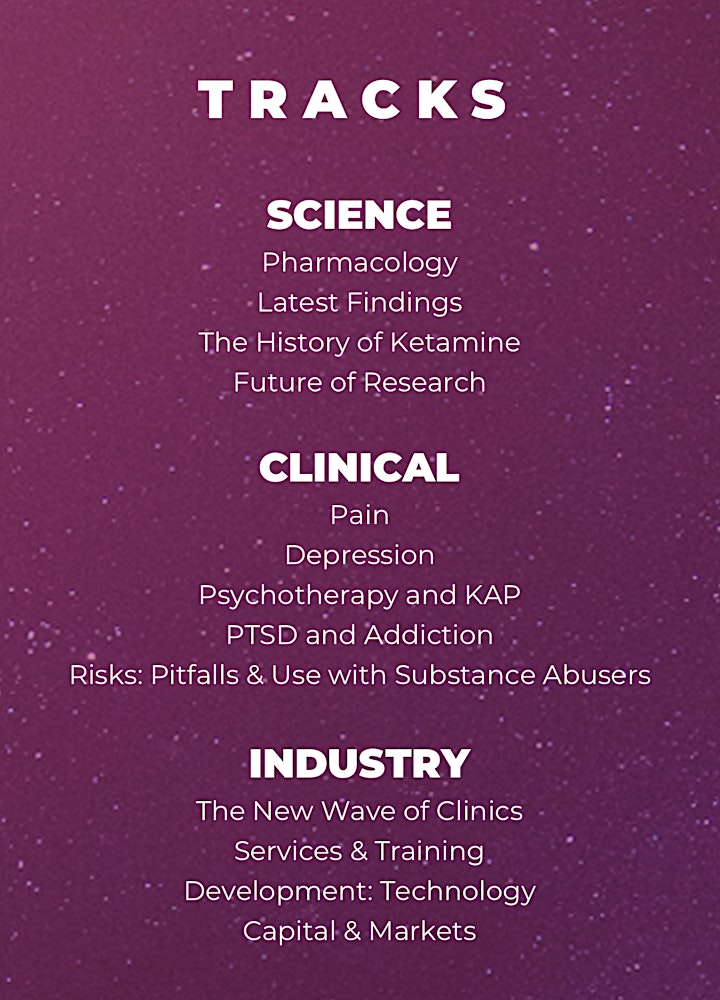 Speakers will be confirmed and added to each track. We are expecting more than 40 leading lights from across the ketamine ecosystem to present.
PAST EVENTS
In addition to our huge Virtual Psychedelic Conference where 1,100 experts gathered to hear 104 speakers over 2 days, we have held several investment summits across Europe, including London, Malta and Luxembourg.
We have hosted more thousands of investors and international cannabis and psychedelics companies. Attendees included UHNWIs, Family Offices, and VCs with a combined AUM of €15bn+.

BEXSON BIOMEDICAL - LEAD SPONSOR
Bexson Biomedical is developing a non-opioid, ketamine therapy for pain management and mental health disorders. The company's lead indication is post-operative pain, a $12 billion market in the US alone, and a leading driver for opioid addiction. Bexson's value proposition is that home use of its BB106 low-dose ketamine therapy will be a game changer for both chronic and acute pain. The company is forming a broad IP portfolio to secure exclusivity for therapeutic use, while also establishing a platform that could be utilized for a variety of medical indications. 
Based on the 50+ years of literature data illustrating ketamine's safety and efficacy, Bexson has a dramatically de-risked pathway to approval compared to companies developing New Chemical Entities or psychedelics with significant use restrictions.  The company was co-founded by CEO Gregg Peterson, a veteran of multiple biopharma companies with successful exits, and CSO Jeffrey Becker, MD, a globally recognized expert on the clinical use of ketamine.

The Conscious Fund invests in early stage ventures in plant powered medicine. We are helping the psychedelic medicine space to grow ethically and sustainably through our work with Seed to Series A companies.
Microdose is the source for psychedelic insights spanning events, videocasts & podcasts, insider news and balanced reporting on the space. From investment through science to patient pathways, we've got it covered.

COMMUNICATIONS PARTNER
Alan Aldous is a public relations agency for the emerging cannabis and psychedelics markets led by leading Canadian cannabis media professionals. The agency works with all the major newswire distribution services across North America, which makes transitioning to Alan Aldous easy for companies with existing PR efforts.

MEDIA NETWORK PARTNER
CFN Media is a leading agency and financial media network dedicated to the cannabis industry. We help private, pre-public and public cannabis companies in the US and Canada attract capital, investors and media attention.
MEDIA PARTNERS
We are working with the industry's most informed media platforms, including:
Psychedelic Finance
The Trip Report
Third Wave
The Wellness Agency
And many more to come...
SPECIAL VIP TICKETS
Exclusive Investor Briefings
For Premium ticket-holders, 1-on-1 meetings are a chance to meet active investors pursuing opportunities in the space. Pairing decades of venture capital expertise, our team will ensure pairings are relevant and useful.
Premium ticket holders can select one of the following categories to be paired with:
Researchers
Psychedelics Companies
Investors
The Conscious Fund will choose the pairing and leave the two parties to schedule the call at the end of the conference. All speakers and sponsors will agree to participate in 1-on-1s by virtue of their involvement.
TICKETS
All tickets are offered on a first-come first-served basis.
If you are an accredited member of the press, please contact us.
BECOME A SPONSOR
Sponsors present and showcase their companies to our diverse network of investors, including UHNWIs, Family Offices, VCs, PEs and other Funds.
Selected sponsors have the unique opportunity to gain access to our full digital marketing and PR suite, placing their brand in front of 110,000+ customers, decision-makers and influencers.
Leading sponsors will also have the opportunity to personally connect with investors and multinational corporates through 1-on-1 investor briefings. Please email info@microdose.buzz for further details.
Date and Time
Location
Refund Policy
Contact the organiser to request a refund.
Eventbrite's fee is nonrefundable.