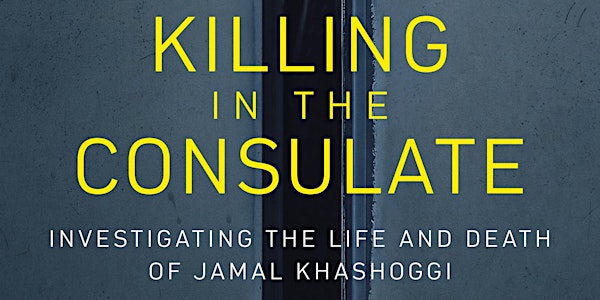 The Killing in the Consulate: Investigating The Life and Death of Jamal Kha...
Location
Amnesty International UK
25 New Inn Yard
London
EC2A 3EA
United Kingdom
Description
Simon and Schuster and Amnesty International UK invite you to mark the publication of:
The Killing in the Consulate: The Life and Death of Jamal Khashoggi by Jonathan Rugman.
When Jamal Khashoggi walked into the Saudi consulate in Turkey on 2 October 2018, he was expecting to pick up the documentation that would enable him to marry his fiancée, Hatice Cengiz, who was waiting for him outside. Little did the Washington Post journalist realise he was entering a trap. Based on confidential sources, dramatic new evidence and in-depth research, award-winning foreign correspondent Jonathan Rugman reveals in minute-by-minute detail the truth about what happened that day.
But The Killing in the Consulate is about much more than a horrific murder and the investigation that followed. Rugman also looks back at the turbulent private and professional life of Khashoggi, and how he fell out of favour in Saudi Arabia, as well as examining the international response to the scandal and the tradeoffs between human rights and arms sales.

The author will be in conversation with Professor Madawi Al-Rasheed who is Visiting Professor at the LSE Middle East Centre.
Doors will open at 7:00pm and the event will start promptly at 7:30pm. This will be followed by a Q&A, a drinks reception in which signed books will be availble for purchase.
Jonathan Rugman has been Foreign Affairs Correspondent at Channel 4 News since 2006. A BAFTA award-winning journalist, he was previously based in Washington, D.C. and Istanbul. He has reported from Turkey for more than twenty-five years and also covered the Arab Spring revolts. He has previously worked for the BBC and written for The Guardian and The Observer.