Description
Paying by invoice?

We would prefer you to book by debit or credit card. If, however, you need us to invoice your organisation instead please ensure you have approval to make the booking and contact your accounts department to ensure you submit the correct name and invoicing address.
There is a £20 surcharge to cover the cost of processing invoices. This is an addition to the ticket price and will be added to your invoice. There is no charge for paying by debit or credit card.

Please select your tickets and click on the green Register button. Once you're through to the registration page, you can request to pay by invoice under the 'payment section'.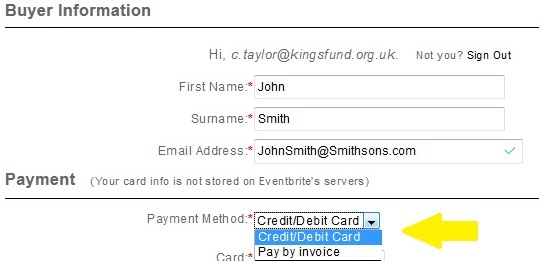 More information
For more information on the conference, including the full programme, please visit the
conference webpage or call The King's Fund events team on +44 (0)20 7307 2409.
Organiser of The King's Fund annual conference 2016
The King's Fund is an independent charity working to improve health and health care in England. We help to shape policy and practice through research and analysis; develop individuals, teams and organisations; promote understanding of the health and social care system; and bring people together to learn, share knowledge and debate. Our vision is that the best possible care is available to all.