The Kirtan Band - Evening of Devotion

Saturday, 14 September 2019 from 19:00 to 21:00 (BST)
Event Details
About 
The Kirtan Band welcome you to this very special evening of devotion at the beautiful Mahadevi Yoga Centre.
The band are a passionate and dedicated group of musicians who will be performing live Kirtan in a form that is authentic and traditional. They combine the singing of intricate melodies of the Eastern subcontinent with subtle guitar solos and inventive hand drumming.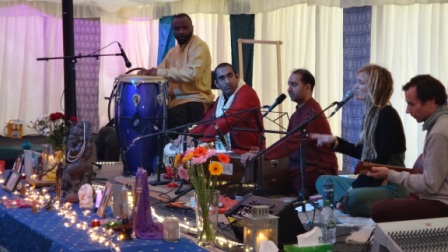 Joining In
The pieces will be led by Sulekh Ruparell, a professional Indian musician with over 20 years of experience and an expert in devotional singing. The songs and mantra are based on Raga (Indian scales) and are sung in the ancient language of Sanskrit where the external sounds become internal vibrations.
In Kirtan singing, listeners are encouraged to join in as the artists present a unique style that creates a wonderful energy and elevates the consciousness.
You will be able to enjoy this event at many levels from simply appreciating the music to participating in the songs as each line is repeated by the artists. Simple and easy-to-follow, Kirtan is a wonderful source of relaxation for mind and body.
Follow us on Facebook here
You can get a taste of sample tracks by The Kirtan Band here.
Watch videos of previous concerts here.
Tickets
£12.00 (limited availability)
£15.00 (standard price)
£20.00 (door)
Free for Children Under 12
Reviews
Thanks for a fantastic evening of Kirtan. The songs were beautiful and everyone had a great time joining in. (Janice, Organiser, The Light Yoga Space, Islington)
A Big Thank You for your wonderful Kirtan session at the Space this evening. We look forward to the next one. (Ginny, Organiser, The Space Yoga and Healing Studio, Oxfordshire) 
We were lucky to have The Kirtan Band as the finale to our Spring Yoga Festival this year and they delivered an uplifting set of chants and mantra that everyone thoroughly enjoyed. (Pembe, owner North London Yoga Centre)
About The Band
The Kirtan Band is a group of musicians dedicated to singing authentic devotional songs. They are made up of Vocals, Harmonium (Indian Accordion), Tabla (Indian drums) and acoustic Guitar. In this event, a Dholak (Indian drum) will be added.
The live Kirtan Band experience is inspiring, relaxing and uplifting helping listeners to find their inner voice.
What to expect
Invigorating music, spiritual anecdotes and tasty 'prasad'

traditional singing

authentic 'masala chai' (Indian spice tea)
- Relax with everyone
- Feel the devotional vibe 
- Experience Kirtan in a beautiful setting
- Enjoy the explanations of all the pieces on Song sheets provided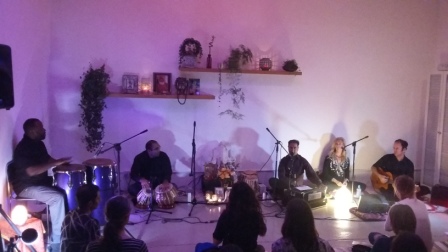 Line-Up
Sulekh Ruparell (lead vocals), Noemi Franco (backing vocals), Renu Dewan (backing vocals)
Navin Khashidas (Dholak), Aadarsh (Tabla), Andrew Simmons (Guitar)
About Sulekh
Sulekh Ruparell, founder of The Kirtan Band (www.kirtanband.co.uk) is a Vocalist, Harmonium accompanist and Tabla player with over 20 years of experience specialising in the art of Indian Classical Music. He learnt the style of Kirtan in India and this inspired him to establish the band in late 2013. Sulekh's style is to combine a deep knowledge of Indian scales (Ragas) with a passionate and purposeful approach. This gives his Kirtan an authentic feel but without losing any of its true essence, which is the union of artist and audience in pure voice.
As well as Kirtan, Sulekh sings Bhajans, Ghazal, Sufi and Bollywood music with his Mehfil Band (www.mehfilband.co.uk), produces his own music at www.nirakar.com and is the creator of Tabla Works which provides downloadable lessons to anyone in the world wanting to learn Tabla. The courses are available for download at www.tabla.co.uk.
Frequetly Asked Questions
Can anyone attend?
Yes. This event is open to everyone.
Do I need to bring my printed ticket to the event?
It would help but as long as you have it on an email on your phone, that would be fine.
Can I purchase a ticket on the day?
Yes. You may purchase your ticket at the venue on door prior to the event for a cost of £20.00
Can I purchase a ticket in advance from anywhere other than Eventbrite?
No. The only place where you may obtain an advance ticket to this Kirtan evening is here on eventbrite.
What is the refund policy?
Unfortunately, all tickets to this event are non-refundable.
The name on the ticket does not match the attendee. Is that okay?
Yes. You may transfer your ticket to a friend if for any reason you cannot make it to the event. Please kindly let us know at easternmusic@gmail.com with details so we can update our attendee list.
Where can I contact the organiser with any questions?
You can contact Sulekh Ruparell at easternmusic@gmail.com
Save This Event
When & Where

Mahadevi Yoga Centre
12 Eden Grove
Stapleton House
N7 8EQ
United Kingdom


Saturday, 14 September 2019 from 19:00 to 21:00 (BST)
Add to my calendar
Organiser
Sulekh is a professional Indian classical musician, with over 20 years of performance experience, specialising in Vocal, Harmonium and Tabla. He has delivered concerts and workshops in the UK as well as internationally and has also been a music coach for over 15 years. 

Sulekh is producer of Tabla Works an e-commerce venture that seeks to revolutionise the way in which Indian music is taught globally by providing professionally recorded lessons and high quality instruments for purchase. Sulekh has created the first ever downloadable Tabla courses allowing anyone, anywhere in the world to learn authentic Tabla.
 Buy and Download the Tabla Course here.
He is also producer of 'Nirakar', an innovative and unique Indo-Jazz band, which blends classical melodies of the Indian sub-continent (Ragas) with contemporary western jazz and popular Bollywood film songs. 

Sulekh's most recent project is The Kirtan Band, which was formed in late 2013. As composer and singer, Sulekh's idea is to present authentic devotional songs in a manner which is fun, inspiring and relaxing to the listener.