The Kreyol Rendez Vous - Live Performances by TIWONY/SONIA DERSION/S.RISE/K...
Description

Tickets available from --> http://kreyolrdv1.eventbrite.co.uk
[SHOW STARTS AT 10PM !] (french version below)

The Winter is slowly wearing off and the days are getting longer ! Time for some refreshing Vybz !
Get Mad Entertainment presents… The Kreyol Rendez-Vous ! [1st Edition]

This new concept will showcase some of the most talented French Caribbean artists & bring an exotic flavor to our cold but beloved London .
▶ Captivating live shows featuring our very special "Kreyol" Artists
▶ An After party with live Deejays spinning some of the hottest sounds
▶ A wide spectrum of French Carribean represented with genres like Dancehall/Ragga, Reggae, Zouk love, kompa, Bouyon, Jump Up and more…

This unmissable event will take place on the Sunday 27th March 2016 @Floripa (Old Street)
The next day is a bank holiday so relax ... You don't need to worry about work !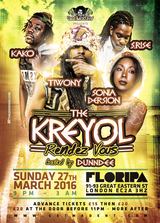 The Kreyol Rendez vous will include performances from :
★ TIWONY ★ (Reggae/Dancehall)

Over the past 20 years and after five albums, Tiwony has established himself as one of the most respected reggae-dancehall artists out of Guadeloupe! This talented artist has built is reputation working with the best sound-systems across the French Island and releasing a lot of solid tracks that became classics among reggae-dancehall lovers. He has collaborated with many local and international artists including Konshens, Turbulence, Jah Mason … He travelled the world with his conscious music and burnt many stages with his unique energy. This will be his first performance in London ! Not to be missed under any circunstances !
★ SONIA DERSION★ (Zouk)
Sonia Dersion is a very well established artist from Guadeloupe thanks to her many hits (including "Natirel" a real retro zouk Anthem, which has sold over 80 000 copies), she is without doubt one of our beloved "queens of zouk"
Sonia Dersion has continued to shine and amaze us for more than two decades with her stunning voice.
Richard Birman, JM Rottin, Thierry Cham & Kaysha are just a few examples of the rich collaboration she has been making over the past years.
However singing is not her only attribute as she has also proven to be big hearted by getting involved in humanitarian projects, e.g. for disadvantaged children with her participation in the New world album.

★ S RISE ★ (Reggae/Dancehall)
Sandro Hippodam known as S.Rise is a singer and songwriter from Guadeloupe. His stage name is a reflection of his conscious lyricism and lifestyle. S.Rise writes from a perspective of life experiences and blessings. His powerful and distinctive voice combined with an energetic and vibrant performance has been known to thrust the crowd into frenzy. He wrote one of his most popular song "Most High" on the dreamland riddim alongside legendary artists including Capleton, Sizzla and Frankie Paul. S.Rise is active on the Live Music scene with his band Maximum Hights in the UK.

★ Missie Kako (Dancehall/Kompa)
Originally from the town of Marigot in Martinique, Missié Kako meets his first big success in 2011 with "On the Table" on the Mafio House's Champomy Riddim Mafio House, spearhead of the current Martinique producers.
In 2013, he features on DJ Ken's project "Holidays Dance 3" , as well as on "An Kay La" produced by Scorblaz featuring Kalash, Mighty Ki La, Politik Nai, T-Jy and Davee G.
In 2014, his sexy track "Plan Q" on the work permit riddim is a huge succes, on that same year he releases his self produced album "I JA TAN".
The Martinique dancehall scene regularly propels talent to be reckoned with: Missié Kako is one those !!
The show will start at 10PM so be on time !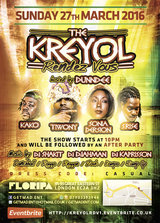 ♬ Music by ♬
▶ Dj Shakit
▶ Dj Djahman
▶ Dj Kaprisson
While showcasing the beauty and diversity of the French Caribbean culture, this exceptionnal night will definitely entertain you to the fullest.... !
ADMISSION :
Limited £15 Early Bird Tickets available (Be fast !)
2nd Release £20
£20 at the door before 10PM - MORE AFTER !
GET TICKETS --> http://kreyolrdv1.eventbrite.co.uk
CONTACTS :
https://www.facebook.com/GetMad.Ent
getmad.ent@hotmail.co.uk
07903393944 (Call/Text/Whatsapp)
--------------------------------------------------------------------------------------------------------------------

Toi aussi la chaleur de la caraïbe, le Zouk et le dancehall local te manque ?
Get Mad Entertainment a la parfaite solution ! Viens retrouver l'ambiance peyi au Rendez-Vous creole ..
Le RDV qui te transportera instantanement aux Antilles / pour un vol direct a destination de FDF, PAP, Cayenne, Port au Prince, etc ..
Pour l'occasion nous avons réuni la crème de la crème des artistes. Ceux ci vous feront vibrer et chalouper jusqu'au bout de la nuit sur les nouveaux hit bien sur mais aussi sur d'indemodables classiques.
Un parfait équilibre entre le retro et les sons du moment. Une grosse sélection de sons pour une ambiance pays garantie comme on les aime.

Ce nouveau concept vous permettra de voir nos plus grands talents locaux sans pour autant avoir a prendre l'Eurostar ou l'avion !
Nous tenons cependant a nous excuser de ne pas encore avoir trouvé un moyen d'importer la plage et le soleil :) (on y travaille !!!)
▶ Artistes invités à chaque édition
▶ Grosses sélections dancehall, reggae, zouk love, kompa, bouyon, jump up , etc ..
▶ Les shows seront suivi d'une "after party" ambiance peyi
Pour la première édition du Dimanche 27 mars 2016 (veille de jour férié) au Floripa, retrouvez :
★ TIWONY ★ (Reggae/Dancehall)
Tiwony est un artiste phare de la scène reggae française depuis 20 ans. Il aurait pu être jamaïcain tant son charisme et son inspiration sont reconnus en métropole, dans les territoires d'outre-mer et sur tout le continent africain.
★ SONIA DERSION★ (Zouk)
Sonia Dersion, originaire des Antilles, est une artiste qui n'est pas à son premier coup d'essai. En effet, son premier album "Tout va bien" sorti en 1997, s'était déjà vendu à plus de 80 000 exemplaires avec le succès du morceau "Natirel", sacré en septembre 2000 comme meilleur titre de l'année 1999 aux Tropical Music Awards. Son second album "Initiation" réalisé par Willy Salzedo, fut un opus teinté de musiques africanisées et de rythmes R'N'B inspiré par Kaysha en personne. Ainsi après de nombreuses collaborations avec entre autres, Richard Birman, Tony Deloumeau, Jean Michel Rotin, Tanya St Val, Zouk Machine, Thierry Cham
★ S RISE ★ (Reggae/Dancehall)
Sandro Hippodam, mieux connu sous son nom de scène S.Rise, est un chanteur- auteur-compositeur originaire de Guadeloupe. Son nom de scène reflète ses textes conscients et son style de vie. Sa voix puissante et distinctive alliée à une énergie éclatante ont le pouvoir de mettre la foule dans un état de surexcitation. Il a écrit &Most High&, l'une de ses chansons les plus populaires sur le &Dreamland Riddim&, au côté d'artistes internationaux (légendaires ) tels que Capleton, Sizzla ou encore Franckie Paul. S'Rise et ses musiciens Maximum Hights sont actifs sur la scène musicale britannique.
★ KAKO ★ (Dancehall/Kompa)
Originaire de la ville du Marigot en Martinique, Missié Kako rencontre son 1er gros succès
en 2011 avec "Sur la Table" sur le Champomy Riddim de Mafio House, fer de lance des producteurs martiniquais actuel.
En 2013, on le retrouvait sur "Holidays Dance 3" de Dj Ken, ainsi que sur le titre produit
par Scorblaz "An Kay La" featuring Kalash, Mighty Ki La, Politik Nai, T-Jy et Davee G.
En 2014 il fait encore parler de lui avec le titre sulfureux "Plan Q" sur le Work Permit Riddim, c'est aussi l'annee de la sorti de son album autoproduit "I JA TAN"
La scène dancehall martiniquaise propulse régulièrement des talents avec lesquels il faut compter : Missié Kako est de ceux-là.
♬ Afterparty assuree par ♬
▶ Dj Shakit
▶ Dj Djahman
▶ Dj Kaprisson
Nostalgiques du pays, amoureux de la culture créole ou mélomanes curieux : venez vous réchauffer dans une grosse ambiance !
Notez bien votre « Rendez-vous Creole »
Dimanche 27 mars De 21h à 3h !!
CONTACTS :
https://www.facebook.com/GetMad.Ent
getmad.ent@hotmail.co.uk
07903393944 (Call/Text/Whatsapp)