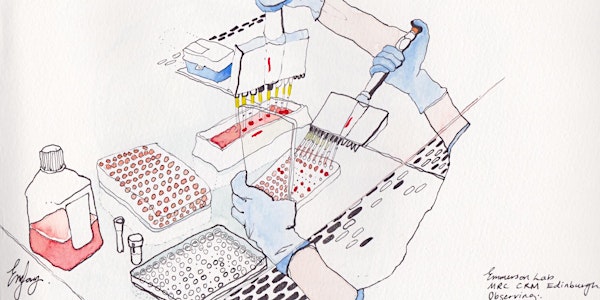 The L.A.B. - Laboratory Art Binge @CRM
Location
The MRC Centre for Regenerative Medicine, The University of Edinburgh
5 Little France Drive
Edinburgh
EH16 4UU
United Kingdom
Description
The L.A.B. - Laboratory Art Binge @CRM
Join us for a creative feast inside the laboratory!
Have you ever wondered what happens behind the scenes of The University of Edinburgh MRC Centre for Regenerative Medicine? Come and enjoy two hours of drawing and exploring the laboratory with Artist Emily Fong, getting up close and personal with one of the most exciting medical research centres in the UK in a fun and friendly way.
Tea, cofee, water and biscuits will be available during the workshop.

Image Credit: Emily Fong
Dates & Times:
Monday 20th May, 1pm – 3pm or 3pm – 5pm
Further Details
Wheelchair Accessible, BSL on request

Please note that there will be photography and video during this meeting. If you do not want to appear on video or in images, please contact a member of the meeting staff or email scrm.admin@ed.ac.uk.
Please note that Eventbrite is a third-party service that is not owned or managed by the University of Edinburgh. You can view our Eventbrite privacy statement by visiting
http://www.crm.ed.ac.uk/Eventbrite