The Last Flight covers personal experiences that affects our day to day living. Dementia, Crime, Incarceration, Bullying and Unforgiveness.
About this event
Special guest recording artist from Belfast Angela Ifonlaja and the Kingdom International Airlines Worship Team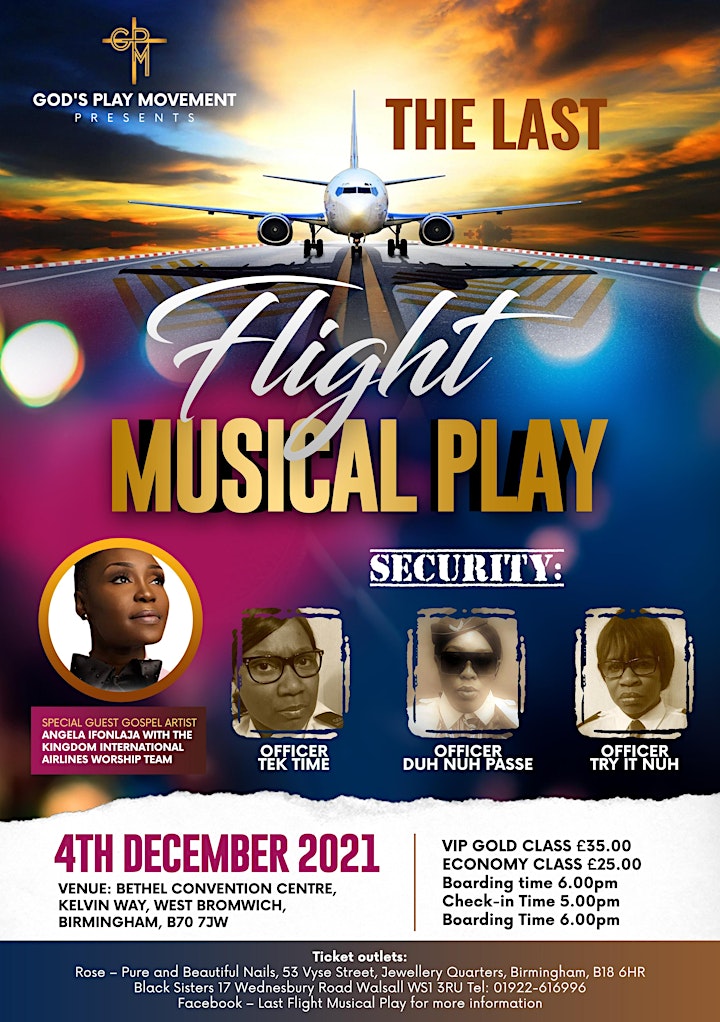 Bishop Wright receives a revelation from God to preach Matthew 24 regarding the end time prophecies to a sleepy and rebellious congregation. Pastor Johnson has successfully stepped into his new role as Pastor through the local job agency.. Sister Eve, the church daily newspaper and new choir member, has been a church member for 20 years sitting in a good position, three rows from the front next to the collection box for the elderly. Joe Flarse has won the lottery, left his family and travelled the world. Jane Coleman has returned to church but seems to find it difficult to fit in.
An explosion happens around the world. Everyone is experiencing the rapture and left behind situation. Those left behind are instructed to make their way to the airport; there are only two airlines left, Kingdom International Airlines and Harbour Shark International Airlines. Each person arriving at the airport is required to declare all past and present sins. But which of the characters will manage to board the Last Flight.
Please arrive 2 hours prior to check-in. Kingdom International Airport will not be checking in any excess baggage anyone wishing to check in heavy excess baggage such as greed, malice, bad-mind, jealousy and envy all will need to check in with Harbour Shark International Airlines this flight will be heading to an unknown destination.
Our in-house trained Officers "Duh Nuh Passe", Officer "Tek Time" and Officer "Tri it nuh" will be on site ensuring order is maintained "Airport Style" GET READY!!!