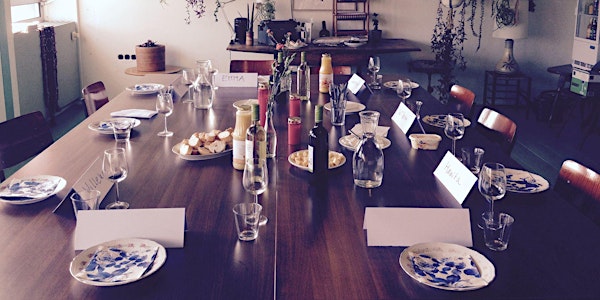 Location
Chisenhale Art Place
64-84 Chisenhale Road
London
E3 5QZ
United Kingdom
Description
5pm
'The Last Supper' was conceptualised following the euthanised death of artist Emma Berentsen's mother in 2015, in which Emma and her sister prepared her final meal: homemade lasagna and organic apple cider - just as she liked it.
Indeed, there is a long trajectory of traditions and rituals in relation to food and dying, with last suppers being a common choice for those with a scheduled death as a way of saying goodbye to their next of kin. Despite that Emma's mother was unable to enjoy the food in the way she once had, the occasion provided a space to celebrate her life in the knowledge that it would be over the following day. The second iteration of Emma Berentsen's performance 'Last Supper' will be delivered as part of the last evening of July's public programme, 'Living In Chronic Times' that has been supported and funded by both the Chisenhale Studios, Goldsmiths University and The Deptford Cinema, London.
For July's performance, Emma and curator Samantha Lippett invite twelve individuals to provide a 'last supper', or meal, of their choice to share as part of a conceptual dinner for the collective sharing of memories and food. Much like the recent phenomena of the Death Cafe movement founded in 2010 by Hackney based John Underwood after he observed a profound need to talk about dying process, the 'Last Supper' intends to facilitate conversation around death and offer a chance to contemplate our own mortality with each participants contributions as their starting point. This performance will play a key role in conversations raised as part of 'Living In Chronic Times', in an attempt to break down the taboo of our relationship with mortality.
Before or shortly after booking, please consider a meal you might like to share with the group and accompanying story. You will not be required to speak any longer than a few minutes. Wine, bread and cheese will be provided as part of the ticket cost. At 8pm the space will be opened up to the public for a closing drinks ceremony and a one off sound performance by London based musician Thomas Cameron entitled, 'At 6 with 7'.
8pm
'At 6 with 7' Thomas Cameron
'The subject remains somewhat a mystery. However, popular theory suggests that the human brain remains alive and active for around six minutes after the heart stops beating. It is within this period that survivors of near death experiences report, 'My life flashed before my eyes'.
Many scientists believe that the life review is actually a hallucination caused by the process of the dying brain shutting down. Some think that the life review could be caused by euphoric endorphins being released or electrical discharges in the hippocampus (the brain area involved with memory); others suggest activity is due to the brain being deprived of oxygen or glucose. One opinion is that the experience of seeing your life 'flash before your eyes' might be caused by the stress hormone noradrenaline, released by the region of the brain that is connected to the mediation of memory and emotion. However, thus far, science has yet to discover an irrefutable explanation.
A recent study at the State University of New York examined the cognitive processes of over 2,000 cardiac arrest survivors. Over half of the patients examined reported memory flashes based around seven major cognitive themes.
'At 6 with 7' is a one-off performance by London based sound artist Thomas Cameron comprising of piano, samples and visual projections in the form of a series of six minute pieces exploring those seven themes: Fear, Animals, Plants, Bright Light, Violence, Persecution, Deja-vu and Family.'
For any further questions please contact curator Samantha Lippett or artist Emma Miriam Berentsen at the following addresses: smlpptt@yahoo.com / e.m.berentsen@gmail.com
Emma Miriam Berentsen (b.1987) is a performance artist and teacher based in London whose practice focusses upon community based theatre and education. Her work often relates to personal experience and binary realties translated through diverse forms of theatre, performance and installation, while also encouraging new ways of audience participation and engagement. She has presented her work on an international scale inclusive of Arts Admin London; Frascati, Amsterdam; Serpentine Galleries London and Camden People's Theatre. Her current body of work, 'We Are All Going To Die' explores contemporary attitudes around death and provides key contributions to the death conscious movement.
Samantha Lippett (b.1992) is a curator and researcher based in London, UK. This year she will graduate from the MFA Curating course at Goldsmiths University. She also holds a First Class BA (Hons) in Illustration. Her practice has been acknowledged through a number of awards inclusive of the Association of Art Historians Internship Grant (2013); Women's Art Library Project Grant (2015) and the Goldsmiths University Extended Opportunities Grant (2016).
Samantha has many years' demonstrated experience working with artists, curators, large public organisations and small galleries, both as part of larger programmes and within self-initiated projects. Her trajectory to date has had a key focus towards cross-cultural social engagement through interdisciplinary arts collections, events programmes and exhibitions. Her unique curatorial methods and socio-politically focussed research subjects have been widely acknowledged through invitations to guest curate and present her curatorial projects at a number of UK based conferences, symposiums and events.
Through a lifelong commitment to a socially-engaged and community focussed curatorial practice, of which she is known, Samantha has facilitated much discussion around underrepresented topics inclusive of mental health; childbirth; the censorship of maternal subjectivity; chronic illness and death anxiety, among others. Independent projects have addressed subjects commonly deemed socially transgressive, while always paying close attention to engage in first hand research in order to raise subjective awareness around unrepresented communities and individuals both in the UK and internationally. In addition to her curatorial work, Samantha's practice based background has largely informed her curatorial approach and research methods. In 2013, she exhibited and raised awareness through her activist film making that was exhibited across the south of England and online.