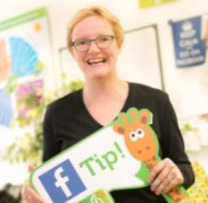 Now you might ask how I can make such a confident statement.  The fact is, I ran a successful recruitment agency for many years.  Business was good but it was when I started to use social media that the business took off to the extent that I was able to sell it to a major national chain.
If you are working in the world of recruitment then you can no longer ignore social media. We now live in a candidate led world and therefore it is more important than ever to tap into those passive candidates. 
If you are not using social media as part of your candidate sourcing strategy then you will be missing many passive candidates, and we all know that it is a candidate driven market at the moment.
Times have changed and it is simply not the "Good old boy" network that works anymore.  In this workshop, I will share with you the top ways in which you can tap into those passive candidates, as well and explaining some crucial tactics that will help nurture those relationships for future placements.  It's time to take the blinkers off.
WHAT WILL YOU LEARN?
How to source candidates and new clients using techniques on Facebook, Twitter & LinkedIn. (I guarantee that you will have some aha moments!)
How to create those brilliant images that other people are using, completely free of charge!
Lots of focus on LinkedIn, including the latest updates and changes to this platform.
WHO IS THIS WORKSHOP FOR?
Recruiters and resources who are looking to tap into those passive candidates.
The workshop is tailored for the independent recruitment agency, rather than national or corporate agencies
This workshop is NOT for beginners.  You will already be using the three main platforms at a basic level ie: Facebook, Twitter and LinkedIn at a basic level.  We will expect you to know how to Tweet, and have your Facebook page set up, we will not be showing you the basics.  If you are not sure if this workshop is right for you then please give us a call, or click on the live chat – we will send you a link to a free assessment to test your skills knowledge.
HANDS-ON WORKSHOP
Our delivery style will be a mix of slides, exercises, hands-on work (bring your laptop or tablet) and discussion.
ABOUT JULIA…
Julia Doherty is the published author of "Online Marketing for Small Business Owners" and finalist in "Most Innovative Woman of The Year". With a background in recruitment and sales, she started her own digital marketing agency in 2009 after being an early adopter in the use of social media for business. She works with a wide range of clients to help grow their businesses through online marketing. Passionate about her subject, she is an inspirational and exciting presenter and trainer.