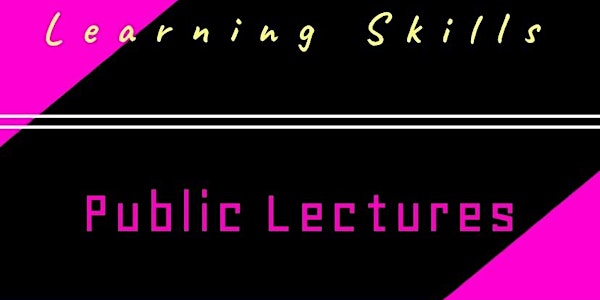 The Learning Skills Public Lecture with Dr Alia Amir, Sweden
Language Policing – when the purist and monolingual ideologies come in action.
About this event
Language Policing – when the purist and monolingual ideologies come in action.
Do languages need a water tight compartmentalization?
Is mixing languages an ill?
Alia Amir is a Senior Lecturer in English linguistics affiliated with Mid-Sweden University in Sundsvall, Sweden. She is the author of Doing Language Policy in which she writes about policy mechanisms and micro-level policy in action. Her main research approach is multimodal conversation analysis and her research deals primarily with classroom discourse, English classroom interaction, and language teacher education. Her research and teaching interests lie at the intersections of English linguistics, social interaction and language policy.
Alia's academic journey began in 2008 with her MA thesis at Linköping University entitled "Chronicles of the English Language in Pakistan: A discourse analysis of milestones in the language policy of Pakistan" in which she compared and traced discourses about the prestige of English language and how English language policy discourses 'othered' other languages in three policies in Pakistan's history, namely Lord Macaulay's Minute on Indian Education, 1835, the Constitution of Pakistan, 1973, and Educational policy, 2008.
For her PhD project (2009-2014), she collected data by video filming English classes in Sweden at the compulsory school level to study the family of practices which shape micro-level policy in practice (Amir, 2013) which is dynamic and emergent in nature and changes minute by minute in bilingual contexts. Her research focuses on how language policy in practice is lived out in an EFL classroom, how is the language policy done by the participants and what are the various ways of doing language policing in action. The study demonstrates the relative ease with which classroom participants uphold a strict language policy, but also the considerable interactional work that is done by them when the policy becomes problematic. In such cases, an interactional phenomenon i.e. language policing arises where the teacher or pupils restore the policy prescribed linguistic order. She discovered a proto-typical three step sequence of language policing as well as different ways of how language policing looks in interaction.
For her work outside academia, she engages with public discourse through two co-founded projects - Muslim Scientists Europe and Swedish Pakistanis. Muslim Scientists Europe is a platform which Alia envisions as a way to showcase diversity among European scientists and to acknowledge present-day Muslim PhDs contribution to science as she found that even a simple Google search for 'Muslim scientists' is not a fair representation. With this project, she also wants to challenge the nostalgic view in Muslim collective memory of Muslim scientists from hundreds of years ago with whom we do not share time and space, but also because it erases present-day scientific contributions and paints a gloomy picture.
When not transcribing or writing academic articles, she can be found discovering mundane things in and around Stockholm with a spirit of Robinson Crusoe while totally grounded in her transnational Kashmiri-Pakistani roots.