Description
The Legal Aspects of BIM
Join us on July 3rd to hear from May Winfield who is a leading legal expert in BIM and has spoken worldwide on the topic and is author and co-author of a number of respected reports in this area. Dr David-John Gibbs leads HKA's Global BIM services. He gained his doctorate in BIM and dispute resolution and has advised governments, public bodies and organisations on the development and assurance of BIM requirements. Paul Shillcock, the author of ISO 19650-2 and the UK National Annex and the co-author of PAS 1192-2 and the UK Transition Guidance from PAS 1192-2 to ISO 19650-2.
---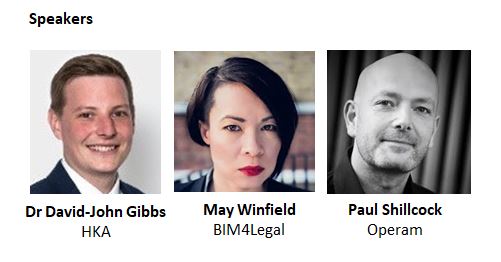 ---
A quick update from co-chair Craig Hardingham and then Dr David-John Gibbs will be focussing on BIM in dispute resolution and explaining how to make the most out of BIM data, and opportunities to reduce the likelihood and severity of disputes.
May Winfield is up next and will be providing an overview of BIM legal and contractual issues and documents, with practical tips on how to mitigate the risks arising from common problems. Our final speaker wil Paul Shillcock who will look at the challenges by organisations trying to adopt new ways of working, align with industry standards and best practice and establishing the capability and capacity they need to succeed.
This event promises to full of lots of interesting discussions so register today to secure your seat.
We look forward to seeing you on July 3rd.