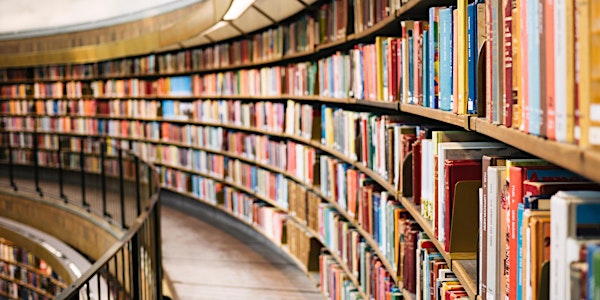 The Librarians' Virtual Toolkit: Books and Reading Supporting Mental Health
The Librarians' Virtual Toolkit –Books and Reading Supporting Mental Health. An afternoon of talks and presentations
About this event
Presented in partnership with Libraries Connected West Midlands & Libraries Connected. Produced by Writing West Midlands.
Thursday 17th June, 2021, 14:00 – 16:00 BST
PLEASE REGISTER TO ATTEND BY MIDDAY 17TH JUNE
(Chat Room open from 13:30 BST)
Live on the West Midlands Readers' Network YouTube channel, and archived there afterwards.
Tickets: FREE, but please click 'Register' above to attend
Attendees will be sent a reminder and link on the day of the event.
The Librarians' Virtual Toolkit
As libraries and bookshops navigate ways to reopen safely and engage with their readers, we explore the relationship between our various reading offers and mental health. We look at the Reading Friends scheme, how the sector contributes to combatting loneliness, and helping readers and staff through the processes of unlocking and recovery. The Librarians' Virtual Toolkit is an afternoon of talks, presentations, and panels. Speakers include library staff, booksellers, writers, and others with an interest in reader development (listed below).
The event will be broadcast on YouTube and archived afterwards. There will be a chat room to allow questions to be put to some speakers. Most of the event will be live with some pre-recorded material.
Tickets are free but registration is required to receive the YouTube link. Those registering can join and leave the event at any time. The event is aimed at library staff across the West Midlands (England) but guests from around the country (and the world) will be welcome.
The Programme:
13:30 GMT Chat Room Opens
Our YouTube Chat Room will open (and will remain so across the afternoon), a chance for those attending to say hello.
14:00 – 14:05 BST
Welcome: Angela Hicken, Project Manager, WMRN; Jonathan Davidson, Project Director, WMRN.
A few words of welcome and some useful information from Angela Hicken and Jonathan Davidson of the West Midlands Readers' Network (WMRN).
14:05 – 14:15 BST
Keynote Address: Stuart Hamilton, Libraries Development for the Local Government Management Agency, Ireland
To open our discussion, Stuart Hamilton will speak about the Ireland Reads project and how as a reader development initiative it focusses on the value books and reading have in promoting wellbeing.
14:15 – 14:40 BST
Reading Friends: Natalie Frost, Programme Manager, Reading Friends, The Reading Agency; Sue Ball, Stock, Services & Activities Manager, Staffordshire Libraries and Arts Service; Angela Hicken, Project Manager, WMRN
What is the Reading Friends scheme, why was it set up and how is it progressing? We learn more from the scheme's Programme Manager and hear how it has been implemented in one of our West Midlands' library authorities. Angela Hicken is in conversation with Natalie Frost from The Reading Agency and Sue Ball from Staffordshire Libraries.
14:40 – 15:05 BST
Bookshops, Bubbles and Browsers: Deborah Alma, Emergency Poet and Poetry Pharmacy; Sarah Mullen, Bournville BookFest and Bookshop on the Green; Janine Downes, Service Development and Engagement Manager for Worcestershire Libraries and the University of Worcester; Jonathan Davidson, Project Director, WMRN
Having both recently set up bookshops, Deborah Alma and Sarah Mullen discuss their work with readers and how books and reading can combat loneliness and promote positive mental health. Worcestershire's Janine Downes shares news of their Social Connecting Bubbles, including Book Bubbles, an initiative devised during lockdown to keep readers connected. Jonathan Davidson chairs this discussion about how books can help.
15:05 – 15:30 BST
Readers Return: Catherine Mann, Libraries & Arts Manager, Staffordshire Libraries and Arts Service; Caroline Rae, Newham Libraries; Jonathan Davidson, Project Director, WMRN
This session will look at how libraries, locally and nationally, are helping staff and readers alike, as we unlock and recover, welcoming readers back into our buildings and helping them access services again. What has changed, how do readers feel, and how do we convey positive messages to prospective readers and visitors?
15:30 – 15:45 BST
In Conversation with bestselling writer Mike Gayle: with Nikki Bi, Programme + Participation Lead, Civic Square
Mike Gayle's latest novel All the Lonely People has been shortlisted for the British Book Awards Pageturner Book of the Year 2021. He is joined by Nikki Bi in a conversation about the prevalence of loneliness, giving his central character a voice, and how reading can promote empathy, connect people, and the crucial role libraries play.
15:45 – 15:55 BST
Ideas for Action: Isobel Hunter, Chief Executive, Libraries Connected
Having followed the afternoon's presentations and discussions, Isobel Hunter will offer a summing up of what was learned and propose ways forward for public libraries.
15:55 – 16:00 GMT
Farewell: Angela Hicken, Project Manager, WMRN; Jonathan Davidson, Project Director, WMRN
A thank you to everyone and any final pieces of information from Angela Hicken and Jonathan Davidson of the West Midlands Readers' Network (WMRN).
Speakers & Presenters
Deborah Alma, Emergency Poet and The Poetry Pharmacy
Deborah Alma is a poet and teacher who has worked for years as a writer in the community. As Emergency Poet she administered poetry on prescription from her vintage ambulance. She is editor of Emergency Poet: an anti-stress poetry anthology, #Me Too – rallying against sexual harassment- a women's poetry anthology, Ten Poems of Happiness and These Are the Hands-Poems from the Heart of the NHS co-edited with Dr Katie Amiel. Her first collection Dirty Laundry is published by Nine Arches Press. She runs the Poetry Pharmacy in Shropshire.
Sue Ball, Staffordshire Libraries and Arts Service
Sue Ball has worked in public libraries for over 30 years and is currently Stock, Services and Activities Manager with responsibility for the implementation of strategy and policy for children, young people and adult library services. She has worked with partners including The Reading Agency, BookTrust, The National Literacy Trust and health organisations to deliver a range of initiatives in Staffordshire and nationally. From 2016 to 2018 Sue was Chair of the national Association of Senior Children's and Education Librarians (ASCEL). Sue represents Libraries Connected and ASCEL on the Children's Laureate steering group and is the Lead for the Libraries Connected Universal Health and Wellbeing Library Offer.
Nikki Bi, Programme and Participation Lead, Civic Square
Nikki Bi is co-founder and Books Lead at Civic Square, Birmingham, currently leading with The Front Room, a platform to be designed and co-owned by local communities. Developing and curating #BeyondBooks talks, bookshares and workshops Nikki utilises books and reading to share inclusive experiences, making complex ideas accessible for readers of all generations. She sits on the West Midlands Combined Authority Cultural Leadership Board and is a Trustee at Writing West Midlands. @ThatNikkiBi
Jonathan Davidson, Writing West Midlands
Jonathan Davidson has spent many years encouraging writers and readers to be creative. He is Founder of the Birmingham Literature Festival and Founder and Chief Executive of Writing West Midlands. He is Chair of the National Association of Writers in Education, serves on the Advisory Groups of The Poetry Business, Out on the Page and the Muslim Arts & Culture Festival and on the Governance and Road Map Committees of the Birmingham & Midland Institute. He is a Fellow of The English Association.
Janine Downes, Worcestershire Libraries and the University of Worcester
Janine Downes is a Service Development and Engagement Manager, responsible for leading the team to develop both physical and digital services across Worcestershire's libraries from their innovative centre at The Hive, Europe's first fully integrated Public and University Library. Passionate about libraries, access to learning and culture for all and the power of great customer service, Janine also enjoys swimming, yoga and going to the allotment.
Natalie Frost, The Reading Agency
Natalie Frost is the Programme Manager for Reading Friends at national charity The Reading Agency and has worked there for over three years on the programme. Reading Friends tackles loneliness and supports mental health by starting conversations through reading. Natalie brings experience from other roles regarding reading and learning including teaching at a primary school and working for two different public library authorities.
Mike Gayle, Writer
Mike Gayle was born and raised in Birmingham. After graduating from Salford University with a degree in Sociology, he moved to London to pursue a career in journalism and worked as a Features Editor and agony uncle. He has written for a variety of publications including The Sunday Times, the Guardian and Cosmopolitan. Mike became a full-time novelist in 1997 following the publication of his Sunday Times top ten bestseller My Legendary Girlfriend, which was hailed by the Independent as 'Full of belly laughs and painfully acute observations,' and by The Times as 'A funny, frank account of a hopeless romantic'. Since, he has written sixteen novels including Turning Thirty, The Man I Think I Know and his latest All the Lonely People. His books have been translated into more than thirty languages.
Stuart Hamilton, Head of Libraries Development for the Local Government Management Agency (LGMA) in Ireland
Stuart Hamilton is the national advisor on libraries in the local government sector and leads the strategic development and implementation of service innovation and change management. He was previously Deputy Executive Director of International Relations and Communications at the Qatar National Library. Before that he was Deputy Secretary General at the International Federation of Library Associations and Institutions (IFLA) in the Netherlands where he directed IFLA's policy and advocacy work around copyright, human rights, Internet governance, and issues relating to access to information, libraries, and the digital environment. He is the current President of the National Authorities on Public Libraries in Europe (NAPLE) Forum.
Angela Hicken, West Midlands Readers' Network
Angela Hicken was Portsmouth's Reader Development Librarian before joining Hampshire County Council in 2006 as a Literature Development Officer, working across libraries, arts, museums, and less traditional venues to devise and manage literature events and local writer development opportunities. She worked closely with The Reading Agency on its Reading Partners consortium. Angela was an Advisor to the Winchester Poetry Festival Board from its inception until 2018 when she made the move to the Midlands. Angela also works part-time as Marketing and Operations Manager at Nine Arches Press.
Isobel Hunter, Libraries Connected
Isobel Hunter is the first Chief Executive of Libraries Connected. She was formally Head of Archives Sector Development at The National Archives where she served a national constituency of 2,500 archives. During her time there, Isobel led the development of Archives Unlocked, a new government vision for archives with a plan to address resilience, digital capacity, and impact in the sector. She believes that libraries are central to people's lives and communities across the country and is committed to working with members to help develop and advocate for the public library sector.
Catherine Mann, Staffordshire Libraries & Arts Service / Libraries Connected West Midlands
Catherine Mann began her career at Coventry Central Library and moved to Staffordshire as Mobile Librarian in 1990. She has held a variety of roles across Staffordshire Libraries and has been the Libraries & Arts Manager since 2011. As a former Branching Out participant, Catherine has retained a strong focus on Books and Reading and now leads the Universal Library Reading offer for Libraries Connected.
Sarah Mullen, Bournville BookFest and The Bookshop on the Green
Sarah Mullen trained and worked as a solicitor for 15 years using every available lunchtime to hang out in libraries and bookshops. After the birth of her third child, Sarah packed in her legal career and created a children's book festival for Birmingham. The award-winning Bournville BookFest was born and has become a much-loved community festival with national reach and reputation. Sarah founded Bournville Hub, now a centre for literature, and opened The Bookshop on the Green there in November 2019. It was shortlisted for Independent Bookshop of the Year in the Midlands regional finals, 2020.
Caroline Rae, Newham Libraries
Caroline Rae has worked in public libraries for 20 years and is currently the strategic lead for libraries in the London Borough of Newham, having previously worked in Waltham Forest and Essex. Prior to her life in libraries she was an academic working in the field of International Relations. She is the incumbent Chair of London Libraries and sits on The Libraries Consortium's strategy group.