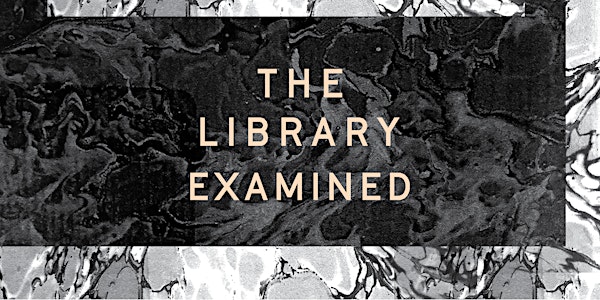 THE LIBRARY EXAMINED - A LIBRARY INDUCTION AND BOOK CONSTRUCTING WORKSHOP
Event Information
Location
Senate House Library
Malet Street
London
WC1E 7HU
United Kingdom
Description
"I believe the subtext here is rapidly becoming text" - Giles, Buffy the Vampire Slayer

Join Rose Nordin, Heiba Lamara (OOMK) and Hudda Khaireh (Thick/er Black Lines collective) for an unorthodox library induction and investigative book making workshop at Senate House Library inspired by the content of "The Library Was" publication and its second edition launch scheduled to follow the session.
Through the lens of a library induction and book assignment, participants are invited to interrogate the nature of custodianship, accessibility, the library as a disciplining technology and the historical construction of the humanities as an academic discipline.

Undergo a challenge through the library to retrieve books that will be used to generate a set of communal publications that form a sutured vocabulary between the different literatures and collections. Take part in the print and production line to experiment in sharing material, space and personal testimony and reflect on the conditions under which the function of the library is possible.

Participants will leave the workshop with new skills in navigating library systems and a physical, self-made book - with a copy of their publication archived on the Senate House Library shelves.

-
Participants:

This workshop is aimed at non-library card holders, whether students or otherwise, looking for an opportunity to explore Senate House Library's collections. We particularly encourage attendance from anybody who has found the idea of using an academic library daunting or unwelcoming. With learnt information and print techniques on offer from practitioners and Senate House librarians, you will take away your own publication and transferrable print skills.

Attendees are encouraged to attend the re-launch of The Library Was from 6-8.30pm

OOMK is an art collective and biannual publication run by Heiba Lamara, Sofia Niazi and Rose Nordin. OOMK ZINE explores themes surrounding women, art and activism. OOMK collective organises and participates in numerous publishing fairs annually, as well as discussions around independent publishing and DIY culture. The workshop is designed and run in collaboration with consulting editor Hudda Khaireh, an interdisciplinary researcher, reader and co-founder of Thick/er Black lines collective.
Senate House Library is the central library of the University of London and the School of Advanced Study. It holds world class research and special collections in the arts, humanities and social sciences.
Date and time
Location
Senate House Library
Malet Street
London
WC1E 7HU
United Kingdom